Discover more from Fieldhouse Files with Scott Agness
Taking you behind the scenes and inside the locker room with the Indiana Pacers. The latest news, interviews, features, game reports and draft analysis.
Frequent tests, discussions and a real opportunity: How the Pacers are preparing for restart
Mandatory workouts begin on July 1.
As the NBA's restart draws nearer, the Pacers front office has plenty on its plate. Instead of being locked into free agency as they are used to entering July, their focus in this unusual year is elsewhere. It's combing through restart manuals more than 100 pages thick, joining daily calls with the league office, communicating with players and staff, and being as prepared as possible to finish this season.
A season for them that was defined by injuries.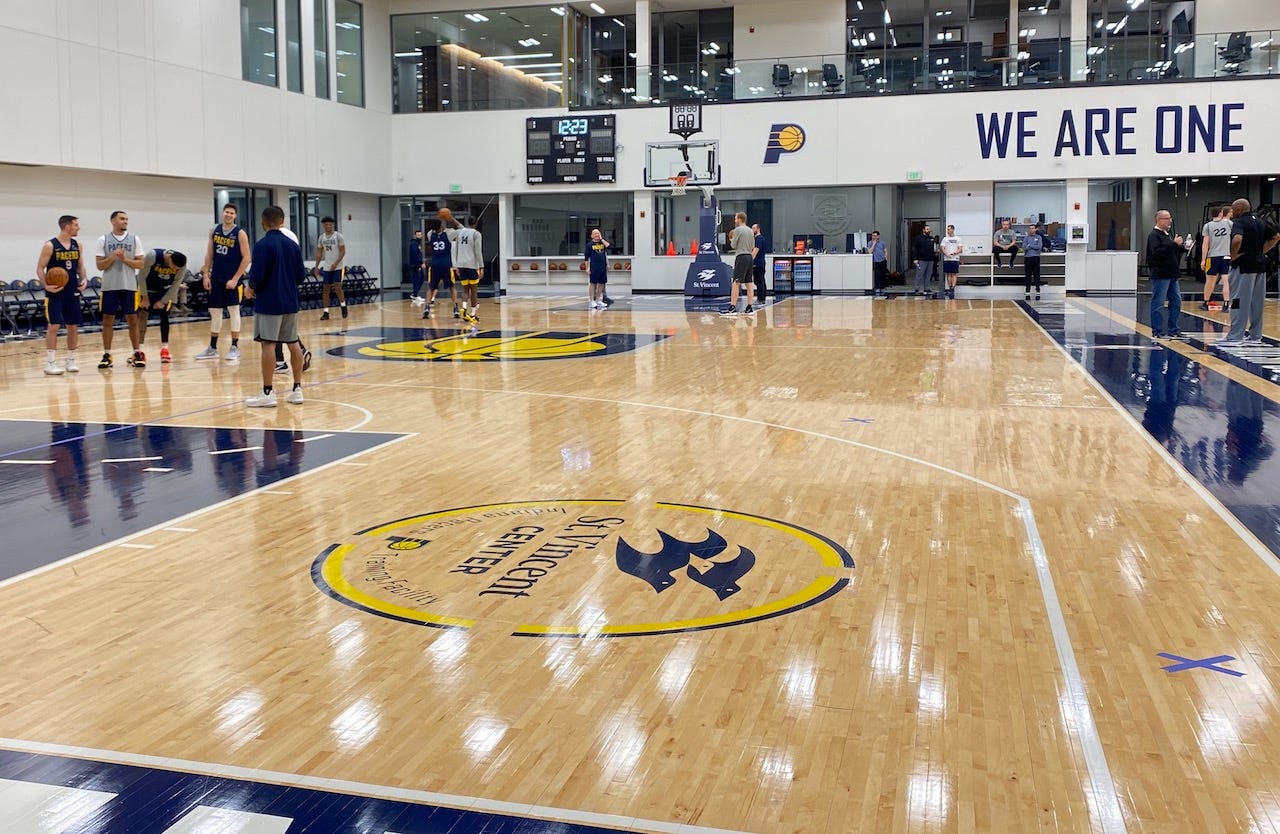 Players and staff are being tested every other day for COVID- 19 at the team's practice facility.
"We've been impressed with the process and we're getting that information pretty quickly," Pacers president Kevin Pritchard said Tuesday on a call with reporters. Zoom calls with players, league officials and reporters have become the new normal.
For now, workouts have been voluntary, scheduled and with a single assistant to rebound. Players and staff members were each provided with a fanny pack that includes Pacers masks, hand sanitizer and a key ring or "touch tool" to minimize what they touch like elevator buttons.
The goal in the last few weeks, as players made their way back to town, was to move from apprehension to excitement. This will be a one-of-a-kind basketball experience, an opportunity to reach millions and Pritchard wants for everyone to embrace it.
"I think the world will be watching," he said. "We're probably going to have some of the highest TV ratings that we've ever had…"
Here are five things to know about the Pacers 10 days before they head to Florida indefinitely.
---
Finalizing the roster
The 22 teams participating in the restart must finalize their rosters by Wednesday, July 1. Each team is limited to sending 35 individuals. That's 770 people combined, not including league personnel, Disney staff, etc.
As of Tuesday morning, one player remained undecided, though Pritchard declined to name him.
"We've given him a lot of space," he said. "This is a very personal decision and there won't be any judging. … It's got to be his decision because once you make the decision, I think you have to jump in with both feet. No judgements either way."
That player is Justin Holiday, the eldest one on the roster (31). He will be a free agent after this restart and is the only Pacer in the rotation not under contract for the 2020-21 season. He's also been active on Instagram, pushing for change regarding systemic racism.
A few hours after Pritchard talked, Holiday published a thoughtful story on The Players' Tribune, entitled "Back with a Purpose," where he eloquently shared how he feels and committed to play in Orlando — for a bigger cause.
"We deserve to be loved, supported and respected, and I am committed to making a change, and that change will be reflected through doing my job," he wrote. "Come July 30, when games resume, you can expect an explosion of athleticism and focus from me, coupled with an unparalleled passion for philanthropy and human rights — rights my people have been striving to achieve for decades."
This also allows for Holiday to finish what he started in his first season with the Pacers, and in playing with his youngest brother Aaron for the first time.
The Pacers intend to take their full 17-man roster, including two-way guys Naz Mitrou-Long and Brian Bowen II.
Update on Victor Oladipo
In the meantime, the training staff has been focused on player health — specifically to be preventative about possible soft tissue injuries (muscles, tendons, ligaments, etc.) after an extended layoff. It's been months since players have played against an opponent considering they're limited to individual work.
"Our challenge is can we get them to come together, play good basketball and mentally? I get a feeling that our top couple of players really want to go compete and see where they are," Pritchard said.
"Guys are excited about playing. There's some guys that really miss basketball."
T.J. Warren is the first player that comes to mind. There's nothing complex about him; he loves to play and he led them in scoring this season (18.7 ppg). The same is true for Victor Oladipo, who recently expressed his desire to limit risk of injury to ESPN. That's always going to be the case, stated or not. There's a collective cautious approach when it comes to the face of the team who, by the way, is entering the final year under contract.
Oladipo returned from Orlando, where he spent the last three months, and has ramped up his workload over the last two weeks — and done so without any setbacks.
"I think the way we approached it is really good and we like what we see so far," Pritchard said. "He's been in here every morning. He's the first one here. We have timed workouts and physical therapy and conditioning. Victor is here first and really doesn't want to leave all day."
The Pacers' timed workouts run from 7:30 a.m. to 4:30 p.m. each day. Oladipo works on the court, in the weight work and then with his personal physical therapist, Luke Miller, who has been with Oladipo since July 8, 2019.
Oladipo's concern, coming off a rare and significant injury, is what could result from hurrying back into game shape. He set his own timeline to return after rupturing his right quad tendon. Ultimately, it was three months before he felt comfortable to suit up, as he did on Jan. 29 after missing 82 regular-season games.
Oladipo and the medical staff will continue to evaluate how he's feeling as he increases his activity level and then have further discussions about where he's at before leaving for Orlando, according to league sources.
"I don't think I've seen him in better shape than I've seen him today in a long time," Pritchard added. "I think he's taking his time to staircase himself up physically, mentally. I've been really impressed from what I've seen out of him. But it's just workouts.
"We have a plan with (head athletic trainer) Josh (Corbeil) and his personal physical therapist. We've spent a lot of time in coming up with a plan that allows him to play, move up and then hopefully be ready to play as much as he possibly can. But we're going to call audibles, we're going to be cautious."
Malcolm Brogdon tests positive for COVID-19
Brogdon remains at home in quarantine after testing positive for the coronavirus one week ago. The team was able to deliver some equipment to allow him to stay in shape while away from the team facility for a few weeks. We don't know to what extent, but Pritchard said Brogdon has continued lifting weights, running and practicing yoga to hopefully be ready when the team flies to Orlando on July 9. That suggests Brogdon has had little to no symptoms.
Their first seeding game isn't until Aug. 1, so he has five weeks to recover from when he first tested positive.
"He said he was at his peak, in terms of being in the best shape," Pritchard said. "And we saw him here one day and he looked amazing. His body looked good, he was light and so this is a little bit of a setback in his conditioning, but I think he's done a great job at his house of doing everything he can."
(Subscribe to the Fieldhouse Files podcast: Apple Podcasts | Spotify | Google Podcasts)
Opportunity awaits
The Pacers are still under construction. They are by no means a championship-contending team this season, but if Brogdon and Oladipo are good to go, they're going to be a challenging out. They are mature, know who they are and have simplistic rules they abide by. When asked about Pacers head coach Nate McMillan earlier this season, 76ers head coach Brett Brown replied with a memorable quote.
"They do vanilla incredibly well," he said. "What they do is solid and fundamental, and just good NBA basketball. He's always been that way in my experience coaching against him, whether it's in Portland or here in Indiana."
McMillan has shown his willingness to make schematic changes, occasionally mixing in a zone and not sending pick-and-rolls to the baseline, instead preferring to square up. The focus behind the latter is to simplify what they're doing and potentially get more rebounds if they're not scrambling instead.
There are eight seeding games before the postseason and the first week is a lighter group. They'll play the 76ers, Wizards, Magic and Suns. Then in week two, they face the Lakers, Heat, Rockets and Heat once more. But by that point, playoff seeding may be finalized.
"We made a lot of changes in the roster last year," Pritchard said, alluding to the nine newcomers. "I believe continuity is really important moving forward. I think this is a great measuring stick to see where we are at."
Three L's, sort of
There's the Pacers' Three T philosophy (togetherness, toughness and trust), McMillan's Three C's (calm, clear and connected) and now there's a new one.
OK, it still needs some fine-tuning, but Pritchard shared how he's approaching this opportunity outside basketball. He believes the NBA, which will take center stage, has a real opportunity to push for changes in communities. You can be sure that players will be outspoken.
Specifically, Pritchard believes they must listen, learn and then activate. For instance, Brogdon, a vice president of the players' association, created a manifesto for when the league is in Orlando.
"It was as impressive of a document, in terms of taking all this energy and enthusiasm and might and saying, 'OK, don't lose that. Let's put that into real action,'" Pritchard said. "So all the things Malcolm put into that was about action. We did a (league) call last night and they brought it up."
Privately, the Pacers have discussed how they can get involved in the community and make a positive contribution.
"We have an action committee that's not a BS committee," he said. "We have expectation for that action committee and we're going to change things. I'm so grateful that these young players are looking (to) and making a difference."