Discover more from Fieldhouse Files with Scott Agness
Taking you behind the scenes and inside the locker room with the Indiana Pacers. The latest news, interviews, features, game reports and draft analysis.
The Pacers' annual Thanksgiving dinner remains a highlight on the calendar
Over 600 of our neighbors experiencing homelessness were treated to a warm Thanksgiving meal and a special experience Tuesday evening at The Fieldhouse.
Tyrese Haliburton wasn't exactly sure what he was getting into. Each year, the organization hosts hundreds and hundreds of men, women and children from Indy-area shelters to Gainbridge Fieldhouse for a warm Thanksgiving meal, along with plenty of activities.
The event, put on by the Pacers Foundation with U.S. Foods and Levy Restaurants, has been held for 25 years. Twenty-five!
And it's easily one of their best community events of the year.
Haliburton has never attended the event and the funny thing is, he's never been to The Fieldhouse's entry pavilion. Why would he? The players park across the street at the team facility, take an underground tunnel across to the arena and never need to go outside.
And Haliburton hasn't even been a member of the team for a full season. He was acquired in a trade last February from the Sacramento Kings, and two-time All-Star Domantas Sabonis replaced him.
It was Sabonis who hosted the Pacers' annual "Come To Our House" thanksgiving celebration — so it was only appropriate for Haliburton to take over those responsibilities. And like everything the Eastern Conference Player of the Week is involved with, he fully embraced it.
"I'm really excited to do this this year," Haliburton said as things got underway Tuesday evening. "It's really important for us, as Pacers players, that we immerse ourselves in the community and show love back to you guys the same way you show us."
The Pacers pushed back their practice time by several hours, then showered and came over to the entry pavilion as a group. Every player and coach, plus some of their family members. Coach Rick Carlisle brought his daughter and so did assistant coach Jenny Boucek. (See photos below.)
They're sharing in this experience together while also teaching them at an early age the importance of giving back.
Team owner and alternate NBA governor, Steve Simon, was there with sisters Rachel and Sarah.
"Incredible event that's been going on for such a long time," Simon said. "It really show this organization's care for the community and how we want to be a small part of being of service. I want to thank Tyrese for continuing this tradition that's been going on a long time."
The event has taken off since it was first crafted all those years ago by former executives Donnie Walsh and Kathy Jordan.
So much has changed in one year, both on and off the court. Last year, everyone was still wearing masks and many were hesitant to be around others.
This year, you could see the smiles. And there were plenty.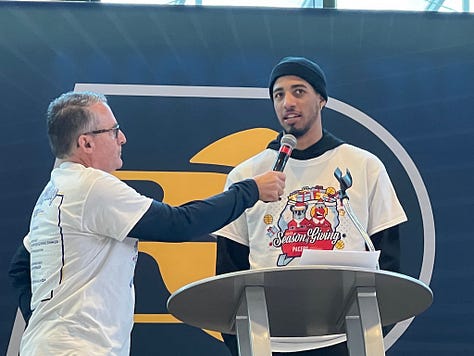 In addition to being served a delicious warm meal, the over 600 Indy residents had other activities they could take part in. And I think the photo booth was easily the favorite. Other activities:
Balloon station

Caricaturist

Face painters

Glitter tattoo artist

Backyard blow-ups to shoot baskets
Hot chocolate with marshmallows was being served, and a lot more. Then, each person left with a bag stuffed full of items to keep warm during the winter.
The Pacers get to comfortably spend the week right here in Indy. They are busy with three games, but they aren't on the road.
That means family and home-cooked meals.
"Every year for Thanksgiving, my mom makes puppy chow before she makes the real food," Haliburton said with a big grin. "I know it doesn't count as a real Thanksgiving food, but I always snack on puppy chow before dinner."
I like how much the Haliburton family is around. He has family members sitting courtside on the baseline at almost every game. And on this night, both his mom and dad were at a serving station. Later on, I saw Mr. Haliburton walk around the tables to chat up the guests.
The thing you have to remember is that most of the guests probably don't know the players and coaches, and they aren't able to follow the team. This is a memorable day for the guests because it's a warm meal, a special experience, and the opportunity to enjoy the holiday — at least for one day.
"It's important we show the human aspect of us, not just basketball players," Haliburton said. "So it's really important that we do that."