Discover more from Fieldhouse Files with Scott Agness
Taking you behind the scenes and inside the locker room with the Indiana Pacers. The latest news, interviews, features, game reports and draft analysis.
Hello again. A personal update, plus Pacers news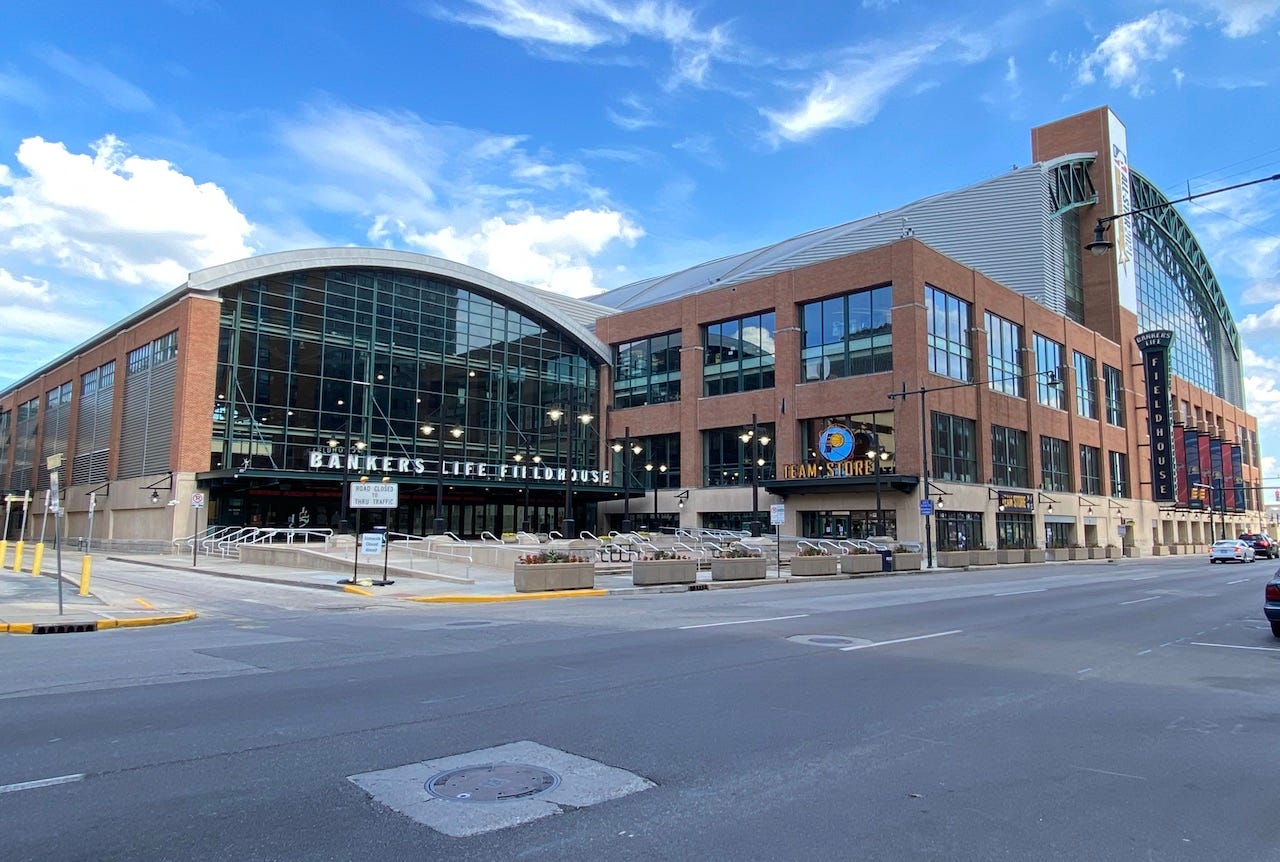 First of all, I miss you all. The last two weeks have been odd, to say the least. I was among the 46 employees suddenly laid off at The Athletic on Friday, June 5.
The first day was strange as the news began to sink it, but so many were there for me. The calls, texts and tweets — I read every single one of them. So thank you. I was the first one hired to build out the Indiana vertical, something I wanted to see happen and was happy to contribute. I am grateful to those who spent your hard-earned money to subscribe and consume my stories.
And I encourage you to not only keep your subscription, but also support other media outlets if you can.
Of course I've spent the last two weeks on Twitter — I can't quit it — even though I haven't actively participated. A lot has happened, in the world and the release of new plans for the NBA season to restart next month in Florida. I was/am looking forward to games again, to seeing what the Pacers can do. They're in much better health and because they're a disciplined, unified group, I think they could stand out during this unusual time.
I've also spent the last two weeks filling out forms, working to get back the intellectual property to my Pacers podcast, Fieldhouse Files, and pondering where to go from here. I do have the IP, so I'll resume podcasting as soon as I complete the technical process. In the meantime, it's been fun and calming to be a guest on a few other shows and to continue my weekly hits on a couple radio stations.
I can tell you I've had several calls, but I'm not yet sure what's next. However, whatever I do and wherever I am — I hope you join me. For now, I have this site I launched just over 10 years ago.
Amazing, right?
Now for some Pacers updates ... because I simply cannot sit still. These last two weeks have been tough, believe me.
I'm told Pacers Sports & Entertainment has made Juneteenth — June 19 — a company-wide off day on Friday. The leadership team felt doing so was important, giving employees time to reflect and consider how they can individually take action.

The Colts have done the same and this week, they posted a newly-created job for diversity, equity and inclusion.

Pacers president of basketball operations Kevin Pritchard will have at least a few hires to make this summer. He said he is prioritizing diversity, so it will be interesting to see what direction he chooses to go.

Pacers point guard Aaron Holiday has changed agents, according to sources. Holiday becomes the second Pacer in six months to sign with BDA Sports, joining center Myles Turner. Holiday, now in his second season, will now be represented by Bill Duffy and Nima Namakian. Aaron was averaging 9.4 points, 2.3 rebounds and 3.3 assists per game this season, playing more than 23 minutes per game. The Pacers are believers in Holiday, who started when Malcolm Brogdon was sidelined with injuries, and have passed on several trade conversations over the last year.

Aaron's oldest brother, Justin, remains with Charles Briscoe and Jrue Holiday of Pelicans is represented by Jason Glushon — meaning all three brothers have different agents. In contrast, the Lopez twins and Ball family, for example, all have the same representation.

Many more Pacers have made their way back to Indianapolis for individual work and testing for COVID-19 next week. Head coach Nate McMillan returned from Raleigh, N.C. and will soon be allowed to observe individual workouts. Domantas Sabonis, though, continues to win quarantine — eating healthy by the beach in California.

Several former Pacers have spent much of this sports-free time back in town, including Lance Stephenson, Glenn Robinson III, Jeff Teague, Chris Copeland and Shayne Whittington.

Assistant coach Bill Bayno now has the George Hill blonde hair look.

Phase one of renovations to Bankers Life Fieldhouse are ongoing. The event level has been gutted and earlier this month, employees had to move out of their offices. Construction personnel have had temporary desks set up in the attic of the building for months now.

Boomer, the Pacers' mascot, was inducted into the Mascot Hall of Fame on Sunday. Ray, the individual inside the suit, has been the team mascot for 23 years. Over the weekend, the team temporarily renamed the alley on the north side of The Fieldhouse "Boomer Blvd." It's back to being "Bankers Life Ct."

This is a big week for birthdays, myself included. Assistant coach Popeye Jones and Country, the equipment manager, had birthdays on Wednesday, as did ex-Pacers Damjan Rudez and Georges Niang. Former Pacers coach Frank Vogel and Stephanie White, the former FSI TV analyst and Fever head coach, celebrate their birthdays this weekend.

It's been a fun exercise for me to list who should be among the 35 individuals the Pacers take down to Orlando for the restart of the season. For instance, normally they travel with three members of security and now it'll likely be just one. I'll share my list in an upcoming story.
That's all for now. Thanks for your support.