Discover more from Fieldhouse Files with Scott Agness
Taking you behind the scenes and inside the locker room with the Indiana Pacers. The latest news, interviews, features, game reports and draft analysis.
'He's the glue': Justin Holiday completes perfect season and is ready to compete in the playoffs
He's their utility weapon and the only Pacer to appear in all 73 games.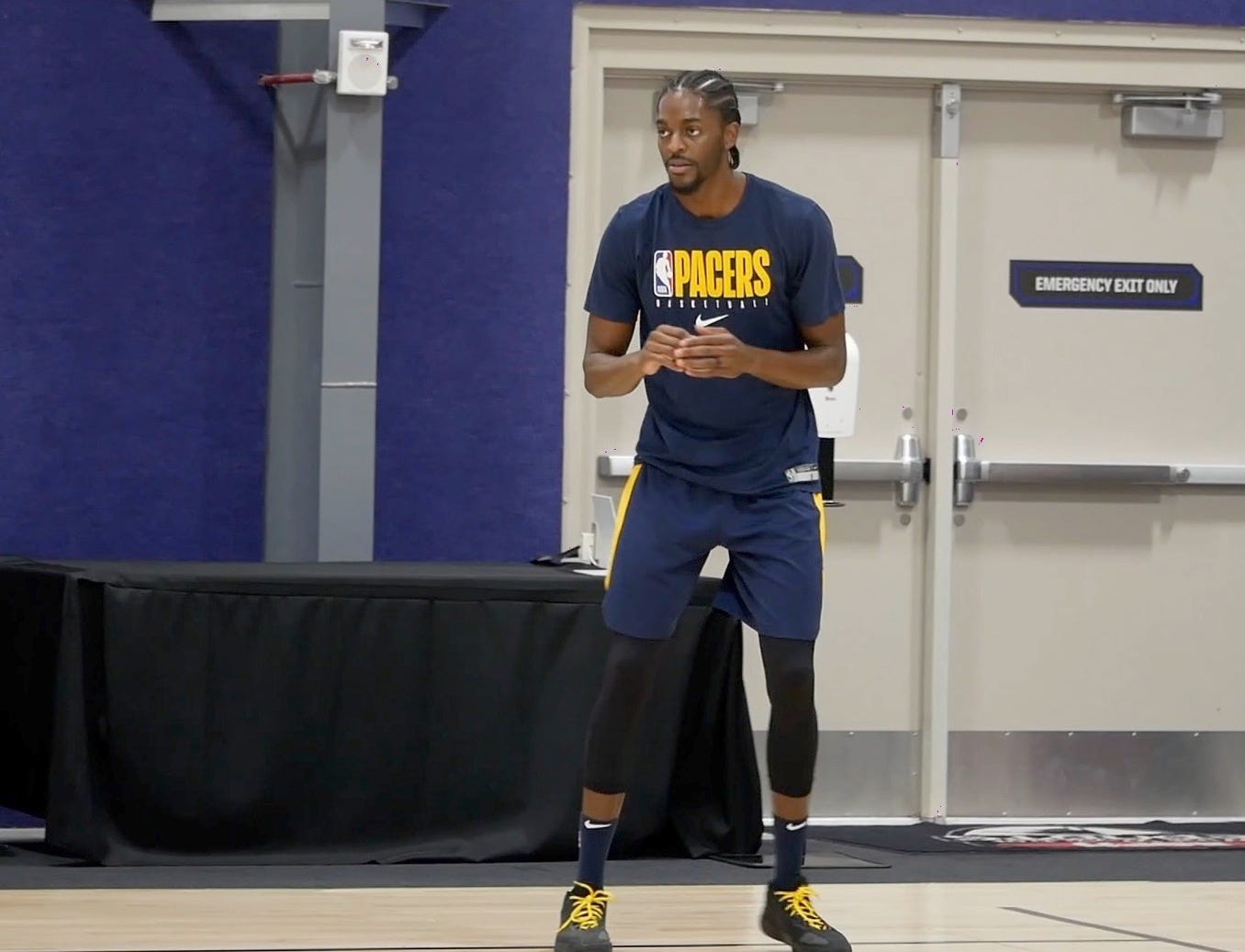 Justin Holiday is averaging 8.3 points, 3.3 rebounds and 1.3 assists per game this season, and he's shooting better than 40 percent from deep. (Photo: Pacers)
---
The Pacers wrapped up the regular season Friday afternoon with their final seeding game inside the bubble. With their first-round matchup already set against the Heat, who they just played on Monday, both teams elected to sit most of their starters.
No Oladipo, Turner or Warren. No Adebayo, Butler, or Dragic.
One player who coach Nate McMillan can always count on being there and ready is Justin Holiday. He's someone the Pacers had been targeting for a while, looked into acquiring and finally was able to convince him to join his younger brother Aaron in Indianapolis by mid-July.
Justin had been seeking a larger, multi-year contract. Ultimately, he elected to sign a one-year deal for $4.7 million, which allowed for him to play with Aaron for the first time and join a team that is almost always in the playoffs.
Holiday started his sixth game of the season on Friday — he finished with 11 points and seven rebounds in 24 minutes — and helped the Pacers to a 109-92 victory over the Miami Heat. That earned them their 45th win of the season and more importantly, the fourth seed in the playoffs against this Heat team.
It's the first time they've been the higher seed in a series since 2014, when they last advanced past the first round. And while home-court advantage doesn't carry the same weight as it does in normal circumstances, the Pacers went 4-0 as the designated home team and 2-2 as the road team at Disney.
"Nonexistent," guard T.J. McConnell said of a possible advantage.
"Honestly, the NBA has done an amazing job having us all down here and what they've setup. But for me in the playoffs, the fans are a huge part of the game and although they're here virtually, you just can't make up for them not being here. So I really think the home-court advantage at that point is taking away from you."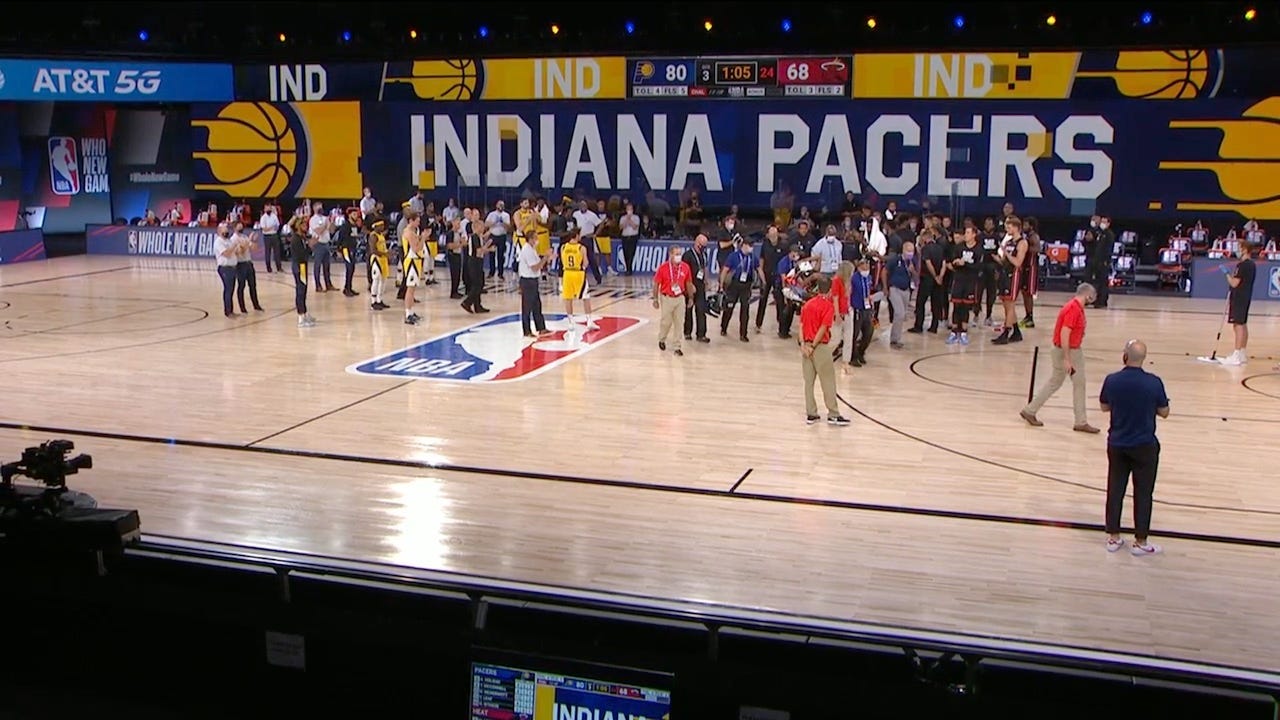 The game was paused for about 10 minutes after Miami's Derrick Jones Jr. suffered a neck injury late in the third quarter and was taken off on a stretcher.
---
When Holiday took the floor Friday, he clinched a notable milestone. He played in all 73 games this season, the third time in four seasons that he's played in every game.
He said the 10 games he didn't play in Chicago during the 2017-18 season were because the coach wanted to hold him out — and not because he wasn't available.
"It's actually something I take a lot of pride in, something I make sure I try to do," he said after the win. "I want to make sure I'm out there every day."
This feat is even more impressive considering the injury-filled season the Pacers are having. Just as one player returns, seemingly another is out. That's the way it has gone all year. As I wrote in March, it's a season full of bad luck and defined by injuries.
McMillan used 22 different starting lineups and they had almost 190 games lost due to injury among 14 players. As the only Pacer to play in all 73 games, Holiday was not part of that group. McConnell (71) was second in games played.
"He's the glue to this team," McMillan said of Holiday. "He's been the glue since starting in midseason. When we had so many injuries, he's had to do a number of things. Play the 2, the 3, the 4 (and) start.
"His basketball IQ is every high so we're able to make those adjustments on the floor."
Without Domantas Sabonis, the central hub for the second unit, more is being asked of Holiday and sharpshooter Doug McDermott. Both started slowly in the restart, but have found their rhythm over the last two games.
"I just think these eight games in this restart have literally been games for me to get back into rhythm and things like that," Holiday said. "I'm not worn out as all. I'm not home with my kids so I get to sleep a lot more. (laughs) I'm getting my rest."
At 6 foot 6, he's more of a 2 guard in the NBA who is able to also spend time at small and power forward when needed. He's this team's utility weapon.
Holiday is a selfless player who does whatever is asked of him, and without complaining. Although his usage rate is second-to-last on the team, only ahead of JaKarr Sampson, he contributes in many ways — like defending, setting up teammates and being ready around the arc for an open triple.
As both Sabonis and T.J. Warren deal with plantar fasciitis, Holiday has spent more time at power forward. He scoffs at the notion that it's been wearing him down.
"It's all basketball so it's not too difficult to me," he said. "You're going to be banged up or feel a certain way regardless of what position you do play. I feel like if you give it everything you can out on the court, leaving the game feeling completely OK is just not going to happen.
"I know this game inside and out. I know all positions. I know all the plays that we run for each person and where you're supposed to be, and in my head I have an idea of how I want to guard every person so I'm just prepared in that sense."
When you've gone through what Holiday has to earn a roster spot, you never take minutes for granted. He went undrafted in 2011, spent a few years overseas and in the D League, played nine games in Philadelphia with his oldest brother Jrue, then was waived in Aug. 2013 before the next season.
"I know what it was like to be on the other side — of  not playing, or being in the D League or being overseas," he said. "So every chance I get to play this game I'm making sure I'm out there for my team. And I want to show the team that when you bring me in, you're bringing me in to work every day. So I make sure I don't miss practices or games."
There was a time in June when he wasn't sure if he would play again this season. He welcomed his second daughter four months ago and he continues to push for social justice and equality. He was the one who organized the Pacers wearing custom t-shirts before their first game of the restart.
Ultimately, it came down to being a man of his word and using this NBA platform to both earn money and raise awareness.
"This is what I do — I play basketball and I made a commitment to my team to be a part of the team and give all I can to help us win," he said in July. "It would have been really hard for me not to go and play because that's what I do."
More than being proud to play in all 73 games, Holiday has something else on his mind — the playoffs. Playing for his seventh team in seven seasons, he's competed in the playoffs just once. He had a very small role on the Golden State Warriors' 2014-15 championship team.
"Not everybody's going to be able to play in these games," he said. "Not every team gets the opportunity to make it to the playoffs. This is what we play for. I'm so thankful and blessed to be a part of this organization and for them to allow me to be able to play in this situation again, and to be in a position where I'm actually contributing a lot more than I did in the past."
Just this week, McMillan received a contract extension so we know he'll coach the team next season. There may be roster tweaks, but otherwise they want for this same group to make a run at it when finally healthy.
Holiday, however, is the only player in the rotation whose not under contract. The Pacers want him back, but after the best season of his career, he's hoping for a multi-year deal.
"He's just been solid," McMillan said. "He's a pro. He keeps himself in shape, he prepares himself to be ready to play, he works on his game and he's been really consistent for us."
Being available, dependable and productive goes a long way.
Up next: The Pacers open the playoffs Tuesday at 4 p.m. ET against the Heat. The game will air on FOX Sports Indiana and nationally on TNT.