Discover more from Fieldhouse Files with Scott Agness
Taking you behind the scenes and inside the locker room with the Indiana Pacers. The latest news, interviews, features, game reports and draft analysis.
Inside the virtual fan sections that bring a touch of home to NBA players and staff
There are more than 300 fans at each game — virtually. Here's how.
When the NBA announced that there would be virtual fans at restart games, immediately I was curious about what it would look like and how they would pull it off. Who are the fans, how are they selected and do the players even notice them during games?
I set out to find those answers and more. When the Pacers played the Orlando Magic in a seeding game, the Pacers allowed for me to sit in one of the sections to experience it for myself.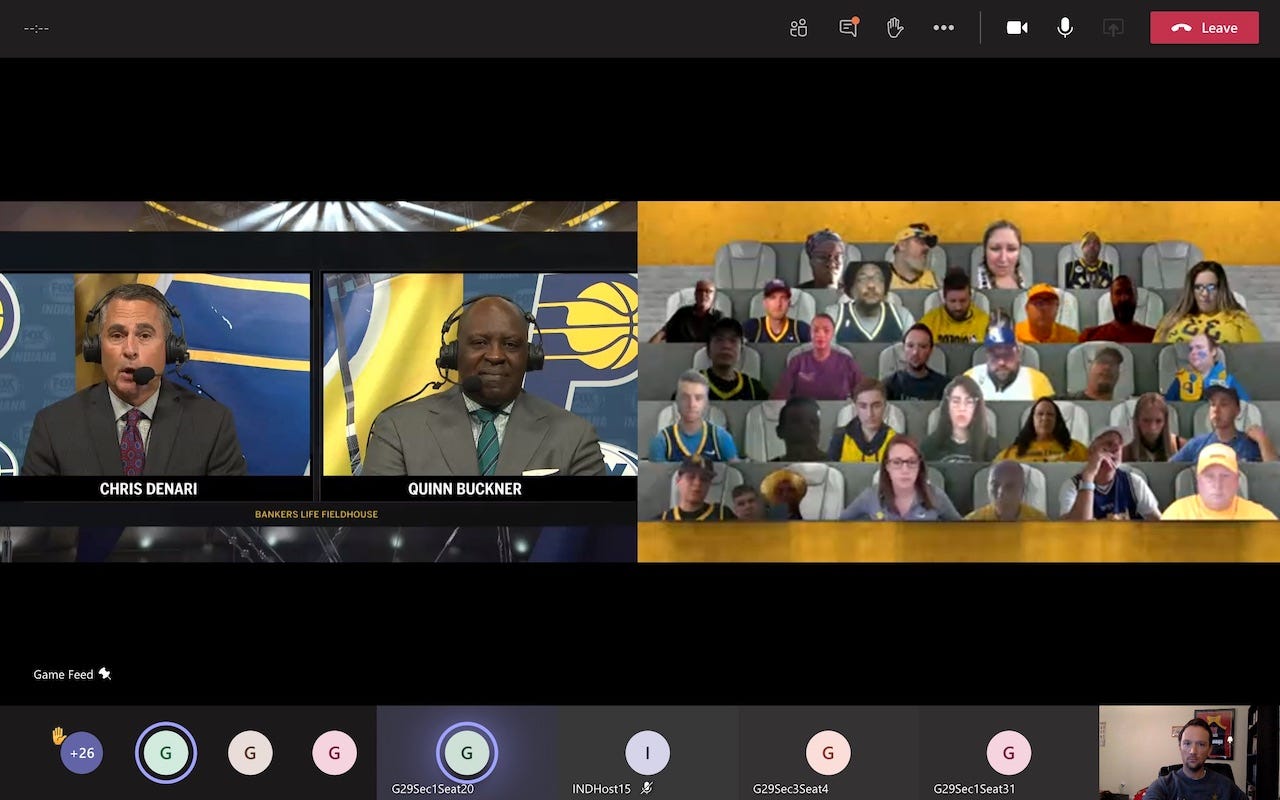 Here's what my screen looked like on Microsoft Teams — the game feed on the left and my section on the right. We could interact and hear each other.
---
During each game, there are 10 virtual fan sections with 32 people in each. While home court advantage isn't nearly the advantage that it usually is, home teams are in control of all but of the sections. The exception — located right behind the team bench — is held for friends and family of the visiting team.
Joshua Shuck joined the Pacers exactly one year ago as the director of marketing. That job title has taken on a whole new meaning without games for four months. And now that games have resumed, no fans can attend. The Fieldhouse sits empty — indefinitely.
"Our team is in charge of brand marketing and fan engagement," Shuck said. "Naturally, this was something that is going to involve a lot of fans so it seemed natural to come into our department."
Shuck is the Pacers' point of contact with the NBA for this league-driven initiative. Initially, the team sent out an invitation to a massive list — to season-ticket holders, members of the two fan zones (Turner's Block and Warren's Warriors), community relations and sponsorship partners, and to staff members.
"We've had well over 5,000 submissions for people to fill the virtual fan seats just after one game," Shuck said. "Unfortunately, we only have 300 slots per game that we can fill. I think that's been very exciting for us to see that."
The list will only continue to grow as fans watch more games and want to be part of the elusive group. Earlier this week, the Pacers opened sign ups to everyone.
In partnership with Microsoft, virtual fans use their Teams application that is meant to bring people together for collaboration. Two hours before tip-off, I received a custom login. Call time was 40 minutes before games, which gave fans plenty of time to get logged in, set up and comfortable with the new platform.
Once in the section, there were several people on the call willing to help. Cameron from Microsoft was there to offer advice and help with any technical issues. "It is highly recommended that you use a computer as opposed to an iOS or Android advice," he told us.
One kid, whose dad was next to him to help, was having trouble with his iPad. So he turned it off, restarted and joined again.
Just five minutes in, 19 of the 32 seats were filled. Fans were excited to participate and cheer on the Pacers from wherever they were.
"It's been very positive," Shuck said of the feedback he's received after the first few runs. "The thing that I've really been surprised to see is even though you're not at a game, you're around people that are excited for the game. We've been very lucky that in our first game, we had T.J. Warren going off for 53 points or Monday night's game we were clicking on all cylinders. So people really get into it."
You never know who you might see up there. Paul Pierce showed up for a Celtics game and Shaq made an appearance during the Suns game against the Pacers.
Almost everyone in my section was wearing Pacers gear. Five were in jerseys, several more wore hats and there was one fan with a gold wig. It was fun for me to see several several members of the Pacers' fan section in my grouping, including a few followers on Twitter.
Rachel James, a senior manager of partnership activation with the Pacers, was also on the videoconference. At 5:53 p.m., she shared her screen to explain how we can set up our screens in "Together Mode" so we could see our fan section on one side and the TV broadcast on the other. James also gave us a reminder that sound does go through to the VISA Athletic Center, where the game would be played, so the team could hear us.
Fan noise is mixed with artificial fan noise and music. By 5:57, we began hearing the music being blasted inside the arena.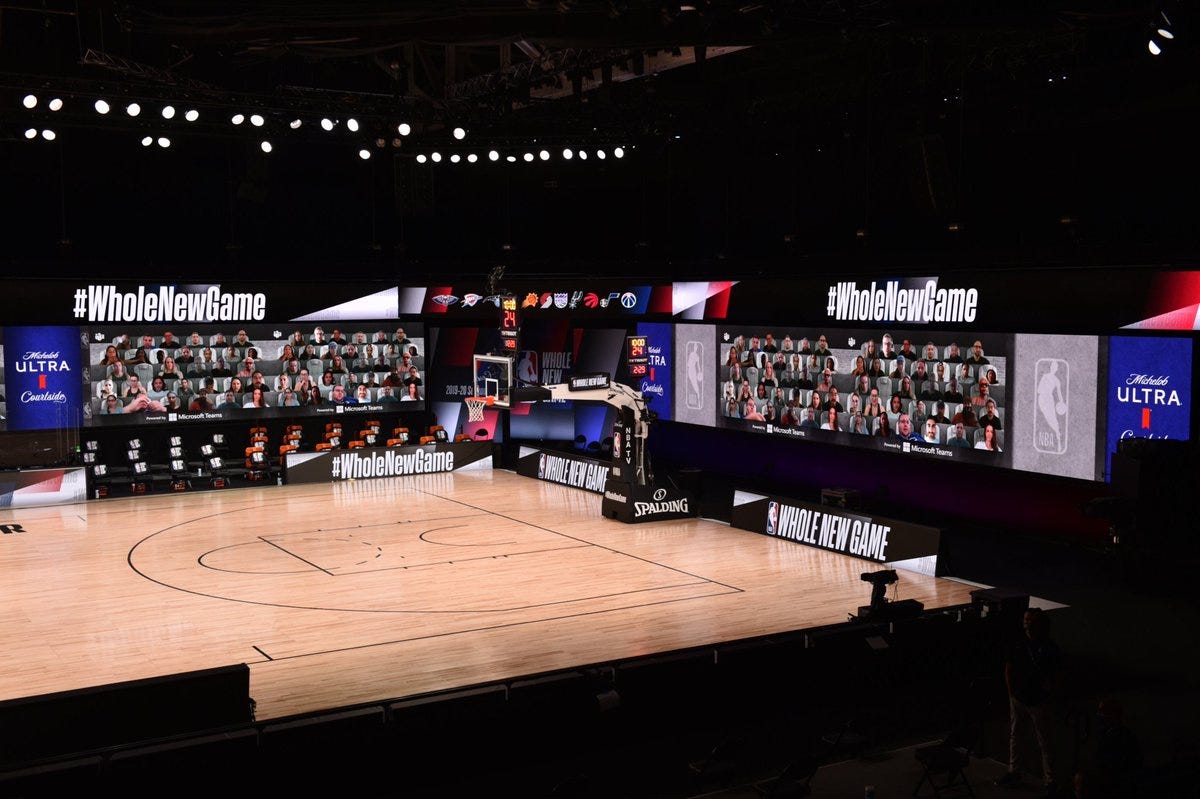 The setup for virtual fans inside the NBA bubble. (Photo: NBA)
---
The cheers started to pick up when the Magic were introduced. Fans chanted "WHO CARES!" after each name, just like they do inside The Fieldhouse.
There were five rows of seats — which alternated with six and seven fans in a row so we were all spread out virtually — on the 17-foot tall LED screens the NBA installed to surround the court as games carried on without fans inside the bubble.
"It's a little weird to not have fans," said guard T.J. McConnell. "We usually interact with some of them throughout a game and the virtual stuff is gonna take some time to get used to. It's pretty cool my dad was up there, but I'm a guy that gets the crowd into it and it's kind of hard to do that virtually."
There's other ways where being the home team has its advantages. The pre-game and halftime music was all familiar — it was pre-recorded by DJ Bandcamp, a staple at Bankers Life Fieldhouse. Then, when it was time for the Pacers to be introduced, a recording of public address announcer Tim Sinclair was played.
As the players made their was onto the court, a recording of Pacers emcee B-SWIFT was played. "Alright, Pacers fans. It's game time. And you know how we do it in Indiana, nobody sits for the tip-off. So I need you on your feet and make some noise!!!"
By tip-off, at 6:10 p.m., 31 of the 32 seats were occupied. We were ready to go.
---
Watching a game on my 13-inch laptop wasn't ideal, not when I have much bigger screens around. But this experience was worth it. We watched the stream in real-time, which was 67 seconds ahead of the broadcast on NBA League Pass. Using "Together Mode," we could see everyone in our section.
"YEAH! LET'S GO!" Warren is on fire," one fan shouted after T.J. Warren, who has been the most outstanding player in the bubble so far, nailed a 3-pointer.
Minutes later, Malcolm Brogdon missed a 3-pointer from the left side and another fan belted "FOLLOW YOUR SHOT!" The Pacers, meanwhile, were up 16-3 on the Magic and had made four of their first six 3-pointers.
"It's still pretty quiet," Pacers coach Nate McMillan said. "It's not like a normal game. You do hear them and you do see them. I glance at that screen, but I don't pay too much attention to that. The focus is on the game."
Halfway through the first quarter, I clicked on Gallery Mode and observed that 12 of 32 fans had their microphones muted. So they wanted to be part of the experience, but didn't necessarily want to be heard. In addition to cheering (and booing), there were occasional sounds of kids crying and a dog barking.
One of my favorite visuals was a fan seated in row five. He was wearing Paul George Flo-Jo jersey, black sunglasses and was drinking a beer. After all, it was happy hour and he was at a game — even if it was virtually.
Our section appeared on screen directly behind the Pacers' bench. I was in row three. At halftime, I received several texts from members of the Pacers who were in the bubble and saw me in the crowd.
"I saw you up there tonight so shout-out to you," Pacers center Myles Turner told me after their 120-109 win.
Karen Atkeson, the vice president of player relations, didn't travel to Orlando, but she assists players and their families all year. The section to our left (towards the scorer's table) was the team's friends and family section. There was McConnell's dad, Turner's mom, the Sumner family, executive assistant Susy Fischer and more.
"Karen and I are in hourly communication as far as what does the room look like, who needs a login — all that stuff," Shuck said.
Since players, coaches and staff members are without family — unless your last name is Holiday — this is meaningful for them. They can briefly glance over their shoulder and see loved ones.
"It's the best part of the game," one staff member said. "So cool."
"I know (my parents) are always watching — whether they're on the screen or not," Turner said. "Every now and then I'll see a familiar face. You have a lot of Pacers faithful that are there, people that I recognize from being in the crowd at Bankers Life (Fieldhouse)."
There are two challenges with the use of virtual fans. First, it's getting them to stay in their seat for the entire game. We had about seven vacant seats for most of the second half.
Secondly, the Teams application needs improvement. Video quality changed often and was never as good as some of their competitors.
My Apple MacBook was in overdrive the entire time. The cooling fans were audible. On that same laptop, I have several Zoom calls each day that run smoothly and don't bog down system resources. That was the one thing holding this back from being a grade-A experience.
"It's something new, a different way to watch the game and I think a lot of people who join us, tend to want to come to the next game," Shuck adds.
During the third quarter, the audio broadcast feed wasn't working. One fan reacted quickly and started to do the play-by-play for a few minutes. Numerous voices shouted "Boom Baby!" in unison after Warren drilled another 3 from the top of the arc.
One fan put on a mascot head that looked like a gray bear. Another fan put on a chicken head, presumably to represent Quinn Buckner's signature smothered-chicken call.
"All I know is if I miss a Quinn Buckner smothered chicken I'm going to be mad," he said while the audio feed was down.
The Pacers considered giving these fan sections an energy boost with a virtual visit from Boomer or members of the Pacemates or Hype Crew. But they ultimately decided against it. They believe fans will take the cue from others in the room, which was the case in my experience.
"What we've noticed is that what people are really interested in is hearing the broadcast team," Shuck explained. "… So we've let (cheers) more naturally develop. There's some teams throughout the league that are having their hype crew come in and try to lead chance, but a lot of what we heard is that the fans are doing it on their own."
When Warren exited the game with 32 points on 13-of-17 shooting, some fans began to chant "M-V-P!"
"Of course, we wish we were safely playing at the Fieldhouse," Shuck noted. "But being in the bubble, I think the NBA and the teams are trying to do so much and the league has done a great job to figure out how do we get fans involved in a way that's never been done before? And this is definitely one of those ways."
These fan sections, which provide a sense of community, will continue the rest of the season. Keep watching the screens behind the benches because you'll never know who you may see. Maybe one game it could be you.