Discover more from Fieldhouse Files with Scott Agness
Taking you behind the scenes and inside the locker room with the Indiana Pacers. The latest news, interviews, features, game reports and draft analysis.
'It's a dream come true': Jason Gardner discusses his return to coaching at North Central HS
He won a state championship in 1999 and was voted Indiana Mr. Basketball.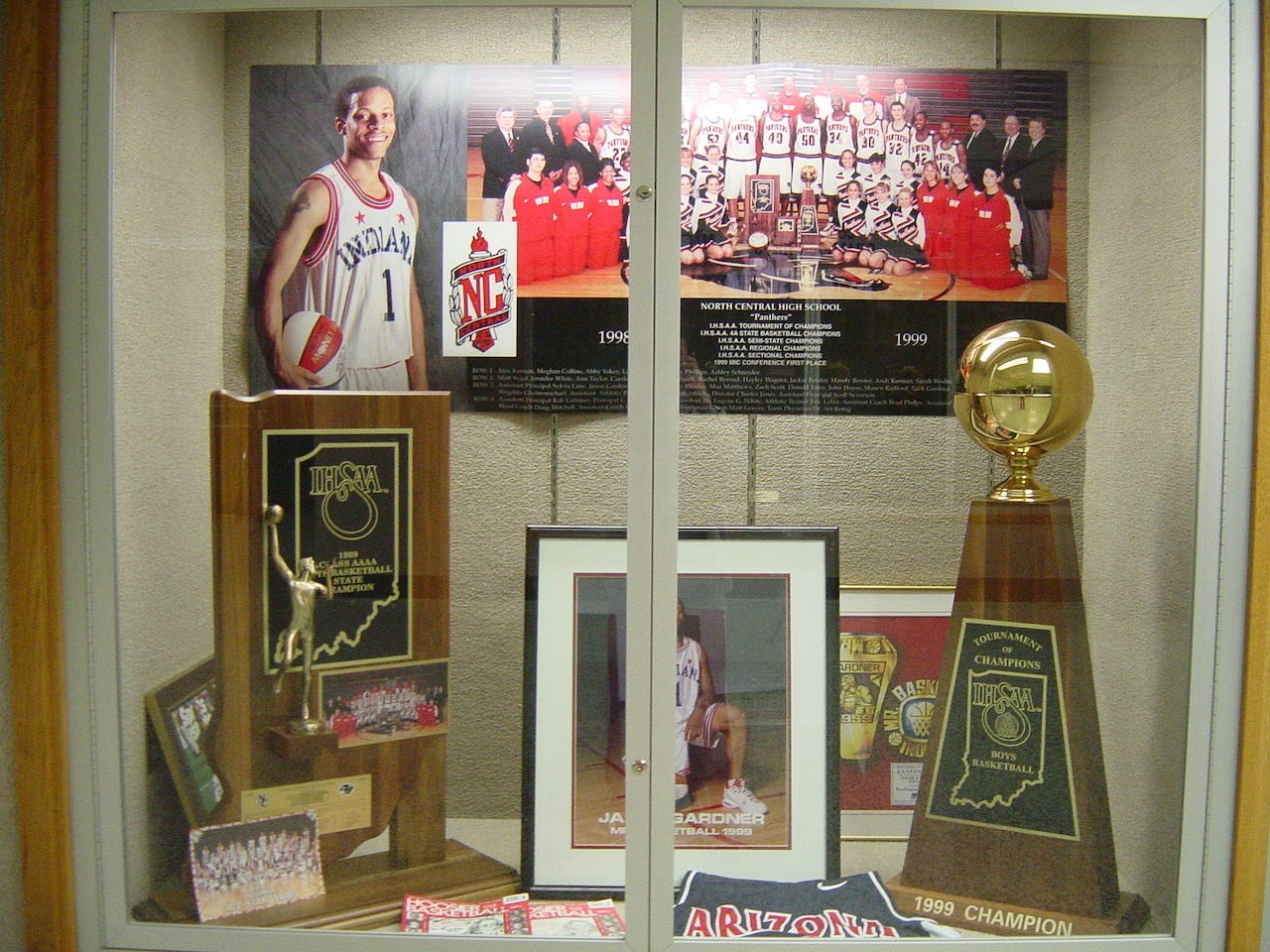 Just outside the North Central gymnasium sits this trophy case dedicated to Jason Gardner and the 1999 state championship team.
---
A former Panther is returning home. Jason Gardner accepted the position of boys basketball coach at North Central High School, his alma mater.
The hiring became official Wednesday after it was approved by the Washington Township school board.
Gardner is one of the best players to come out of the program. He led NC to the class 4A state championship during his senior season in 1999, then was voted Indiana Mr. Basketball. Now he's coming back to where he made a name for himself.
"I'm on a group text now with a bunch of my teammates from '99 and they're all saying congratulations," Gardner said by phone. "And more than that, there's different funny stories, practices and games we all still talk about. Those memories are everlasting so I do think it's going to be an emotional deal for me."
Gardner, 39, is taking over for Brian Hahn, who suddenly resigned in June after two years on the job. He replaced Doug Mitchell, NC's head coach for 25 years.
Once the job became available, Gardner talked with Mitchell about his experience, high school basketball in the state and what he should expect.
"He was a big help as far as coaching me through the process," Gardner said of Mitchell.
Gardner also had the backing of many prominent alumni, including NBA guard Eric Gordon. Together, those two are the faces of North Central basketball.
Gordon, who continues to follow and support the program, found out on Wednesday after his Rockets played the Pacers.
"I'm glad he got the job," Gordon told me. "You won't find a better candidate who coached at the college level. He knows how to develop and create opportunities for these kids to go to college. Jason was a McDonald's All-American so he knows what it takes.
"He's hungry for this opportunity."
Gardner's game was influenced by Mitchell at NC and Hall of Fame coach Lute Olson at the University of Arizona from 1999-2003.
"Playing at Arizona and playing at North Central, those are the two jobs that I've always wanted," he made clear. "I just didn't know how it would all happen."
After he went undrafted — he was a 5 foot 10 — Gardner played professionally overseas from 2003-11 before moving into coaching. After a brief stint assisting the Cathedral High School team, he was an assistant coach at Loyola (Chicago) and the University of Memphis before running his own program.
He directed the IUPUI men's basketball program from 2014-19, but resigned almost one year ago after being arrested on suspicion of operating a vehicle while intoxicated in Hamilton County. Gardner, who has a son (Jason Jr.) entering the sixth grade, spent the last season out of basketball and is now eager to return to the sidelines.
Meanwhile, North Central had been one of the top programs in the state, but they've gone 19-27 over the last two years. That's what Gardner, a quick guard himself, is inheriting.
"The more possessions and more shots you get up, it keeps more people happy," he said of how he plans to play. "We have some athleticism, so I think pressing will help a lot more people get on the court. I'll look to change the tempo and definitely pushing the ball. In today's age, that's what all kids want to do anyway."
Gardner, who wore No. 22, grew up in Washington Township and remembers shooting around and forging relationship with kids from Northview and Eastwood, the other two middle schools in the township, in the upper courts at the Panther Pavilion. (My unofficial name for it.)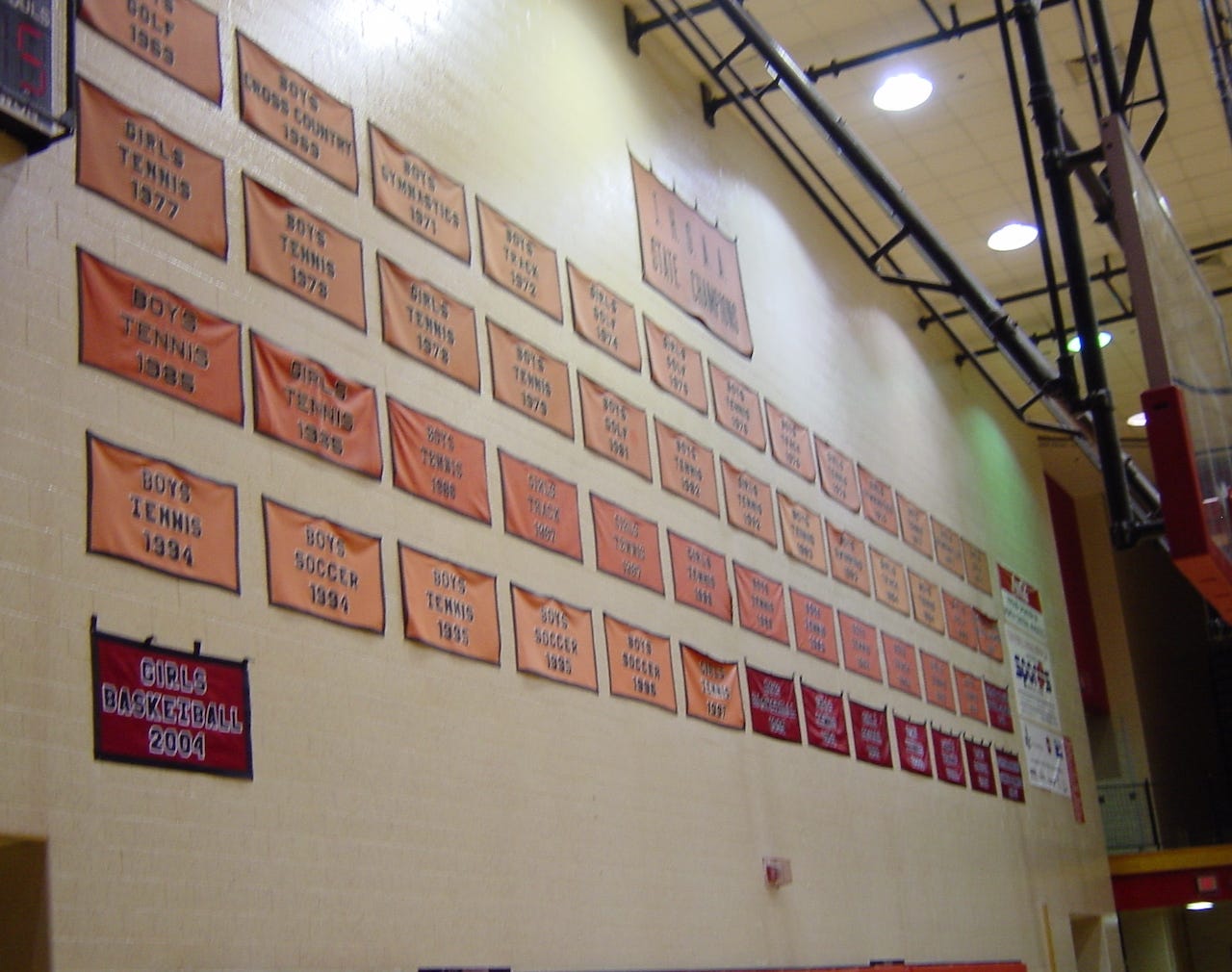 On the wall at one end of the gymnasium is a banner celebrating Gardner; on the other are banners for each of the school's state championships, including the 1999 basketball title.
That's above Gardner's new office.
"I always remember coach Mitchell coming out of that big red door," he said. "That was a big thing of mine. I would love to have this job and come through that door.
"Now it's a dream come true."