Discover more from Fieldhouse Files with Scott Agness
Taking you behind the scenes and inside the locker room with the Indiana Pacers. The latest news, interviews, features, game reports and draft analysis.
Making sense of Victor Oladipo's garbled messaging
Will he play in the restart? Only he knows.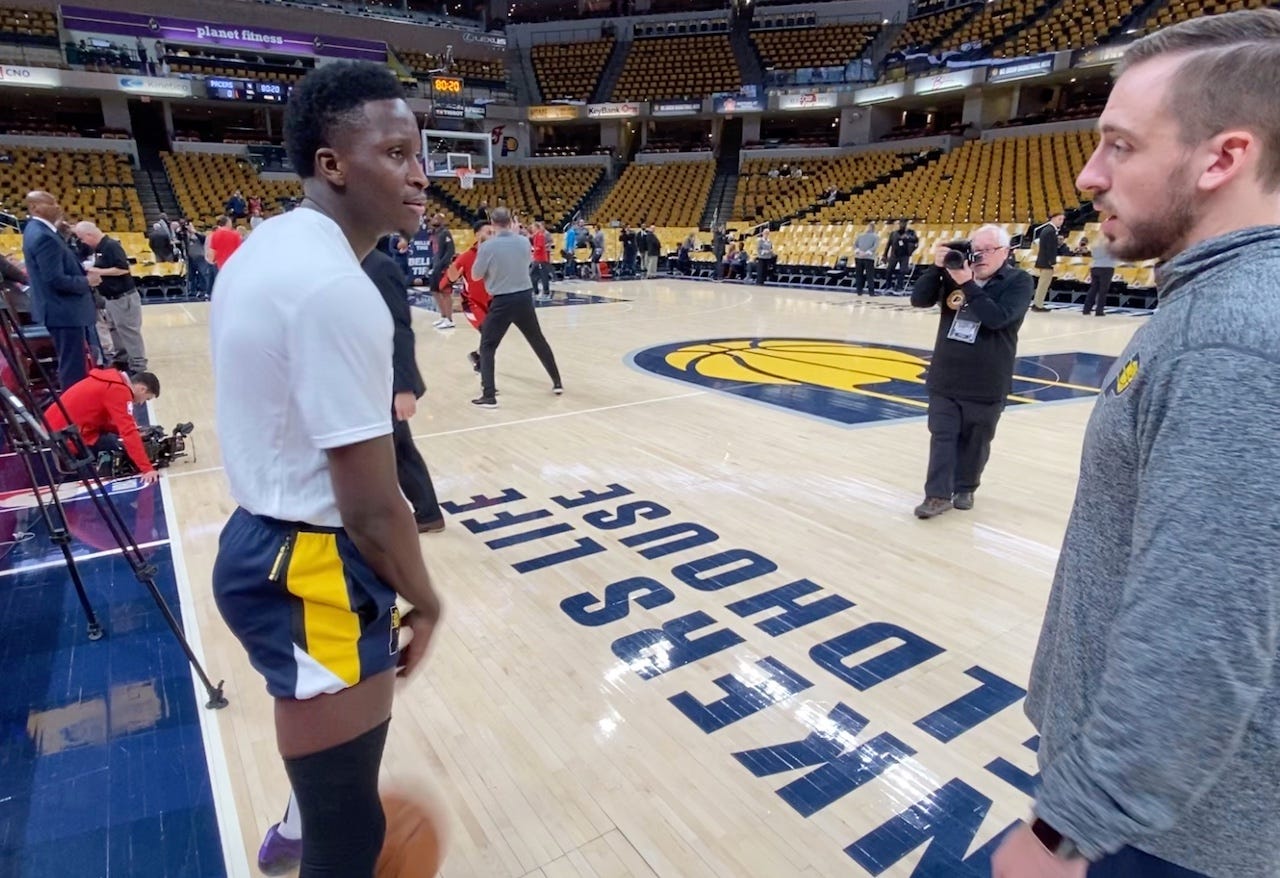 Will he play or won't he? That's a question only Victor Oladipo can answer. It's also a question he doesn't need to answer for several more weeks.
Messaging away from the court hasn't been his strong suit over the last 18 months and it continues inside Disney's protective bubble. Oladipo is unquestionably the face of the franchise, but he continues to learn the weight his voice carries.
So when Oladipo announced — via a national reporter, not the team — that he would not participate in the restart of games on July 3rd, there was backlash that of course made its way back to him.
He wants to be loved and appreciated — and he is here in Indianapolis. Because of his ties to Indiana University, his soaring skills and contributions on the court, fans have proudly been behind him, even uniting college fan bases. I had several Purdue basketball fans message me in 2017 saying even they could overlook the rivalry to support Oladipo.
It was Oladipo who helped keep the Pacers afloat when many expected a significant drop-off in 2017 after The Trade. They won 48 games and then did it again, and even without him for much of this season, were on pace to win 50 games.
Fans, some of whom may be unemployed, don't understand his initial decision to sit out. The team isn't exactly clued in either. How could he be healthy enough to play in 13 games, most recently his best game yet on March 10, and now four months later say he's not ready?
"I don't think I've seen him in better shape than I've seen him today in a long time," Pacers president Kevin Pritchard said on June 30. "I think he's taking his time to staircase himself up physically, mentally. I've been really impressed from what I've seen out of him."
Oladipo admits that he's not 100 percent, though he's getting closer. He estimates that he was maybe 80 percent in the spring during his return. Any hesitation to play was not pandemic related.
"I'm making this decision based off my health," he said during an extended video conference with local reporters back on July 1.
Two days later, during a questionable Friday news-dump time, Oladipo announced that he would not play again this season. It was news to the front office and coaching staff, again.
"My teammates have always been supportive, from the day I got hurt until now," Oladipo said. "That's nothing new for them. I haven't really talked to them too much about it, I think we're all just focused on preparing ourselves for anything, whatever may come from this."
Oladipo controls the message and decides when he wants it public, then Nate McMillan must answer for it. We saw it in January when Oladipo said his first game back from a ruptured right quad tendon would be Jan. 29. Nobody should criticize him for choosing his own doctor or where to rehab — any player should feel comfortable taking charge of their health — but the communication from his side needs improvement. Especially considering the Pacers are the ones cutting his check.
More than anything, this emphasizes how it is a players league. If a star player wants to sit out, he'll sit out. If he wants to start, he'll start. And if he wants a new coach, he just might get it.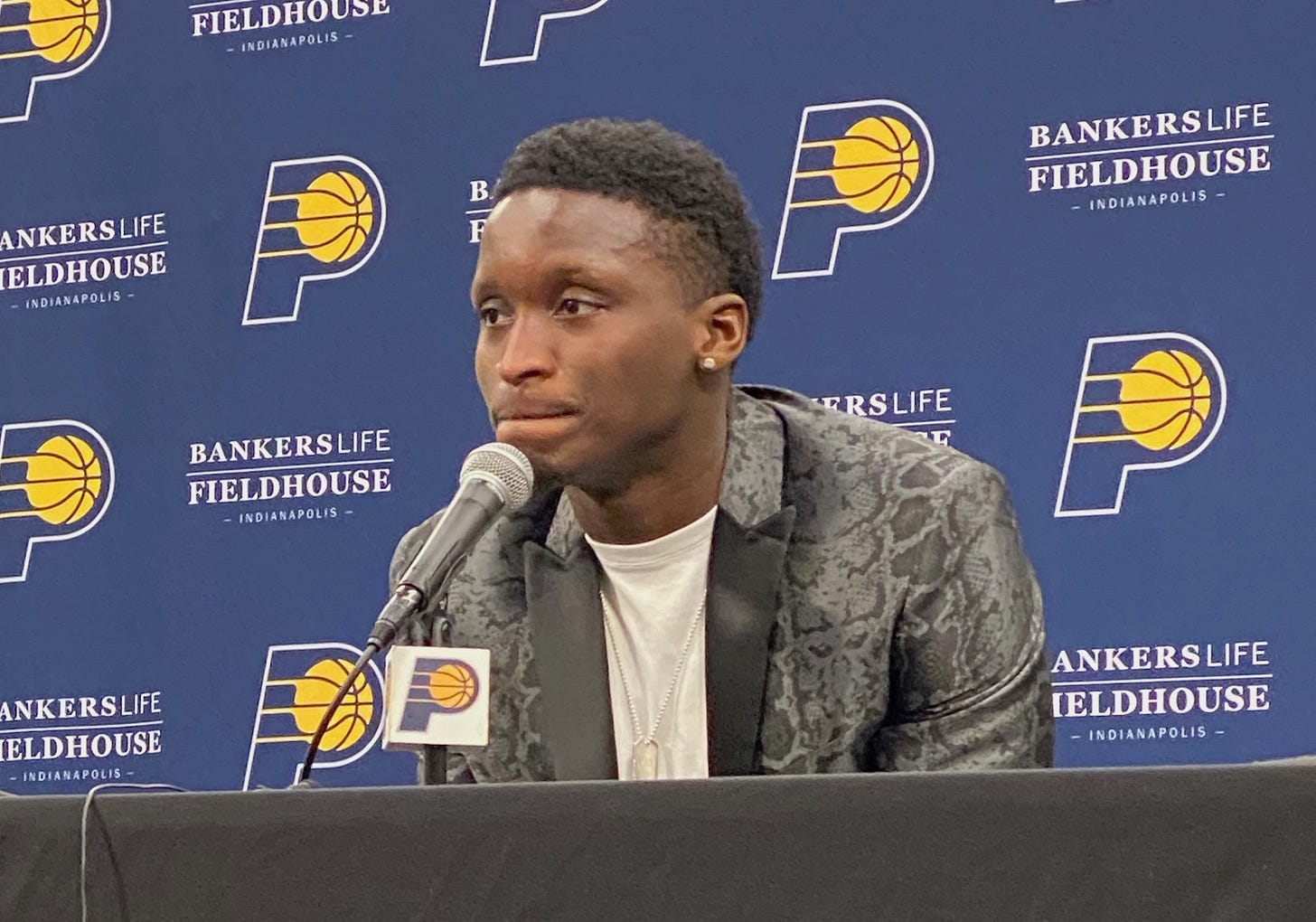 The Pacers traveled down to Orlando on July 9 and Oladipo was with them. If he wasn't going to play, what was the point of being an extra in the bubble and being at risk for the virus? Teams were already limited to 35 members of the staff.
(The same can be said for guard Jeremy Lamb, who is out for an extended time. He does stand to benefit from being around the team's medical staff whereas Oladipo employs his own physical therapist.)
Then on July 13, after three days of practice, Shams Charania of The Athletic tweeted that there is "growing belief" that Oladipo would play.
Oladipo's messaging is all well-intentioned, but it has not gone well.
Why was Oladipo compelled to make a call on July 3rd — almost a week before flying to Orlando, a month before meaningful games and more than six weeks before the playoffs?
Oladipo chose to spend most of the last three and a half months at his home in Orlando. He continued his daily rehab and workouts and played some 1-on-1. But he didn't play 5-on-5 until their first practice in Orlando on July 11.
This is all going on a year after Kevin Durant, a fellow DMV (District of Columbia, Maryland and Virginia) product returned from an injury in the NBA Finals and then suffered a ruptured Achilles tendon. Oladipo feels good about the tendon, but is concerned about other injuries that could come from an extended layoff.
That makes complete sense. What doesn't is that he is a full participant in practices at Disney. Perhaps that's what led to a change of heart after three practices, that the competitor in him cannot tolerate sitting on the sidelines. Yet another reason why he should have waited a few more weeks to decide in the first place. His garbled messaging (and timing), though, has only created more questions than before.
"We're not approaching it as if he's not playing," McMillan said on Sunday. "We are putting him out there. There are no restrictions for Vic and he's been going hard. He's been going hard the entire time that he was off."
That's where next season and his impending free agency comes into play. He has just one more season under contract (2020-21) and then will be a free agent for the first time in his career. He brushed it off when asked directly whether his future earnings weighed on him, making clear it was about his health.
"Going back and turning things up as quickly as we're about to do and pretty much going to playoff games after eight games, I'm more susceptible to injury than anyone else," he said on July 1.
"So it's not about now, it's about longevity."
The Magic drafted him. He signed an extension before his first season with the Thunder after being traded there and soon he will have the freedom of choice. Oladipo could have signed an extension in the fall before the season and he can after the season — at up to $25 million per year — but he has the potential to maximize his returns by waiting until next summer when all teams may present an offer.
By then, he'll be 29 years old, two and half years removed from both a significant and rare basketball injury, and be set up for potentially the largest contract of his career.
It will be a crowded 2021 free agency, with superstars like LeBron James, Kawhi Leonard and Giannis Antetokounmpo due new contracts. An unknown salary cap clouds potential earnings on all new deals.
"I'm just trying to do what's best for my future because when I'm at my best, this team is at their best," he said.
Oladipo, meanwhile, is not entitled to be paid out the rest of his salary this season just because he accompanied the team to Disney. Players who contract COVID-19 and stay home receive their full salary, but not those who are healthy and decide against it. As ESPN reported, that's something for the NBA and NBPA to sort out.
Oladipo needs to explain his sudden change of heart, but it shouldn't be to guarantee himself $3 million. Again, it's either about the money and protecting his future earnings or it's not.
"I appreciate my teammates and this organization for backing me and supporting me with whatever decision I make," Oladipo said two weeks ago. "But at the same time, I'm trying focus on my knee, getting it as strong as possible and seeing where I'm at."
The Pacers did not practice on Tuesday so nobody was made available to the media. Both Pritchard and GM Chad Buchanan are with the team at Disney.
The organization supports Oladipo and whatever he decides. They are fine with paying him, whether he plays or not. If they weren't, they might as well open the exit door to send him on his way.