Discover more from Fieldhouse Files with Scott Agness
Taking you behind the scenes and inside the locker room with the Indiana Pacers. The latest news, interviews, features, game reports and draft analysis.
Motivated to create change, Jrue and Lauren Holiday pledge $5 million to Black businesses and communities
They couldn't sit on the sidelines anymore. Here's what they're doing to help those who need it in communities where they've lived.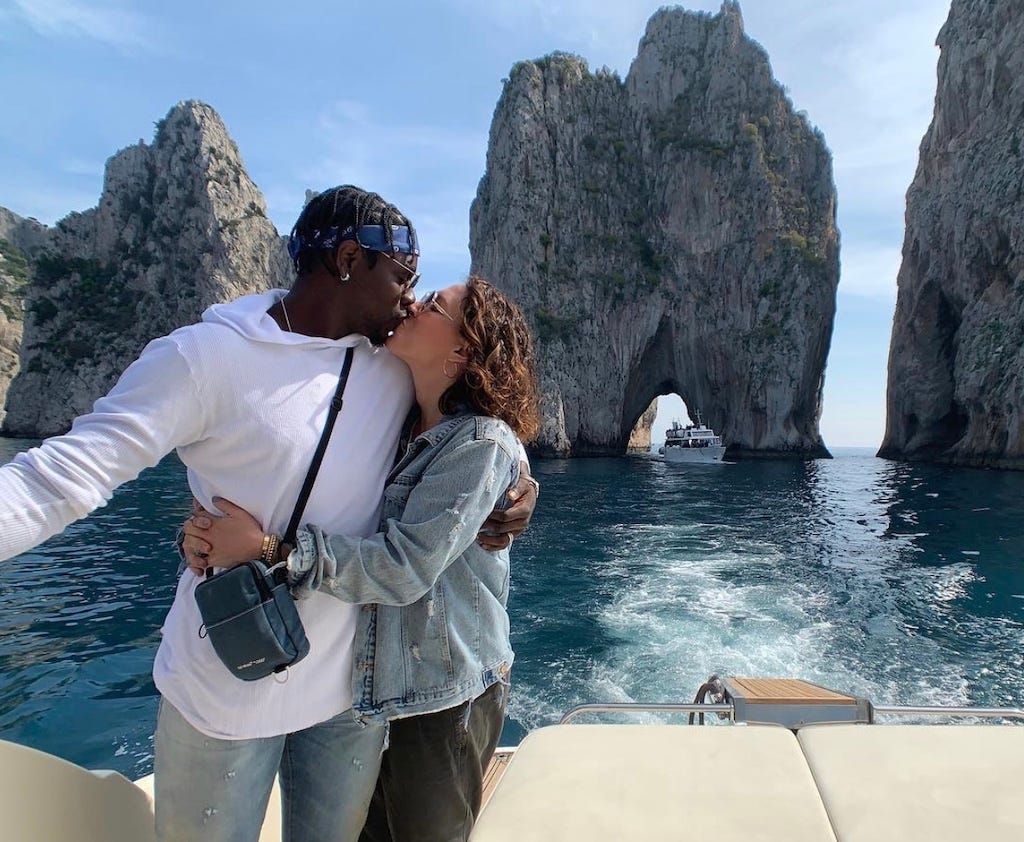 Jrue and Lauren Holiday met at UCLA and committed more than $5 million to social justice reform.
---
Back in early June, once the NBA approved plans to restart its season in July with 22 teams coming together on one campus, players had a decision to make. Do they feel comfortable leaving home and being away from family for several months?
Some players elected not to travel down to Orlando, Fla. — for family considerations, health purposes or contract reasons.
Point guard Jrue Holiday, 30, was on the fence. He's a leader on the Pelicans, third on the team in scoring (19.1 ppg) and one of the best defenders in the league.
But we wasn't completely comfortable with the idea of starting back up again given the social unrest throughout the country and with slim chances to qualify for the postseason. Could he really leave behind his three-year-old daughter and his wife Lauren, who is pregnant with their second child?
"What is the meaning of all this and how does basketball matter in the time we're going through," Lauren wondered. "That was our conversation for a couple weeks and we were trying to figure out what was best for our family and everyone involved.
"Jrue is extremely close to his team and he loves his teammates. That was something he never wanted to leave his teammates out to dry. So one night we were discussing things and I said, 'Well, how about you make a stand and our stand is giving away the rest of your salary for the year?'"
So they did.
Shortly before returning to New Orleans for a mini-camp, Holiday confirmed his participation and announced that they would donate the rest of his salary for the season. He has earned more than $100 million in his career since being drafted by the Philadelphia 76ers in 2009, but this was a significant contribution of about $5 million that will impact multiple cities across the United States.
"I had to make a decision on if I wanted to come back and play, and pretty much the reason why I came back to play was to donate my contract," Jrue said by phone from his hotel room at Walt Disney World.
In the midst of a global pandemic and with social justice reform constantly on their minds, the Holidays made pledges to three cities close to their hearts. Up to $1.5 million will be distributed in New Orleans (where Jrue plays), $1 million in Indianapolis (where Lauren grew up) and $1.5 million in L.A. and Compton (where Jrue grew up) through the Jrue & Lauren Holiday Fund they recently launched.
The money will help support Black-own small businesses that may not have the same access to public funds and have been negatively impacted by COVID-19. The Holiday's focus is to 1) support Black non-profit organizations, 2) city initiatives for equality and 3) historically Black colleges and universities (HBCUs).
Additionally, they've allocated $1 million for Black-owned small business owners in 10 cities and $500,000 to HBCUs. It's not just about donating money, but also about providing tools for these individuals and businesses to succeed. That may include coaching, classes on how to manage money or grow a business.
"Any way we can help," Lauren made clear.
She gets the credit for the initial concept and early execution. In an unusual time and with so much uncertainty, they chose to target meaningful communities and help raise them up.
"Honestly, she's great at this," Jrue said of his wife. "She's been great at this for a long time. She understands funding that you have to put together, she understands who we want to reach out to and she also has a different perspective being one, from Indiana, and two, being married to a black man."
Lauren (Cheney) Holiday played soccer at Ben Davis High School — she was named the 2006 Gatorade Player of the Year — and UCLA before making a name for herself nationally on the United States women's national team.
She first met Jrue in 2008 while sitting courtside at a UCLA women's basketball game. They didn't start dating, however, until after college.
Lauren also played basketball in high school and still likes the sport. In the Holiday family, how could you not?
"We had never spoken before or met before," she remembered. "Someone had come up and asked if he was Darren Collison. I laughed and then when the guy walked away, I told him, 'Hey man, don't worry. You're way cuter than Darren.' From then, we had a friendship and we had mutual friends."
Lauren detailed some of her personal experience on The Players Tribune in June, how she was aware of blatant racism they faced on a daily basis but chose not to call it out. (You should really go read it.)
She's white, Jrue's black and they're raising a biracial child. They've talked about racism and social justice reform since they started dating a decade ago, and those discussions have only intensified in recent months.
"Even while dating, we discussed what's it going to be like raising a mixed or black child," Jrue said. "Or even issues that have happened while we were dating. We've always been pretty open and had that line of communication.
"Over the last couple months, I think it's been even more hyperaware because we're bringing another child into this world and the world is going kind of crazy right now. So we've tried to buckle down and be able to make this world a little better place and share some love with other people who might need just a boost."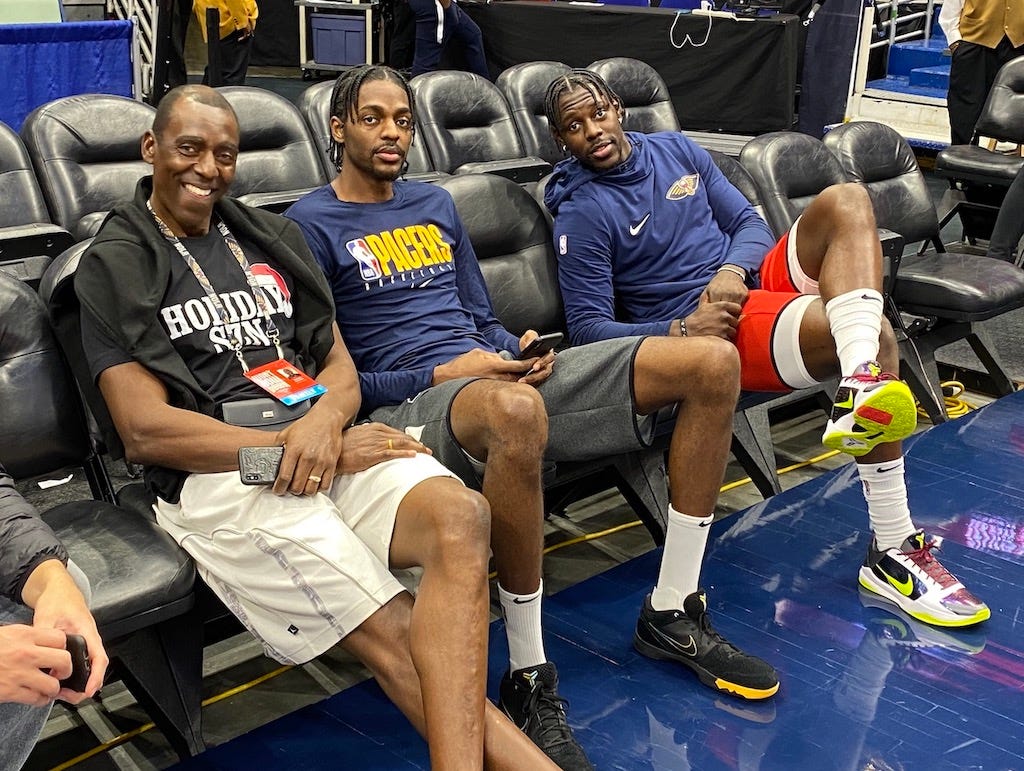 Shawn, Justin and Jrue Holiday on Dec. 28 before the Pacers played the Pelicans in New Orleans.
Although her parents moved away from Indy and closer to her brother last year, the city will always be special to Lauren. And it keeps bringing her back to visit Justin and Aaron, her brother-in-laws who play for the Pacers.
The Holiday brothers made NBA history in December when all three were on the court at the same time. Of course mom and dad, as well as more from the family, were in attendance in New Orleans.
"I just feel very strongly that Indy has always supported me with the Olympics and everything," she explained. "They've shown me so much love that it was really important for me to give back. I feel like I am who I am because of where I was raised. I felt strongly to give back there and then New Orleans is a no-brainer and Jrue is from LA and we live in California."
Beyond the monetary impact, they hope this helps get the ball rolling. They're leading the way and creating an outline that may inspire others to contribute and follow suit.
"We've had a lot of great feedback on that," Jrue said, "knowing where we're putting our money and all the companies that have applied for grants. Big companies have reached out to be able to support has been pretty cool."
---
In the weeks leading up Jrue's decision, he talked it over plenty with his brothers, both of whom play for the Pacers. Justin admittedly was torn about playing and waited until June 30th to announce his intention to play.
"We deserve to be loved, supported and respected, and I am committed to making a change, and that change will be reflected through doing my job," Justin wrote in a thoughtful first-person essay. "Come July 30, when games resume, you can expect an explosion of athleticism and focus from me, coupled with an unparalleled passion for philanthropy and human rights — rights my people have been striving to achieve for decades."
Justin had t-shirts printed for his teammates to wear during warmups which read "AM I NEXT?" over names of individuals who were victims of racism. The back of his game jersey reads "Say Their Names."
"Am I Next?" T-shirts coming soon! All proceeds will be going to a Black Organization. Follow
@shopinferias
to get updates on when the shirts drop.
📷:
@etselec
Baby brother Aaron was the one Pacer who chose not to have a social justice message on the back of his jersey. Instead, like Miami's Jimmy Butler, he had hoped to go without a name or message; he wanted for it to be blank.
"Just to show I'm similar to all the other Black people," Aaron told me. "My name doesn't mean anything. I'm just out here playing for them."
One benefit of being in the bubble is that the brothers have all been able to hang out since July 22nd, about two weeks after they moved in. They've had many dinner and attended games to support one another.
"That's been really, really fun and it helps knowing that I have family here," Jrue said.
During the season, Jrue may be gone for a week or two at most — but never for two months in a row. Inside their Los Angeles home, Lauren involves dad every single day with their youngest. They FaceTime each night with Jrue from the bubble so he can see them and play with Jrue Tyler (JT) before her bedtime.
But most of all, Jrue and Lauren are supportive of one another.
"It's extremely difficult to be on opposite sides of the country and away from each other for such a long time, but … we really just try to make the most of it," Lauren said. "For as difficult as it is being away from me and his daughter, it's like 'How can I support him to be the best that he can be there and vice versa?'
"FaceTime is wonderful for families, and JT and I try to have fun out here and we try to do the best (we can) because I truly believe that us being OK and him being OK with where he is makes it easier for all of us."
---
The first deadline for applications was Aug. 1. They hope to start selecting individuals and non-profits soon so they can begin distributing funds. Help is needed ASAP.
"I hope it helps them thrive," Lauren said. "That's our goal. How can we build community that maybe doesn't have the same opportunities that other people do? How can we help them? Our goal is longevity."
Added Jrue: "We want to make this a cycle, not just a one-time thing. If some of these companies make it enough to where they can pay that grant back, we could move it forward to another company that might be struggling at the time."
Playoffs aren't in the cards for the Pelicans this month. Jrue has played and helped them to two wins in the bubble, but he's accomplishing a lot more by earning his salary and then supporting communities through this grassroots effort.
Lauren, meanwhile, retired from professional soccer in 2015 but still keeps busy. She's among a group of investors for a new Los Angeles-based women's soccer team, along with Mia Hamm, Serena Williams, Natalie Portman and others. She's on the board of a non-profit and has a son on the way, but she's committed to seeing this through and helping individuals and businesses succeed.
"Our faith is huge and we love because God first loved us," Lauren said. "There's huge injustices happening in the world and how we can be of assistance at this is major for us. I feel like Jrue and I are in a position to help so I think it's really important that we take advantage of that and we do all that we possibly can."
My Love 😍 Happy Anniversary