Discover more from Fieldhouse Files with Scott Agness
Taking you behind the scenes and inside the locker room with the Indiana Pacers. The latest news, interviews, features, game reports and draft analysis.
NBA Restart: What to expect from social justice messages on jerseys
Most players chose one of 29 messages and some opted out.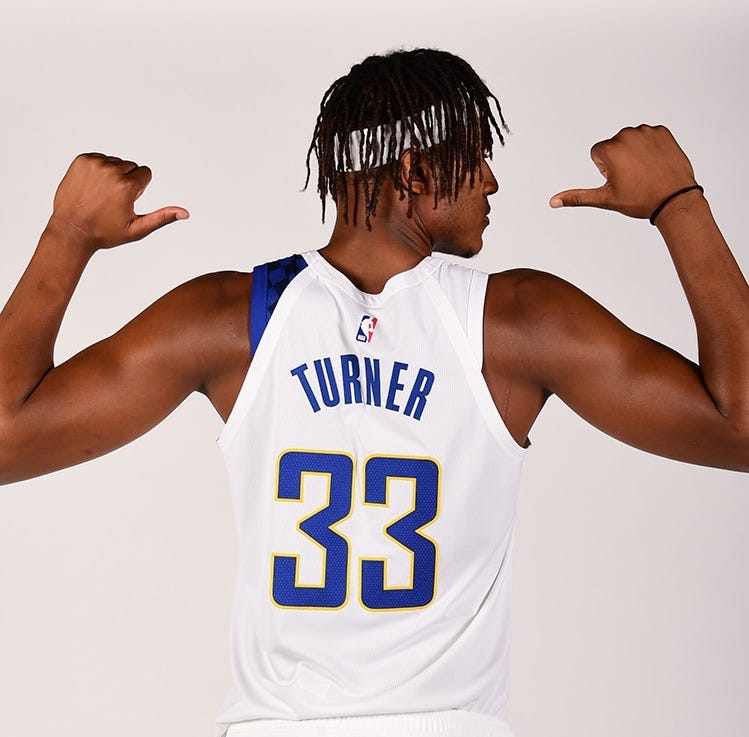 Myles Turner shows off the Pacers' City Uniform for the 2019-20 season. This is the jersey they will wear in their first seeding game, against the 76ers. (Photo: Pacers)
---
When NBA players take the court July 30 for the start of the seeding round games, most will have a social justice message on the back in place of their last name. This was agreed upon between the NBA and NBPA before 22 teams made their way down to Disney's Wide World of Sports complex.
These new jerseys aren't for the three scrimmages. The new jerseys, featuring one of 29 messages, will be worn in the first four days of games — which begin on July 30th. After Aug. 2, players may decide to continue wearing a jersey with a special message. And if they do, their last name will be added below their number, according to league sources.
Opening game jerseys with social justice messages on them will be worn just once and then auctioned off with the proceeds going to a social justice fund housed by the NBPA Foundation. Each player will also be allowed to keep one of the jerseys with the social justice message that they selected, sources said.
"We just want to be able to use this platform to be able to prolong the conversation and actually get stuff done within society," Pacers forward T.J. Warren said. "I feel like this is a perfect platform for all the guys to stress how they feel."
The NBA also had "Black Lives Matter" painted on the game courts.
The tough part in this is pleasing every player, which is impossible. So it was important that they made progress and gave players plenty of options, including the ability not to participate.
Seventeen players elected to keep their last name instead, according to ESPN. Lakers star LeBron James said he is one of them. Jimmy Butler said he requested to leave his nameplate blank.
"I felt with no name, it's going back to who I was," Butler explained. "If I wasn't who I was today, I'm no different than anybody else of color. And I want that to be my message."
No Pacer has thus far revealed their message. Former Pacer Glenn Robinson III, now a member of the 76ers, said in a statement that he did not choose a message.
"I would have liked to honor Trayvon Martin's name, or use the name of my foundation, Angels Are Real Indeed," he wrote. "Through Twitter, I proposed that the NBA + NBPA allow players to highlight organizations led by the players themselves, as well as the grassroots + local organizations in their home cities."
Pacers guard Malcolm Brogdon is very active with the NBPA and serves as one of seven vice presidents. Over the last few months, he was engaged in countless conversations and meetings to discuss ideas like this one. He participated in an Atlanta protest in June and plans to wear a message, but declined to share which one.
"That was something that was very important to me personally," he said.
"It was a very tricky process. Being on the executive committee, you get to see the ins and outs of the negotiations at the table with the NBA. There's a lot of push on both sides — the players want one thing and the NBA wants something else — and we had to come to agreement. Whether or not you like it, it is what it is at this point."
Brogdon, who recently re-joined social media to spread his message and raise awareness, plans to announce many of his own initiatives Tuesday afternoon.
Here's the list of options for the back of jerseys, which was provided to FieldhouseFiles.com. (You will also see some international players with social justice messages in their native language.)
Black Lives Matter

Say Their Names

Vote

I Can't Breathe

Justice

Peace

Equality

Freedom

Enough

Power to the People

Justice Now

Say Her Name

Sí Se Puede

Liberation

See Us

Hear Us

Respect Us

Love Us

Listen

Listen to Us

Stand Up

Ally

Anti-Racist

I Am A Man

Speak Up

How Many More

Group Economics

Education Reform

Mentor
As for the WNBA — which is starting its season 100 miles away in Bradenton, Fla. — all jerseys will have "Breonna Taylor" stitched below player names on the back.
New uniforms now required additional work for team equipment managers. They packed several uniforms — the Pacers brought three different sets — and now will have these new, customized jerseys shipped to the team hotel.
This is just a small part of what NBA players and the league are doing during the restart. On Monday, former MVP Russell Westbrook announced that his clothing line collaborated with the NBPA to create nearly a dozen t-shirt options for the players.