Discover more from Fieldhouse Files with Scott Agness
Taking you behind the scenes and inside the locker room with the Indiana Pacers. The latest news, interviews, features, game reports and draft analysis.
Pacers flattened by motivated Heat
They fall to 0-3 in the season series, to be continued on Friday.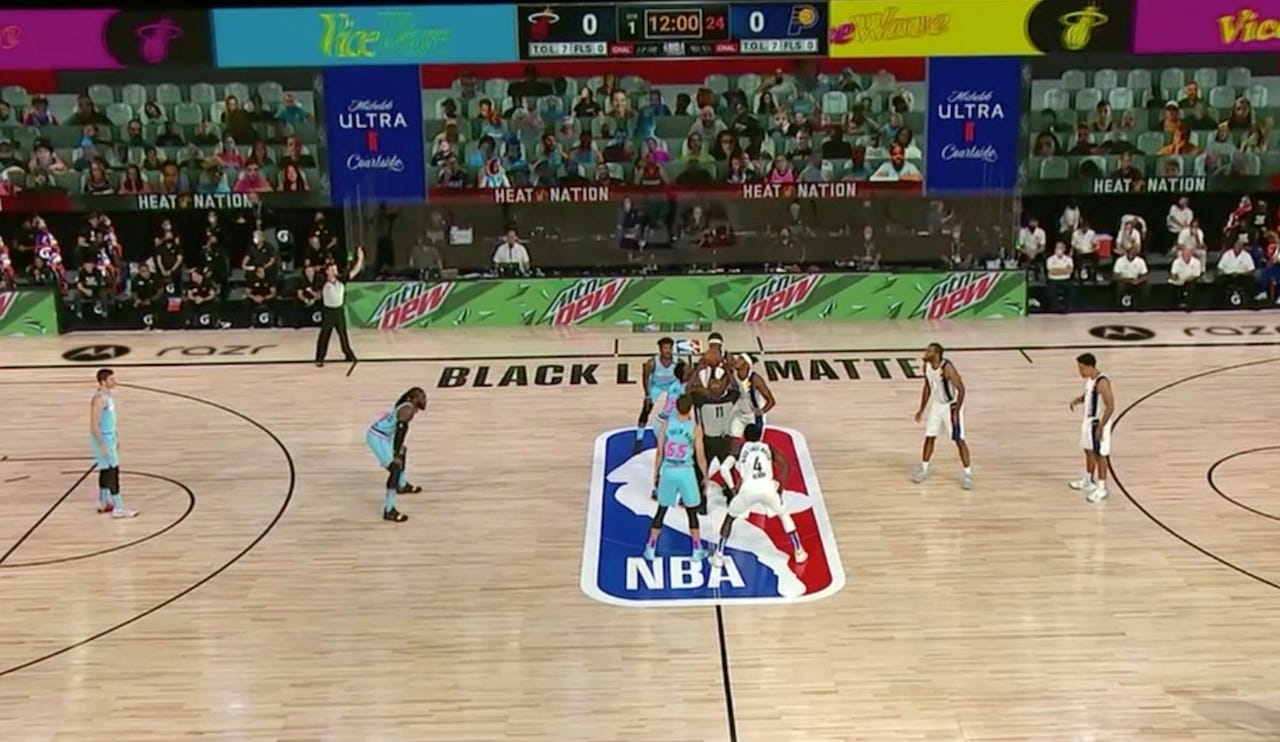 The Pacers trailed by as many as 23 points and were outscored 66-44 in the second half.
---
Most of the games in Orlando have exceeded expectations, featured close finishes and included some upsets. (Hello, Suns!) There was much anticipation for the Pacers meeting the Miami Heat for the first time since January, when T.J. Warren and Jimmy Butler tangled. Warren was eventually ejected and Butler spewed reckless comments after the game.
"I ain't worried about him," Butler said then in front of his locker. "He's soft. He's not even in my fucking league, like nowhere near me. If I was their coach, I would never put him on me ever again. (It's) like, no, put someone else on me because I'm going to tear his ass up every time we play."
Warren is all about basketball and rather leave the theatrics to reality TV, but he's also not going to back down.
"It's not about Jimmy and T.J., it's about Miami and Indiana," Pacers head coach Nate McMillan said before the game. He wasn't compelled to even address it with Warren earlier in the day.
Dozen of Pacers fans changed their Twitter avatar to a photo of a focused Warren, Heat fans had a photo of Butler. We also know social media isn't representative of a group. The majority of fans tuned in for basketball and a potential playoff preview.
Because the Pacers and Heat play twice over the final three games of the seeding round, it's possible that they could meet as many as nine times over the next 10 games.
This was just the start.
That drama brought intrigue to the game, but it fizzled out quickly. Butler started on Warren, the Heat raced out to an early lead and then broke a 48-48 halftime tie by dominating the third quarter.
Shots were falling, they controlled the boards and were quick to the ball. The Pacers were outscored 37-23 in the third to break the game wide open.
"It was just one of those games, unfortunately," Victor Oladipo, who had a team-high 14 points, said after the 114-92 loss. "We couldn't really get anything going so you just live and you learn."
"We'll be seeing those guys probably a lot in the next couple of weeks so we got to be ready."
That's not a good thing, not with Domantas Sabonis out indefinitely and not even in the bubble due to plantar fasciitis. He's receiving treatment in Los Angeles and training to return, according to league sources, but it's not certain if he'll suit up again this season. Sabonis hasn't practiced in a month.
The Pacers have battled injuries all season. They're down an All-Star (Sabonis) and rotation player (Jeremy Lamb), and Oladipo isn't 100 percent. The bench can provide a jolt of energy, as it did in this loss. They contributed 37 points, 20 more than they did in a win over the Lakers. However, with players out of position, they lack a playmaker among the reserves.
Miami's reserves Derrick Jones Jr. scored eight of his 18 points to start the fourth quarter and had 18 points and Tyler Herro score 17. And Rookie of the Year finalist Kendrick Nunn missed the game due to personal reasons.
The Pacers struggled with the physicality of the Heat, their speed and versatility. Both Oladipo and Warren noted afterward how the Heat are "a well-coached team." Erik Spoelstra has commanded respect around the league even if his name isn't often brought up.
(Click here to listen to the Fieldhouse Files podcast, this week featuring Pacers play-by-play announcer Chris Denari.)
The Heat have built a formidable team that will be a tough out in the playoffs. They're the top 3-point shooting team and they didn't even need it. They made nine 3s in the second half, but finished just 13 for 40 in the win. Most of their starters only needed to play three quarters.
And still, they had balance with seven players reaching double figures. With basketball fans examining closely, Jimmy Butler finished with 19 points, 11 rebounds and five assists.
"I thought Miami just made it tough on us," said Pacers' Doug McDermott, who scored nine points off the bench. "It was just hard all night to get into a rhythm."
McMillan singled out the Heat's intensity level, sharpness, rebounding efficiency and ability to switch at all five positions defensively. Unlike most teams in the bubble, the Heat swarmed Warren — the top scorer during the restart at 34.8 ppg — to keep him from getting hot.
Warren was held to a bubble-low 12 points on 5-of-14 shooting.
"I thought they won all of those areas as far as the scrap game," McMillan said of the Heat.
"It's a game that's going to be a fight for 48 minutes and they're going to bring it. They've pretty much dominated two of the three games we've played.
Much like reality TV, this game did not deliver. The Pacers were held to 92 points, almost 18 points below their average, and turned it over 17 times — and is now a growing concern.
The Pacers lost all three meetings this season with one more to be played on Friday at 4 p.m. ET in front of a national audience, the first of a triple-header on ESPN.
But before then, the Pacers face the Rockets Wednesday afternoon.
Indiana has been in the NBA bubble for a month now, gone 4-2 in the seeding round with just two more games before it's go time.
Likely against the Heat in Round 1.