Discover more from Fieldhouse Files with Scott Agness
Taking you behind the scenes and inside the locker room with the Indiana Pacers. The latest news, interviews, features, game reports and draft analysis.
Pacers Last Week: Aug. 16 — The bubble works, T.J. Warren earns First Team honors, TV contract fulfilled, Lamb departs
Read up on all that's happened in recent weeks with the Pacers — just ahead of the playoffs.
I know it can be a lot to follow the team, especially in the current times. I want to help simplify that, so I'm bringing back "Pacers Last Week." Each week, you can expect a summary of all key Pacers items from the last week, plus a brief look ahead to next week. This roundup will evolve over time. If you have any suggestions, please let me know.
---

One month down, two months to go in the NBA season. The 22 teams that were invited down to Florida had three scrimmages and eight seeding-round games, and now 16 teams are preparing for the playoffs.
The Eastern Conference teams mostly held serve, except for the Pacers edging the Heat out for the fourth seed. The Pacers finished the 73-game regular season 45-28 despite not having their full roster available for more than a couple games. And even then, Victor Oladipo was on a minutes restriction.
They went 21-11 at home, 18-15 on the road and 6-2 in the bubble, including 4-0 in designated home games. So maybe there is a slight advantage — but nothing significant — to having the four seed rather than the five when they begin the playing Tuesday afternoon against the Miami Heat.
Look at the tip-off times above; this series isn't getting much love from the NBA and their TV partners with their first four games all beginning before the usual 7 p.m. ET start time. (All games in the first round will air locally on FSI as well.)
The playoffs will feel different because of no crowd and thus a slight home-court advantage. But I'm also curious to see how not traveling positively impacts player health and their recovery. Now they're playing every other day.
Let's talk about health, baby
Speaking of health, the NBA campus has been a huge success from a macro perspective. They league has demonstrated that in an enclosed, heavily-tested environment, sports can go on. The last positive test was more than a month ago. And with the seeding round over, the NBA's footprint tightens from three hotel complexes to two. (The Mavericks are also inside the Pacers' building.)
After the first round, players from the eight remaining teams will be allowed to have a limited number of guests join them.
For the Pacers, Jeremy Lamb (rehab) and Domantas Sabonis (plantar fasciitis) remain out with injuries. It's unclear if Sabonis has played his last game of the season.
Three other Pacers were held out of their final seeding game as a precaution. T.J. Warren is managing plantar fasciitis in his right foot, an injury that he's had to manage for a while now.
I also thought it was noteworthy that the listed injuries for Victor Oladipo (sore right ankle) and Myles Turner (right wrist sprain) were new, rather than rehab and a calf contusion, respectively. Malcolm Brogdon missed practice and game time due to a neck strain, but should be good to go.
Playoff uniform
The Pacers will wear their Statement Edition uniforms (gold) in Games 1 and 2, then their City Edition (white) in Games 3 and 4.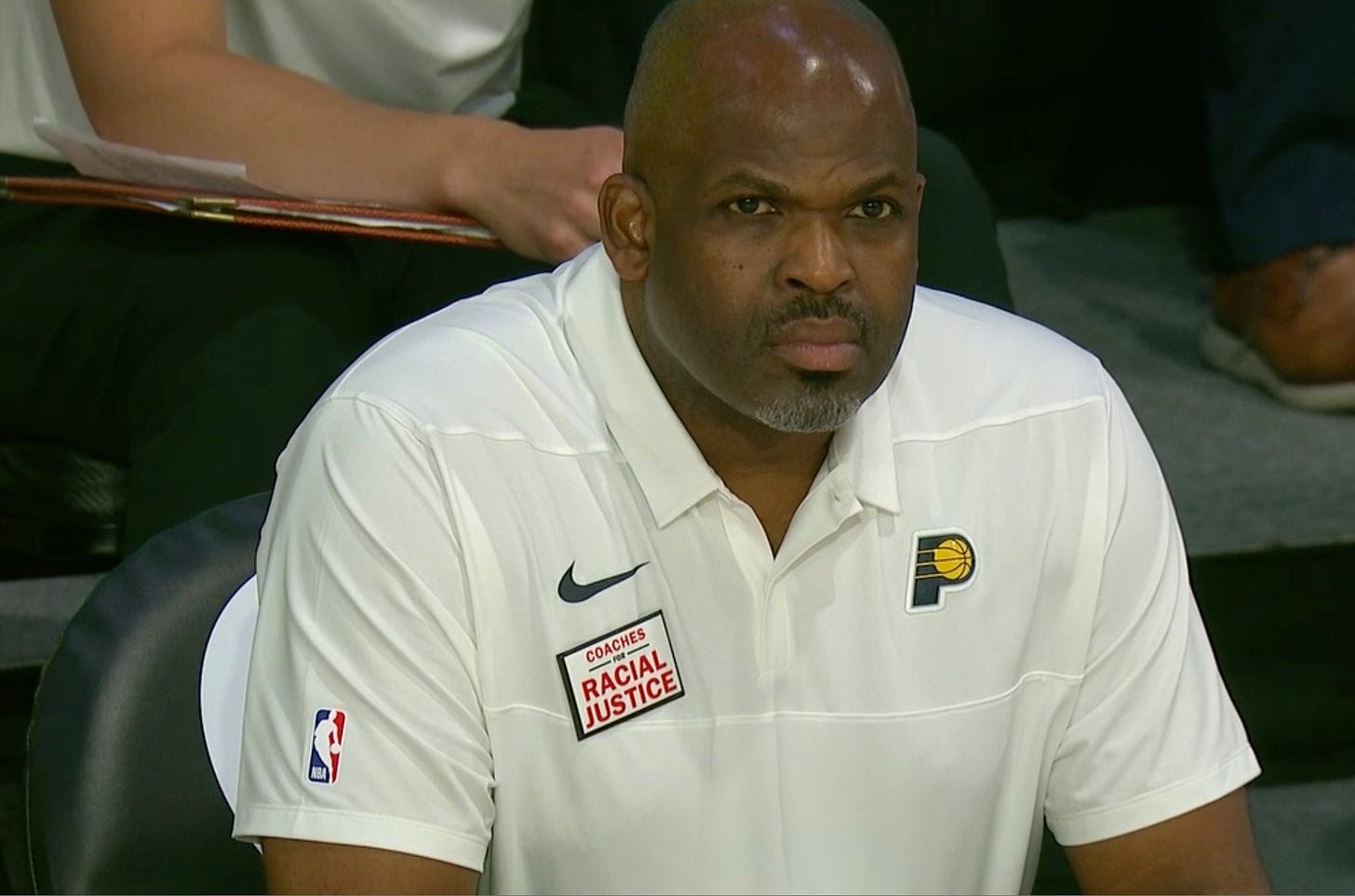 Coach of the Year honors
Toronto's Nick Nurse and Oklahoma City's Billy Donovan were voted Coach of the Year by the National Basketball Coaches Association. Both did terrific jobs, Nurse carrying on without Kawhi Leonard and Donovan's team finished fifth in the West after they dealt both Paul George and Russell Westbrook.
Pacers head coach Nate McMillan was among the eight head coaches to receive votes from their peers.
Just last week, the Pacers and McMillan finalized a one-year extension on his contract so we know he will be coaching the team next season. The Pacers held an option on the 2020-21 season and there was no guarantee that they would pick it up.
"What Nate has done in four seasons with our franchise merits this extension," Pacers president Kevin Pritchard, who's in the bubble with the team, said in a statement.
With so much uncertainty in the world and about next season, which more than likely will need to be in a bubble environment, it's the right call for the Pacers to continue on with McMillan and ensure some continuity. He's taken the team to the playoffs in all four seasons as head coach.
Now it's about advancing, even without two key rotation players.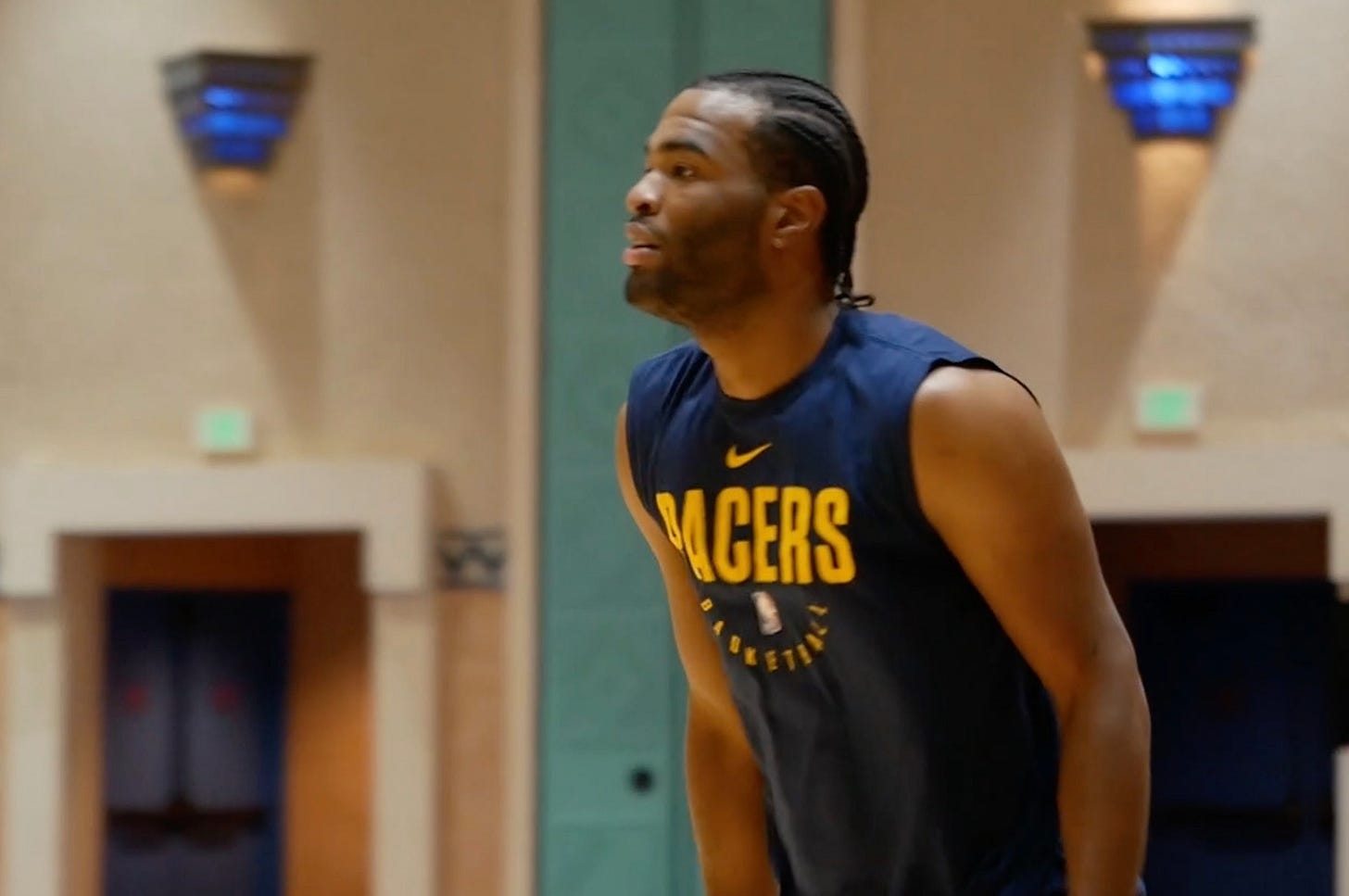 First Team All-Bubble
That's what Justin Holiday has posted about T.J. Warren after almost every seeding game Warren played. Warren was the standout player of the tournament and led the team in scoring until the Heat held him to 12 points and he didn't play in the final tune-up game.
Warren averaged 31.0 points and 6.3 rebounds, and he shot 53.4 percent from 3-point land. The Pacers were 4-2 in seeding games that he played.
On Saturday, two days before the playoffs begin, the NBA announced the recipients of new awards for the bubble — voted on by a panel of sportswriters and broadcasters on site.
T.J. Warren was voted to the All-Seeding First Team, along with Portland's Damian Lillard, Phoenix's Devin Booker, Dallas' Luka Doncic, and Houston's James Harden.
Lillard, who was instrumental in the Trail Blazers earning the final playoff spot in the Western Conference, was named Player of the Seeding Games and Monty Williams, whose Suns went 8-0, earned Coach of Seeding Games.
Aaron Holiday opts out of social justice message
The NBA and NBAPA agreed on 29 messages that players could wear on their uniforms for the rest of the season. Their first jersey from the seeding round was auctioned off with proceeds going to a social justice fund.
Among the 17 Pacers on roster, Aaron Holiday was the only one who chose not to replace his last name on his jersey with a social justice message. He had another idea, but it wasn't approved by the NBA.
Aaron wanted to go without a name on the back of his jersey. "Just to show I'm similar to all the other Black people," he said. "My name doesn't mean anything. I'm just out here playing for them."
Both Justin and Jrue, who donated the rest of his salary for the season — more than $5 million — chose the message "SAY THEIR NAMES"
Local TV contract fulfilled
Even though the Pacers had just two seeding games air nationally, they were happy that both were designated home games. That means their signage and ads received national eyes
Their first game against the Heat on Aug. 10 was even better for business. It was their sixth restart game and their 70th game, which fulfills their local TV contract with FOX Sports Indiana.
The Pacers had played 65 games before the season suddenly stopped and all but one were televised locally. Most NBA team's TV contracts call for the broadcast of at least 70 games. The Pacers have now reached that important benchmark.
That's important on a league level, because of revenue sharing, and especially for the Pacers, a company that had layoffs two weeks ago.
Follow the (gaming) money
If you're watching sports in Indiana, you've likely been overwhelmed by the number of sports gaming advertisements. Indiana is one of a small group of states that allows mobile gaming and these companies are competing for your business. That's a good thing for customers and businesses.
It means you can bet wherever has the best odds and incentives.
The Colts and Pacers are among the teams who benefit from the growth in sports gaming. The Pacers added PointsBet as an official gaming partner of the team on Aug. 5. DraftKings started a deal with the team in February. FanDuel was first on the scene, previously signing a promotional deal in 2015.
PointsBet's Ron Shell, the VP of Customer & Insights, tells me they will have playoff promotions for Pacers fans, including a few unique specials centered around Warren.
Jeremy Lamb returns home
The Pacers guard was with the team for the first month in Orlando, but left the bubble this month to return to his family, including his one-year-old daughter.
Despite being ruled out for the season due to knee surgery, Lamb went with the team to Florida to both support them and be with the team's training staff for daily treatment. He didn't want to be in Indiana by himself and this allowed him to be with his teammates.
Lamb, who's building a dream house, is still watching games from afar. He watched the last two Pacers games in the virtual fan section.
Bubble chronicles with Justin
The Pacers' eldest player has launched a new video blog to document his experience inside the NBA bubble. There's limited media on site and none of them are really covering the Pacers, so this is the best on-the-ground access of the team.
Justin, by the way, was the only Pacer to play in all 73 games this season. Completing a perfect season is something he takes great pride in — so I wrote about it on Friday.
Here's the first episode of his vlog.
Oladipo's shoe collection
Victor Oladipo has several homes, including one in Orlando. He recently showed off his massive shoe collection, which mostly consists of Nike and Jordan Brand. It helps that he has an endorsement deal with Jordan Brand.
Tweet of the week
Can we all agree on this?
**If you liked this, hit that heart below to let me know!