Discover more from Fieldhouse Files with Scott Agness
Taking you behind the scenes and inside the locker room with the Indiana Pacers. The latest news, interviews, features, game reports and draft analysis.
Pacers Last Week: July 20 — Productive first week, health update, Oladipo changes course, Brogdon masks up
This weekly report will keep you updated on the team.
I know it can be a lot to follow the team, especially in the current times. I want to help simplify that, so I'm bringing back "Pacers Last Week." Each week, you can expect a summary of all key Pacers items from the last week, plus a brief look ahead to next week. This roundup will evolve over time. If you have any suggestions, please let me know.
---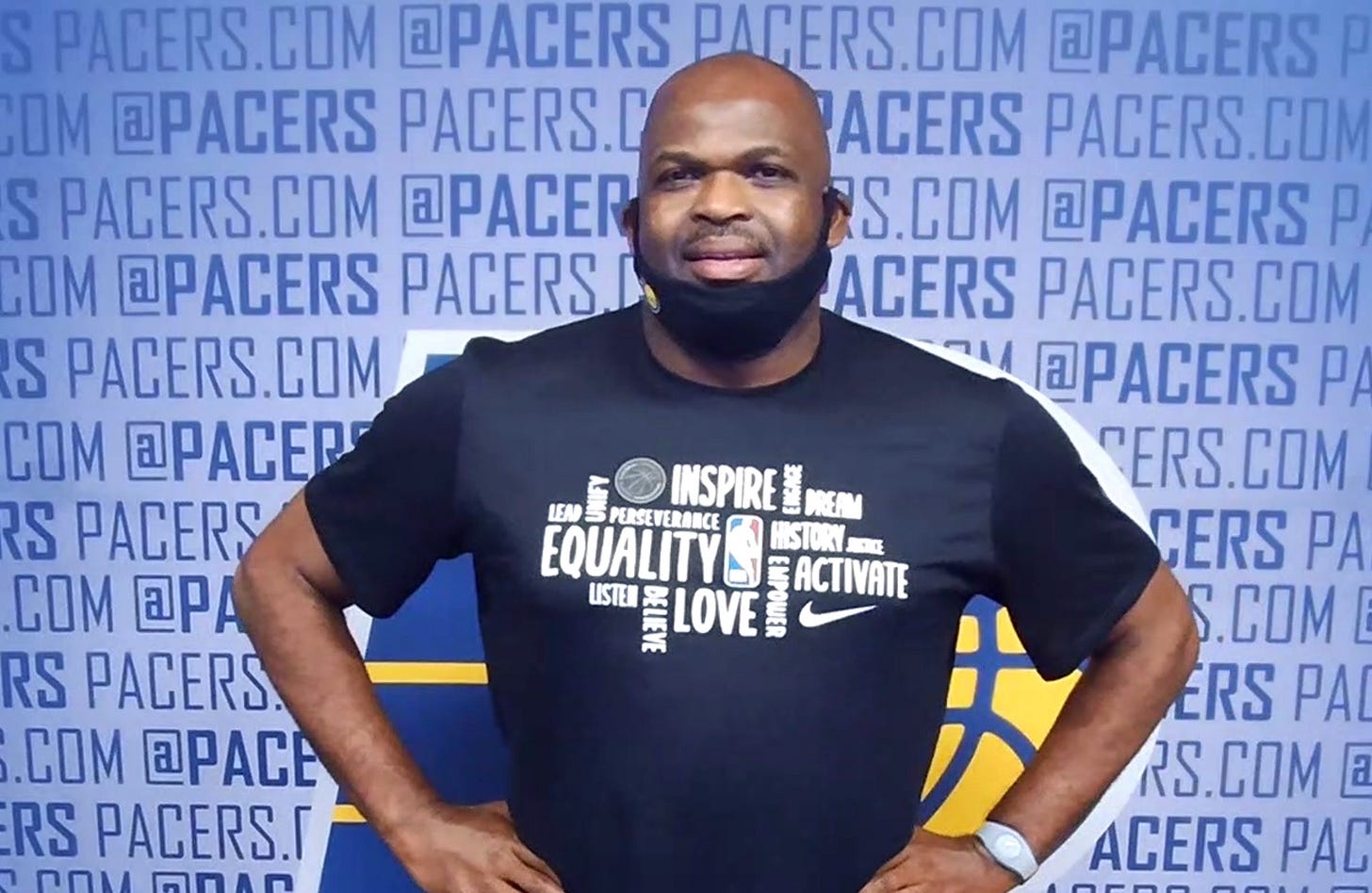 This is the new reality: Remote interviews over Zoom. Reporters aren't able to watch practices and that makes it more challenging to cover a team. We aren't able to see who sat out, who practiced and pass along who impressed. Instead, we must now lean on our conversations with head coach Nate McMillan and the players.
The team arrived on July 9, were quarantined for 48 hours in their rooms and then were freed for good and able to practice on July 11. Over the next 10 days, they had seven practices.
So how do they look?
The team has been pleased with how the first week of practices went. After a significant layoff, players exceeded McMillan's expectation for conditioning … but they still have a ways to go. He also sets a high bar, aiming for Olympic-level shape during training camp each fall. The focus shifts to offense and defense this week, going over their principles as a refresh.
"I thought it was needed," McMillan said of taking Saturday off. "Guys have been going hard. In our last practice, I thought we looked like we hit a wall again, so we needed that day off."
There are 13 days until the start of the season round, and less than month until the playoffs. And they have not yet had a team film session, something that is scheduled for this week before scrimmaging.
Players who have been singled out by their teammates for performing well: Victor Oladipo, Myles Turner and T.J. Warren.
Health Update
They don't appear to have any significant injuries outside of Jeremy Lamb, who continues to rehab from knee surgery. Soft tissue injuries (muscles, tendons, ligaments) were anticipated by the training staff.
"We're starting to really try to focus more on execution," McMillan said. "We've got some guys with some soft tissue injuries and we're down a couple of bodies, so we have to be cautious on how much work that we're doing."
Domantas Sabonis (plantar fasciitis): He's been dealing with pain in his foot and has sat out the last two practices. He'll likely take it easy for the next several days, and it's possible that he won't play in at least the first two scrimmages.
JaKarr Sampson (lower back soreness): He is now participating in practice, but "is limited in what he can do," per McMillan.
Goga Bitadze (left knee): He continues to be bothered by knee soreness and didn't practice last week.
Malcolm Brogdon (COVID-19): He's not 100 percent just yet and is behind most of the guys in terms of cardio because he had to take it easy and stay out of the gym for a few weeks.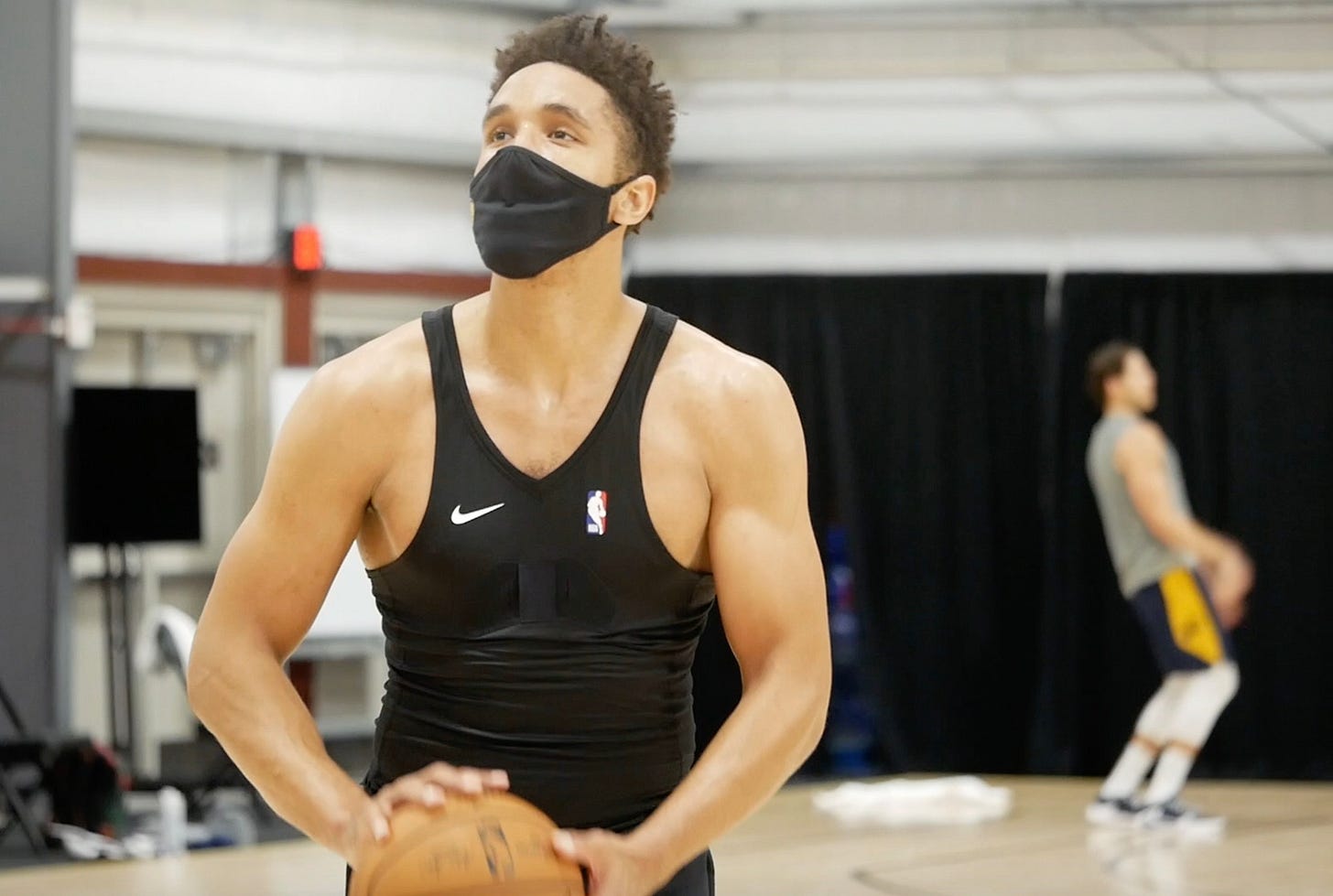 Brogdon Masks Up
The Pacers' point guard tested positive with the coronavirus on June 24, then was required to quarantine for two weeks. He had mild symptoms consisting of a fever and headaches. He was on the team's charter flight to Orlando, but sat out the first three practices. He joined his teammates on the court on Wednesday and did so with a mask.
"I intend to do it until we start playing games," he said. "It's something that I've been doing for my conditioning and just to be considerate of the guys, just in a case guys were worried about me previously contracting the virus. Just wearing it to be cautious and make guys feel comfortable."
Brogdon spent his first few practices playing with the gold (third) team and will reassume his spot with the starters this week.
Oladipo Pencils In A Return
First he's out, now he's (probably) back in. Oladipo is practicing with no restrictions and said last week that he is training to play in the restart after ruling himself out before traveling to Orlando.
"My body is feeling good," he said. "It was hard for me to assess where I was at from the long layover and obviously corona(virus). Couldn't really control that. But now coming down here and getting some practices in, getting my feet under me, going out there and playing with the guys, there's a possibility that I could play. I'm just reassessing myself and my body every day."
That's huge for the Pacers, obviously. And a final decision isn't needed anytime soon, though I suspect he'll want to play a few stints in the scrimmages. Where he messed up in handling all of this was publicly announcing on July 3rd that he would not play.
If he's available for the playoffs, they have an opportunity to be a surprise team.
Meanwhile, Inside The Bubble…
There's plenty to keep everyone busy. Outside their rooms, players can take a pontoon boat out and relax, play cornhole, fish and golf. Doug McDermott, T.J. McConnell, Oladipo and assistant sports performance coach Andy Martin played nine holes.
"I shot a 40," said McDermott, a 4.8 handicap. "I think I could have shot more of a 37, 38, but I had these guys holding me back and it was cart-path only so that made it even more of a disaster. I think McConnell probably … I don't even know if he broke 60 on nine holes and Vic probably lost 60 balls. So we'll just leave it at that."
The team held a conrhole competition on Tuesday. "I lost in the first round. The board I thought we were playing with was a WNBA board and we needed to get a little larger board out there," joked McMillan, referencing how WNBA basketballs are smaller than NBA ones.
On Wednesday night, they gathered in the team meeting room for a viewing and discussion centered on the Netflix documentary 13th, which analyzes the criminalization of African Americans and the U.S. prison boom.
Also of note: Other representatives from the Pacers, including public address announcer Tim Sinclair and members of the stats crew, completed their seven-day quarantine on Sunday. They were let out of their rooms, trading in a green wristband for a credential days before the first scrimmages.
---
Looking ahead…
Pacers rookie Goga Bitadze will celebrate his 21st birthday Monday inside The Bubble. Hopefully his teammates do something special for him. It's been a strange year for Bitadze, beginning with waiting on his work visa and missing summer league to battling knee soreness throughout most of the year.

Players and staff from teams can tour the game facilities to get their first look at what the game environment will be when scrimmages begin on Wednesday.

The Pacers' first scrimmage will be on Thursday at 3:30 pm against the Trail Blazers. They'll play the Mavericks at 4 pm on Sunday. All three scrimmages will be available for free on Pacers.com within 75 miles of downtown Indianapolis. FOX Sports Indiana's Chris Denari and Quinn Buckner will call the game from Indianapolis.

The first scrimmage will have a different format, consisting of four 10-minute quarters. McMillan intends to play 10 to 12 players.

They took three uniforms to Disney: City (white), Icon (blue) and Statement (gold). Click here to see when they will wear each uniform.
---
Socially speaking…
One follow: It was inevitable that somebody would start an account to share visuals from inside the bubble. Since we can't be there, we want to know exactly what it's like. @NBABubbleLife is an account that aggregates content from players, reporters and the NBA. It already has amassed more than 100,000 followers on Twitter.
The tweet of the week comes from Pelicans sharpshooter JJ Redick, who shotgunned a beer while inside an ice bath.
The three Holiday brothers ran into each other on Sunday. Jrue, who also plays for the Pelicans, is staying at a different hotel.
And with the quote of the week, here's Steven Adams of the Thunder: