Discover more from Fieldhouse Files with Scott Agness
Taking you behind the scenes and inside the locker room with the Indiana Pacers. The latest news, interviews, features, game reports and draft analysis.
Pacers Last Week: July 28 — Sabonis heads to LA, team meditation, coaches wear pins and more
Two scrimmages down, one to go...
I know it can be a lot to follow the team, especially in the current times. I want to help simplify that, so I'm bringing back "Pacers Last Week." Each week, you can expect a summary of all key Pacers items from the last week, plus a brief look ahead to next week. This roundup will evolve over time. If you have any suggestions, please let me know.
---
The Pacers have two scrimmages behind them with a third and final one to be played Tuesday at 4:00 pm ET against the San Antonio Spurs. They're 2-0 and looked much better in a win over the Mavs on Sunday.
"This thing is gonna come quick," Pacers head coach Nate McMillan said. "We only have 11 games to get ourselves ready for the playoffs and we have to take advantage of each game.
"We want to start to focus and build off of the scrimmage games as far as getting reconnected on both ends of the floor."
So much is different. Beyond the obvious, consider that they don't have access to the main court until 30 minutes before tip-off. They have to share another court with their opponent. McMillan still arrives an hour and 45 minutes before the game and Victor Oladipo, who needs significant time to warm up his knee and prepare to play, always takes the first bus as well.
The sight lines are different, there's only a few dozen staffers and media seen and the rest is played in front of thousands at home.
"Everything tomorrow is basically a test for the NBA as far as getting ready for the regular season," McMillan said last week. "We all will be looking at that game tomorrow and they want our feedback on how the game goes and things we feel need to be changed."
In other words, things will be tweaked and improved. What you see in the final scrimmage isn't exactly how things will look in the seeding round and beyond.
The Pacers' starters played almost 30 minutes in Sunday's win and they got good contributions from all over — T.J. Warren's scoring (20 points), Myles Turner adapting to his new role offensively (15 points, 8 rebounds), T.J. McConnell's fine passing (six assists) and Oladipo's growing confidence on the court.
"It felt amazing to be back out there," Turner, who sat out the first game due to a calf contusion, said with a big smile. At least it looked like he was smiling wide, but he was wearing a mask. They all do during interviews.
That's another new reality.
Sabonis Leaves Bubble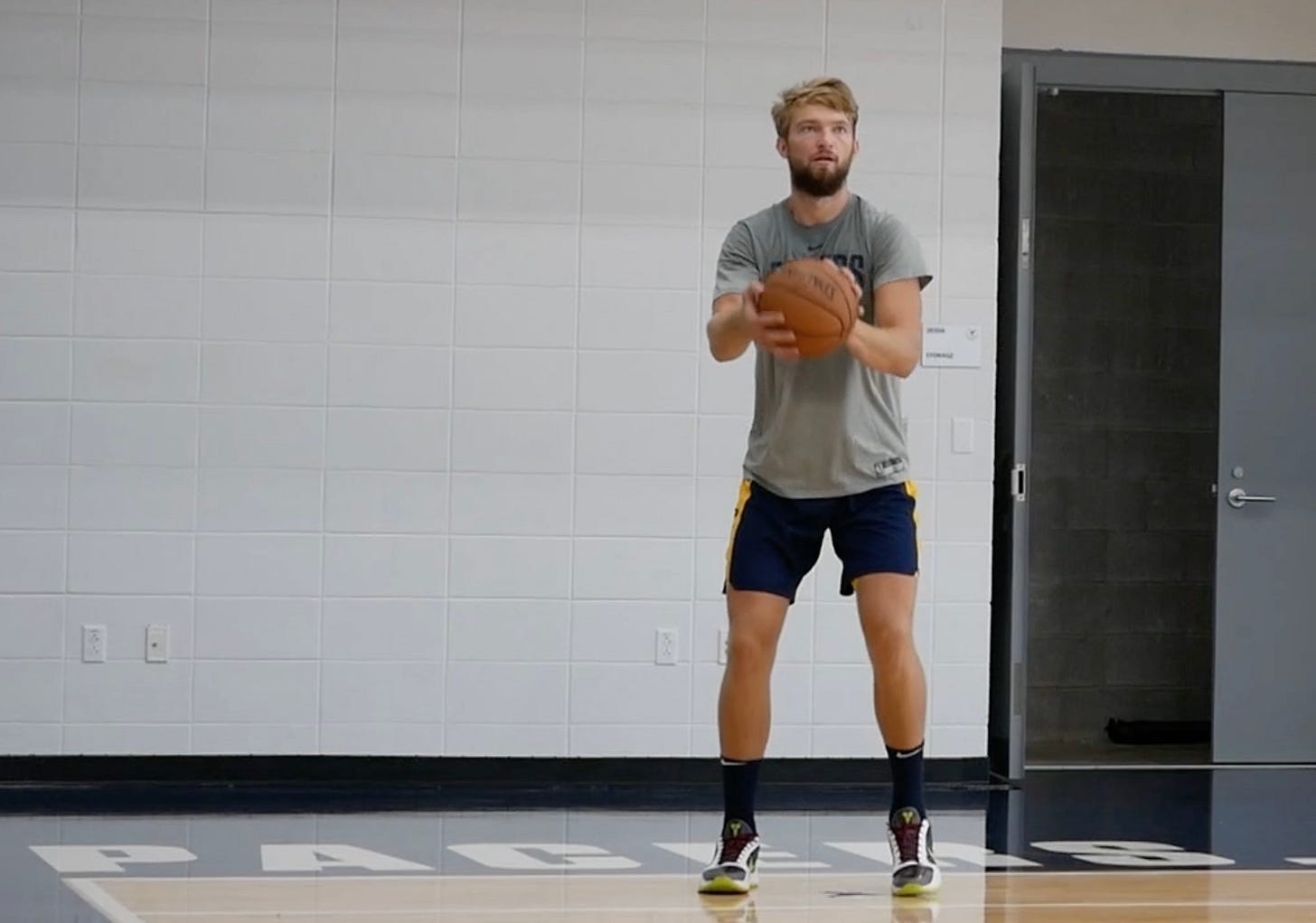 Domantas Sabonis became the first Pacer to leave the NBA's campus at Disney. He did so last weekend after plantar fasciitis in his left foot hadn't improved. It first bothered him when he returned to Indy in late June after being in Los Angeles. The injury then flared up even more when the team arrived in the bubble, cleared a 48-hour quarantine and then help their first practice in four months.
The All-Star center returned to Los Angeles, his offseason home, to consider alternative treatments to help alleviate the swelling and pain. As I reported over the weekend, he's visiting a specialist who can then recommend the best course of action.
This type of injury is generally very painful and requires rest. I'm told Sabonis is continuing to do strength exercises. It has not been determined whether he will re-join the team inside the bubble or if he'll play again this season.
"He's out indefinitely," McMillan said on Sunday. "He's going to have to see how this rehab goes. We'll know something in a couple weeks."
And in other big-man news, rookie Goga Bitadze (knee soreness) is nowhere close to returning. He's still several days from trying to practice, and he hasn't done much since they left town three weeks ago.
More Than Just the Physical
Maybe it was inspired from watching "The Last Dance" or maybe it just made sense, considering today's challenges, but McMillan and the entire team, staff included, participated in a mediation before practice last Wednesday.
Teams and players are evolving, more aware of mental health than ever before. The team has a sports psychologist available for the team and more than this practice, it was another thing they could do together.
"I thought it went well," McMillan said afterward. "Basically, it was an introduction to meditating and visualizing why you're down here. Our guys and myself, we've gone through a lot in the last four or five months and we've gone through a lot since we've arrived in Orlando (on July 9).
"What I wanted to try to do is have someone teach our guys to calm down, think about where you are, why you're here and the things that you want to try to accomplish down here as a team and educate us about that. A lot of our guys already do meditating and today was a day to practice that mental training just as much as we practice physical training."
Visualization, deep breathing and being present. They're all things that can be beneficial and utilized consistently. And maybe it's something they can incorporate into their weekly schedule.
"I think it's awesome," said guard Naz Mitrou-Long. "It was great for us to do something like that and put a little emphasis on the mental aspect of the game. It's not just about physical, it's not about the game itself only; it's about a lot of other things. Coach Nate really wanted to make an emphasis on that so it's cool to have a group like we have. Anytime we do something as a unit, everybody's all bought into it and wants to do it together."
More Freedom in the Bubble
Also last Wednesday, some of the handcuffs were taken off. Some rules were relaxed a bit, including the allowance for players to visit any of the three hotels.
So, for instance, Pelicans guard JJ Redick shared on his podcast that he got together with McConnell, his former 76ers teammate. And while they were together, all three Holidays — Justin, Jrue and Aaron — were at a table nearby. Justin (31) is the oldest, so you'd have to go back at least 13 years since the brothers all lived together. If only their parents were allowed in.
Streaming Challenges
One of the hiccups so far has been the streaming of games. Since FOX Sports Indiana didn't elect to air the scrimmage games, Pacers fans had several options: Pacers.com if you're within 75 miles of downtown Indianapolis, NBA TV and NBA League Pass.
For many with NBA TV, it was blacked out for no particular reason. I have YouTube TV and it worked to watch on my laptop, but not on my TV using my Fire TV stick.
But let's be real, most fans likely don't have NBA TV or League Pass so they're relying on an online stream. For the second scrimmage, in the middle of a beautiful Sunday afternoon in Indianapolis, averaged more than 800 continuous streams. That's not a lot. I expected a number more like 5,000. The first scrimmage had more than 1,200.
A great day outside combined with the technical problems likely negatively impacted the viewing audience. Those who did watch were entertained by Chris Denari, Quinn Buckner and guests.
Coaches Pins
Hawks head coach Lloyd Pierce has been very active for weeks leading calls amongst the coaches. First, they all agreed to wear pins during games. And not just small pins — no, they wanted these to be visible. On the pin, which looks more like a name tag, reads "Coaches For Racial Justice."
Beyond that, each coaching staff will select an organization in the team's city to support and shine a light on. McMillan and his assistants have not yet chosen which organization to support, but that should come soon. And there will be several more initiatives I will share in the coming weeks.
Home-court Advantage
The NBA is done an outstanding job with the game presentation. First, they have protected the players. Those at the scorer's table have plexiglass separating them from those around the court. Players have assigned seats on the bench, along with a custom Gatorade station with their needs — like water, Gatorade, gum, etc.
Very soon, fans will have a presence at games. More than 300 are expected to join from all over, in groups of 32, and will be shown on panels of 17-foot talk LED screens. Using Microsoft Teams' Together mode, fans are shown in what appears to be stadium seating. They can see the games in real time and can interact with the cameras.
Socially speaking…
How about this outstanding coordinated effort between the WNBA and NBA to promote the new WNBA season. The TV audience on ESPN was so strong that they added even more national broadcasts to the schedule.
NBA players each wore this simple orange WNBA hoodie, including Malcolm Brogdon, Justin Holiday, Turner, Oladipo and McConnell.
ESPN reporter Holly Rowe, who's inside the women's bubble, noted that the two WNBA courts used at the IMG Academy are the unused courts from the 2020 men's and women's Final Fours that were never played.
How about this nifty pass by McConnell? He has several memorable ones in the second scrimmage and finished with six assists.
And Kevin Durant, who's not in Florida, offers a thought that we should all get behind. Why are coaches and staff doing their jobs in suits? This is sports. Many coaches, including Boston's Brad Stevens have already moved away from wearing a tie.
---
Looking Ahead
Third and final scrimmage on Tuesday at 4:00 pm ET against the San Antonio Spurs. It can be viewed on Pacers.com, NBA TV and NBA League Pass. (No radio.)

Opening night for the restart is Thursday with two games in store, both on TNT. The Jazz play the Pelicans at 6:30 pm ET, followed by a battle between the Los Angeles teams at 9:00 pm.

"Opening night" for the Pacers is on Saturday against the 76ers at 7:00 pm.
---
Of note…