Discover more from Fieldhouse Files with Scott Agness
Taking you behind the scenes and inside the locker room with the Indiana Pacers. The latest news, interviews, features, game reports and draft analysis.
Pacers Last Week: Oct. 26 — Early start to the season, Simon says, award finalists, a memorable FaceTime and more
Can the NBA really start next season in December? That's the way it's trending.
I know it can be a lot to follow the team, especially in the current times. I want to help simplify that, so that's why I established "Pacers Last Week." Each week, you can expect a summary of all key Pacers items from the last week, plus a brief look ahead to next week. This roundup will evolve over time. If you have any suggestions, please let me know.
---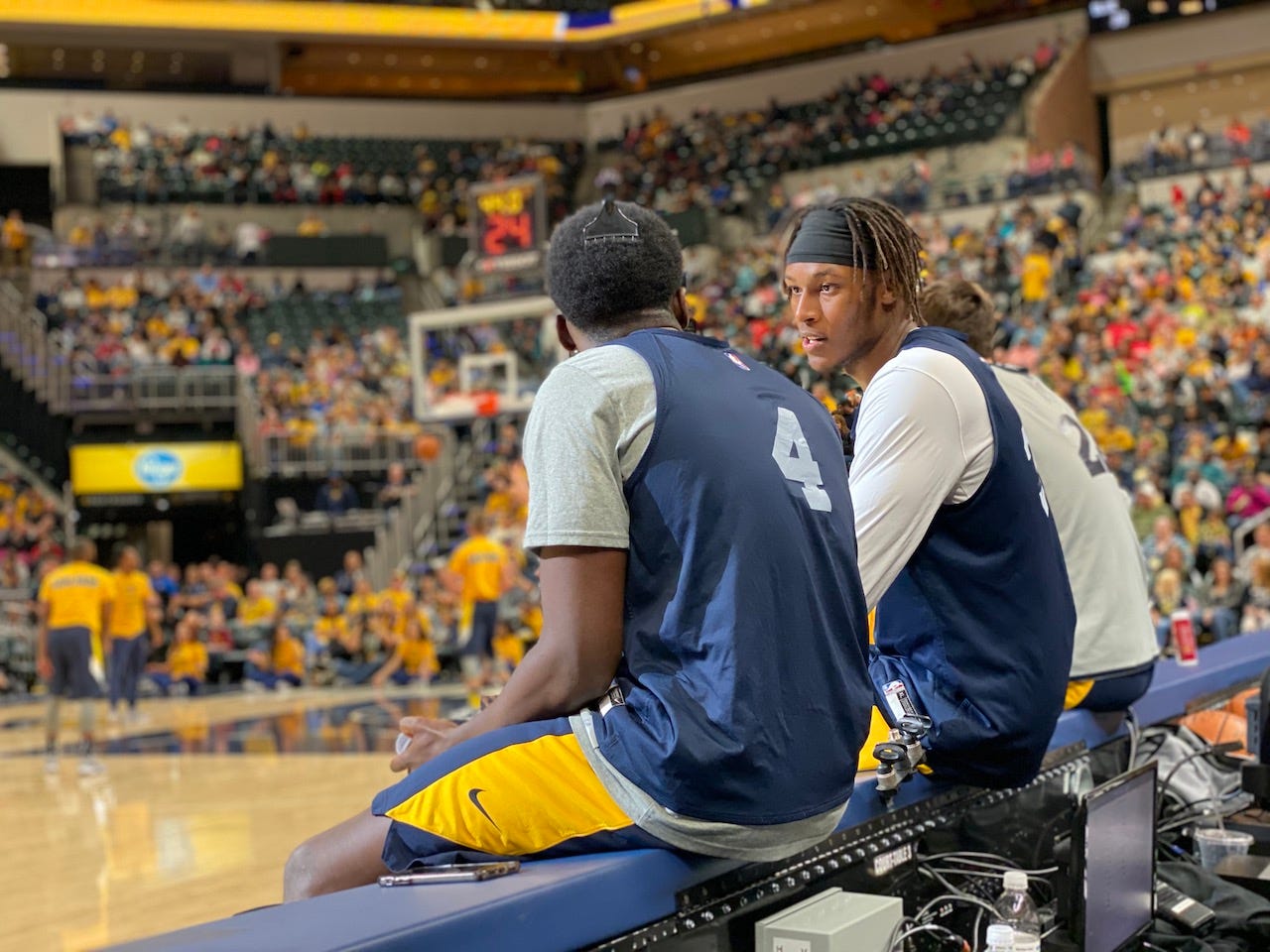 Just another quiet offseason, right? The Lakers won the NBA championship two weeks ago and, in this year unlike any other, things are rapidly evolving.
The latest, most surprising bit came over the weekend that it is growing more likely for the 2020-21 season to begin before the end of the year. It's not ideal, obviously, but something changed — clearly — for the league.
Months ago, it became clear that starting in December would not be in the best interest of anyone. I kept hearing how March made the most sense.
Most of the league just sacrificed quite a bit, including months away from their families, to finish (or restart) the season at Disney. They aren't too keen in playing next season in a similar bubble and were holding out hope that, at least in the majority of cities, they could accomplish their goal of safely playing in front of fans.
Games with fans are worth an estimated 40 percent of the league's revenue. So the optimistic outlook that fans could attend games in some capacity is what has changed after evaluating their options. NBA Commissioner Adam Silver noted before the NBA Finals that there was a group of league staffers whose entire focus was on next season.
For fans to attend games, there would need to be more progress in the battle with the coronavirus. There would have to be a vaccine in place, or at least an effective rapid test that could be conducted on site.
The worst case for the league would be to wait until February and March to start the season and for very little to change so fans can't attend anyway. That's gate revenue, merchandise sales, parking and concessions.
Silver also expressed how the league is motivated to return to its normal calendar for the 2021-22 season. Starting earlier and ending in the summer would allow for that. Ratings were down to numerous factors and competing with the beast that is the NFL was a big one.
Playing at least 70 games is a key number in all of this. For the Pacers, that's how many games their TV partner, Fox Sports Indiana, is contracted to air. Without at least 70 (or more in some cases), local TV contracts would be negatively impacted.
Starting a season two months after the last ended is a huge ask. The only date that is set is the draft, completed remotely on Nov. 18. Before opening night, the NBA and NBPA must agree on changes to the CBA, hold the draft and free agency, and hold training camps. That's a lot to jam in there.
The Pacers still need to fill out a coaching staff and two teams don't even have head coaches yet.
Ultimately, money talks. And teams and players will want to maximize their revenue. Be prepared to see some creatively-constructed deals in free agency. The schedule, player availability in games and more will take a hate, but this news suggests that the NBA is not optimistic in the short-term so it is doing what's best for the league in the long-term.
The only teams eager to play are likely the eight not included in the bubble. Their offseason started more than seven months ago…
Peter Dinwiddie takes job with 76ers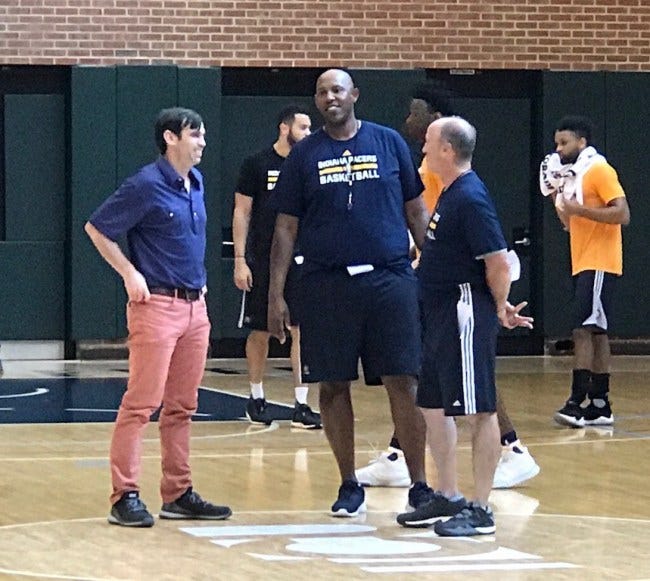 He was with the Pacers since 2006, but last week Peter Dinwiddie started in his new role as Executive Vice President with the 76ers under GM Elton Brand.
"It seems like to me, sooner or later, he's got to get out there and get his own gig," Larry Bird told me for a feature I wrote last season.
Earlier this summer, Pacers GM Chad Buchanan was in the running to lead the Bulls' front office, but he chose to remove his name from consideration and stay with the Pacers. He is tight with Pritchard, the Pacers' president who gave Buchanan his start in pro sports two decades ago in Kansas City.
Steve Simon on their coaching vacancy
Unlike some franchises, Pacers ownership rarely speaks out. I think Herb Simon has done one interview in more than a year.
So when his son (and alternate governor) Steve Simon, who has taken a greater role with the franchise over the last decade, speaks out … you listen.
Steve Simon appeared on a few sports shows to promote the Techstars Sports Accelerator, a three-year initiative to supercharge tech innovation and sports. When joining sports shows last week, of course he was asked about their process in hiring a new coach.
"We want someone we can grow with," he told Tiki and Tierney on CBS Sports Radio. "Nate (McMillan) did a great job. We want someone young and innovative, and who's gonna grow the great talent and great chemistry we've had for a lot of years. And look, we're like any team and want to compete for a championship. We got a lot of work to do."
That was days before the front office signed 45-year-old Nate Bjorkgren to a multi-year deal.
Gary Payton not happy with the Pacers' decision
A Hall of Famer recently spoke out in support of former Pacers coach Nate McMillan. Gary Payton, a teammate of McMillan's in Seattle, appeared on SirusXM NBA Radio and expressed his frustration with the Pacers front office moving on from McMillan after an unusual season completed in a bubble.
"I think that was a bogus thing that happened," Payton said. "Nate didn't deserve that.
"Why give a guy an extension and then all of a sudden you have a great year — a great year and then a pandemic comes — and then you go into the bubble and everybody is not the same.
"… I just don't appreciate that when they try to blame the coach on it because you can get another coach next year and if it happens again, what's going to happen then? Are you going to fire him again? Are you going to keep blaming it on the coach? You've got to give somebody a responsibility and some of them players have to take responsibility for that."
From 2016 pre-draft workouts:
Two Pacers up for end-of-season awards
It seems odd to be voting on season awards in October, but here we are. Two Pacers are among the finalists for awards voted on by members of the Professional Basketball Writers Association.
Guard Malcolm Brogdon for the J. Walter Kennedy Citizenship Award — for a member of team who shows outstanding service and dedication to the community
Other finalists: Jrue Holiday, Kevin Love, Josh Okogie and Hawks coach Lloyd Pierce.
See also: Motivated to create change, Jrue and Lauren Holiday pledge $5 million to Black businesses and communities
McMillan for the Rudy Tomjanovich Award — which recognizes the coach who best combines excellence in his craft with cooperation with the media and fans.
Other finalists: Mike D'Antoni, Nick Nurse, Lloyd Pierce, Monty Williams.
Former Pacer FaceTimes coach Vogel
Frank Vogel won a title in his first season in Los Angeles. It's a special story, and one I hope to detail in an upcoming podcast.
Vogel shared on Zach Lowe's podcast that George Hill, the Indy native, tried to FaceTime him from the locker room. He didn't answer. Hill called again later and Vogel answered — another indication of just how close those Pacers teams were. They were all together at Roy Hibbert's wedding in 2014, and again at Hill's in 2018.
---
Happy birthday to David Benner, the longtime director of media relations. He celebrated a birthday one week ago. You may recognize him for his trash talk and finger wag to Reggie Miller. He's an Indiana native, was a manager at Center Grove and moved into sports writing in college. He spent 16 years with the Indianapolis Star, including several years on the Pacers' beat, and he's worked more than 25 years for the franchise in media relations.
Click here to listen to his story on my podcast.
Also, Pacers owner Herb Simon turned 86 on Friday. He's the longest-tenured owner in the NBA.
Fun fact… ESPN posted a behind-the-scenes video of LeBron James telling Anthony Davis how their bodies would hurt in the morning. This was one week ago, the night the Lakers clinched the NBA title. There was a trophy presentation, media interviews, formal photos and more. As a result, they didn't have time to ice. It's the only time all season when they don't go through their cool down after games.
I shared that video and added this very personal anecdote from when I was working with the Fever in 2012 and they had just won the franchise's only WNBA championship…
Quote of the week goes to Colts quarterback Philip Rivers. He's 38 and recently, after a narrow win over the Bengals, admitted to reading what was being written about him and the team leading up to the game.
It's unusual for a player or coach to acknowledge that they know what is being said. The traditional line is something like "I don't read my press clippings," — which we all knows means they read everything.
This is a unique situation, though, because he's new to the franchise and, due to COVID-19, hasn't met any of the reporters in person. So there's no relationship, no feel to what each of them is about. So Rivers sought out their stories. I appreciate his candidness.
---
One last thought…
We're in the final week of the Real Men Wear Pink campaign, launched by the American Cancer Society. I was asked if I was willing to help out. Of course.
I told them it's an awful and uncomfortable time to be asking anyone for money, but I'll do what I can. I made a donation and I invite you to join me. All donations are tax-deductive and for the final push, they will all be matched — up to $50,000.
Click here if you are able and willing to join the fight to fund lifesaving research, education, and patient services.
Lastly,
If you're not subscribed to the Fieldhouse Files here (or the podcast), let's change that…