Discover more from Fieldhouse Files with Scott Agness
Taking you behind the scenes and inside the locker room with the Indiana Pacers. The latest news, interviews, features, game reports and draft analysis.
Pacers Last Week: Sept. 14 — The surprise of coaching candidates listed, McConnell is expecting, Oladipo unplugs
The Pacers are one of five NBA teams in need of a head coach, but they can take their time in making a significant hire.
I know it can be a lot to follow the team, especially in the current times. I want to help simplify that, so I'm bringing back "Pacers Last Week." Each week, you can expect a summary of all key Pacers items from the last week, plus a brief look ahead to next week. This roundup will evolve over time. If you have any suggestions, please let me know.
---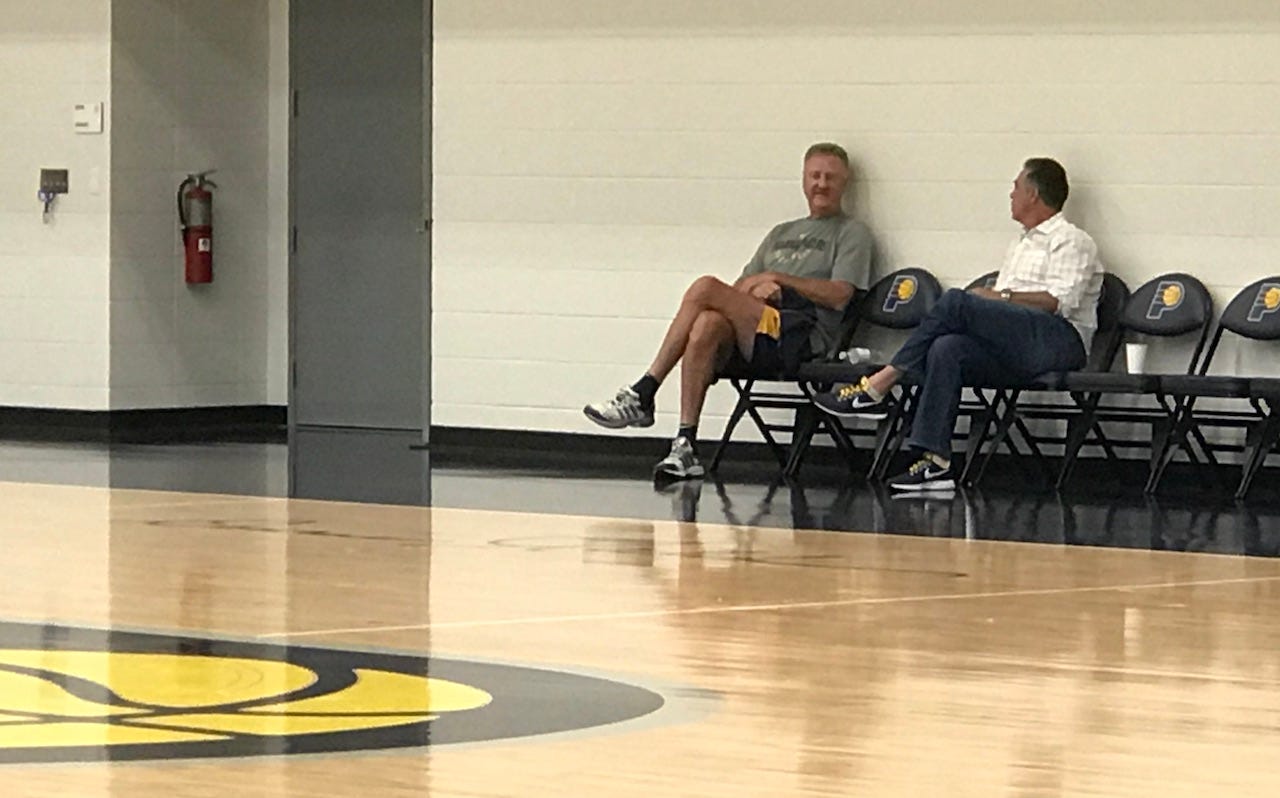 Pacers president Kevin Pritchard (right) will be hiring his first head coach since taking over for Larry Bird (left) in 2017.
---
I thought it was really interesting last week when ESPN's Adrian Wojnarowski published a list of 15 names the Pacers would be considering for their head coaching vacancy.
Why?
Because it was public, it was loud and it was very unlike this franchise. In my time covering the Pacers — since 2012, and the previous decade working around The Fieldhouse — their next move was hardly known. They worked quietly, under the radar and away from noise.
When Frank Vogel's contract wasn't renewed in 2016, not much got out about Larry Bird, the president at the time, and his next move. Two weeks later, he hired from within and ironically, negotiated the promotion of Nate McMillan with the same agent who also represents Vogel.
When McMillan agreed to a contract extension in July, it didn't become public until a month later. They want to control the message.
Rumors usually don't often get out about the Pacers. There's strict mandates inside the organization. Yet former Rockets head coach Mike D'Antoni, now a candidate for the Pacers' opening, had been linked to the Pacers in basketball circles since last winter.
So I found it odd when Woj dropped a hat of names. Of course they're considering many candidates with a variety of backgrounds. Some have head coaching experience, some don't. Some have previous relationships with players, while others don't.
Generally, the ones to watch closely are individuals with existing relationships with the front office.
Kevin Pritchard is in control and this is his first coaching hire since being promoted to president of basketball operations in May, 2017.
The Pacers' process to fill the opening is ongoing and they can take their time. The Bulls, Pelicans, Sixers and Thunder are also in need of a coach — but each of them seem to be very different jobs that may be seeking a different kind of candidate.
The Bulls and Thunder, for example, are rebuilding and need to focus on player development. The job with the Sixers is high profile and the No. 1 responsibility will be managing personalities while trying to compete after several years of disappointment in the postseason.
The Pacers, meanwhile, are wise to interview numerous candidates and gather as much intel as they can on these future coaches. The ones they don't hire may become their competition in the future. Just as they do with players they don't draft and players who may soon become free agents, this is an opportunity to build a file on them. And perhaps one of them would be willing to join in an associate head coach role.
Hiring the 16th head coach in franchise history is the first step in what now figures to be an active offseason.
T.J. McConnell, dad
Ever wonder why T.J. wears No. 9? It does have meaning to him. He's not selective about numbers, but he chose 9 because it's the date he married his high school sweetheart, Valerie.
The two met all the way back in kindergarten, went to the same high school and started dated during his senior year.
Last Wednesday, he made a timely post three years after they were married. McConnell announced that they were expecting their first child.
If you thought he was already funny, just wait until his dad jokes. I sincerely am looking forward to it.
First off Happy Anniversary to the most beautiful, kind, sweetest person I know. These last 3 years have been the best of my life. I can't wait to continue to do life with you. I love you so much.
PS: You're going to be the best mom ever
Aaron Holiday, husband
One day after McConnell's post, fellow point guard Aaron Holiday posted an Instagram story saying "Hey y'all this my wife and daughter."
The Holiday family has grown in recent months. Aaron welcomed another niece into the world in the spring (Justin's daughter) and is now married to Ashli. Congrats to them.
Victor Oladipo makes time for himself
Oladipo, like many of us, stays connected to the internet. He reads and posts on Twitter. He browses and goes live on Instagram. He watches YouTube. He consumes NBA games and highlights.
The Pacers' star unplugged, at least for a few days. After spending Labor Day weekend in Miami on a yacht with close friends, Oladipo got away and hopefully got some clarity that he needed.
Oladipo says he has a grown a lot mentally since his injury. He always had a strong ability to both read and entertain a room. Now he's reading more, journaling and is a lot more introspective.
In a world that has an insatiable thirst for rumors and opinions, being connected at all times can be a detriment. Hopefully this served as a positive recharge for him after the most challenging 19 months — both mentally and physically — of his life.
Previous updates:
---
Who would you like to coach this team? Leave your thoughts in the comments below.