Discover more from Fieldhouse Files with Scott Agness
Taking you behind the scenes and inside the locker room with the Indiana Pacers. The latest news, interviews, features, game reports and draft analysis.
Pacers Last Week: Sept. 22 — A quiet golf outing, fans surveyed and a meaningful video on the NBA postseason
There were no players and no coaches at the annual golf outing. It was ... different.
I know it can be a lot to follow the team, especially in the current times. I want to help simplify that, so I'm bringing back "Pacers Last Week." Each week, you can expect a summary of all key Pacers items from the last week, plus a brief look ahead to next week. This roundup will evolve over time. If you have any suggestions, please let me know.
---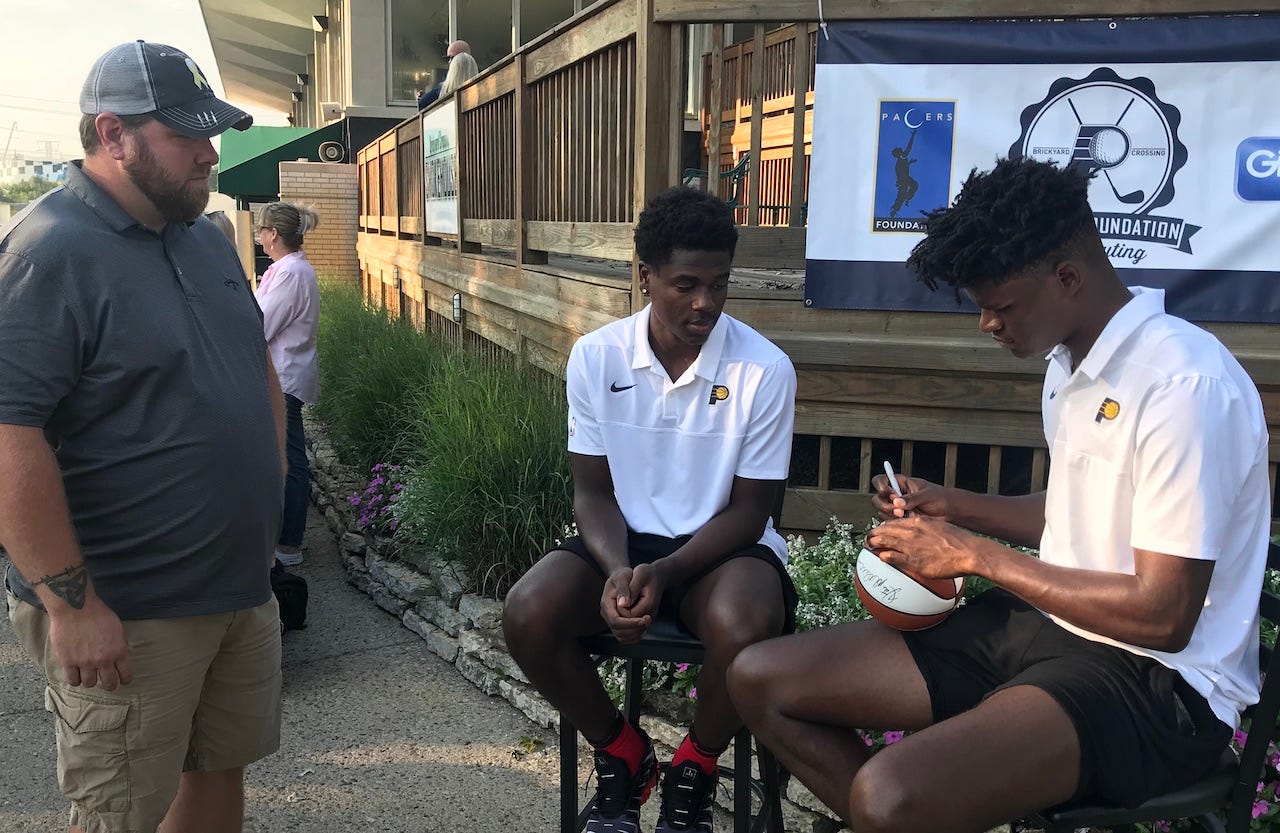 Aaron Holiday and Alize Johnson signed a mini basketball for a golfer at the outing in 2019.
---
It feels like March 213th. In reality, it's Sept. 21 and the NBA pause its season 194 days ago. Now the last full week in September, when the Pacers should be gearing up for the 2020-21 season, the previous season's finals hasn't even played out yet.
The Pacers Foundation annual golf outing unofficially marks the start of another season. It's traditionally held a week before the start of training camp — at the end of September. Once year ago, it was held on Sept. 18 and media day was held the following Friday. They practiced for a few days and then boarded their extravagant charter flight to Mumbai, India for two preseason games against the Sacramento Kings.
A lot had changed over the last year. That's obvious. And now there are so many questions that surround the Pacers beginning with who will coach the team whenever next season starts up. That could be in January, but is most likely in February or even into March. Already, the city's plans to host All-Star Weekend Feb. 12-14 had to be scratched.
The golf outing went on as usual Monday at Brickyard Crossing Golf Course on the west side of Indianapolis. It's one of the largest fundraisers for the Pacers Foundation, which annually awards nearly $300,000 in grants to organizations across the state.
But as several individuals who were there described it, it was small and low key. And much different than usual. No players. No coaches. Also, there was not an extravagant gift like in previous years, such as a custom golf bag, bottle of Maker's Mark, Pacers golf shorts or Pacers-branded Adidas golf shoes.
Golfers did receive a nice pair of sunglasses. Several Pacemates stopped by, as did the mascots.
There was no media at the event and therefore the front office did not have to answer questions about the ongoing coaching search, their priorities for the offseason and how they're engaging with players while they're away. Typically, this is a good opportunity the coach and front office to preview the season and to catch up with players after the offseason. All in a low-key setting.
Pacers general manager Chad Buchanan and Fever VP Tamika Catchings did address golfers before the scramble, which consists of team partners and sponsorships.
It was a beautiful day in Central Indiana, but strange not to be out at Brickyard Crossing for the unofficial start of a new season. In reality, the offseason only just got started for the Pacers.
Their first-round pick belongs to Milwaukee and they may be active in free agency. But first, they must hire a head coach, the 16th in franchise history.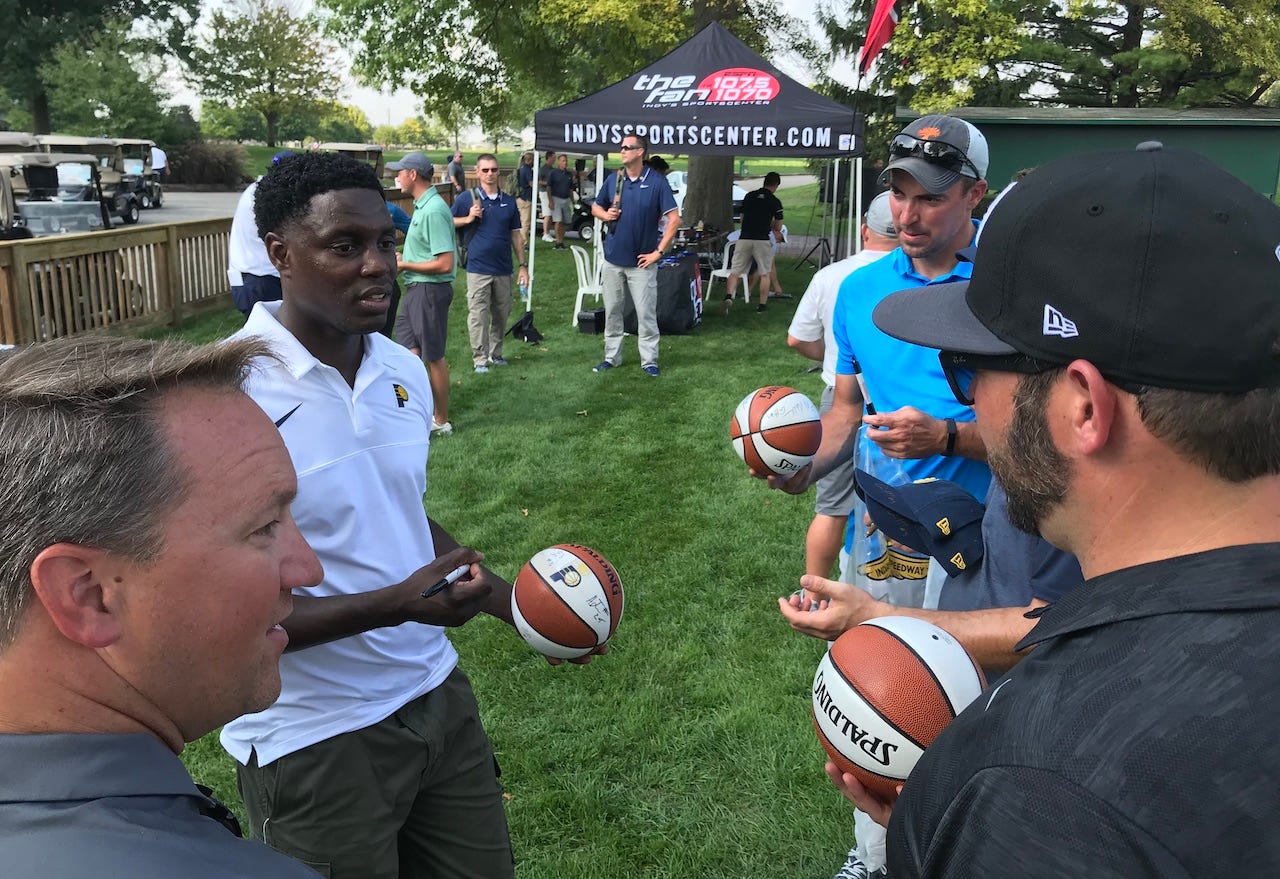 From 2018: Former Pacers point guard Darren Collison signed autographs for golfers at the Pacers Foundation golf outing.
---
Coaching search continues
The Pacers are not in a hurry to make a hire. Among the final four teams still in the bubble, there are assistants they want the opportunity to learn more about. Preliminary interviews over Zoom are underway and in the meantime, the Chicago Bulls just hired one coach they spoke to: Billy Donovan.
I didn't view him as a serious option, but it was worthwhile for them to meet. Donovan, who finished third in Coach of the Year voting, coached Victor Oladipo and Domantas Sabonis for one season in Oklahoma City.
Again, this is the first head-coaching hire for Kevin Pritchard since he was promoted to team president in 2017. By design, they began with a large pool of candidates and have narrowed it down from there.
"Communication would be probably my top thing," Pritchard said when asked about this hire. "Playing a little bit more of a modern game. The game is changing and you gotta look to the future, maybe not playing exactly where teams are playing now and try to figure out what's going to be played. Look where the hockey puck is going, not so much where where it is. And someone who can be a really good partner that can grow into this position."
PS&E continues to gather intel
Last week, PS&E sent out another blast of emails to fans who attended a game last year. They're taking the temperature of fans in terms of how comfortable they would be to return to The Fieldhouse for a game or concert compared to visiting a shopping mall, dining out at a restaurant and traveling more than 50 miles, for example.
They did the same thing just a month into the pandemic, back in April, according to several season-ticket holders.
Renovations continue Bankers Life Fieldhouse and because it hasn't hosted any events since March, they're ahead of scheduled. And also unsure when the next event may be.
Video of the week
No, this isn't new. But it's relevant. Bob Myers, a top executive in the league, is the current president/GM of the Warriors.
"The playoffs are nothing like the regular season," Myers began. "They are two completely different sports."
The Pacers have had regular-season success in recent years, which has led to their streak of reaching the playoffs 25 of the last 31 years. But what about the postseason? It takes a different kind of player and a different kind of roster.
It would be wise for the Pacers' front office to take a listen and consider during this important offseason.