Discover more from Fieldhouse Files with Scott Agness
Taking you behind the scenes and inside the locker room with the Indiana Pacers. The latest news, interviews, features, game reports and draft analysis.
Pacers Last Week: Sept. 7 — Coaching search begins, Sabonis proposes, BLF approved as voting site
After being swept in the first round, players are now doing their own thing. They're keeping busy in other ways.
I know it can be a lot to follow the team, especially in the current times. I want to help simplify that, so I'm bringing back "Pacers Last Week." Each week, you can expect a summary of all key Pacers items from the last week, plus a brief look ahead to next week. This roundup will evolve over time. If you have any suggestions, please let me know.
---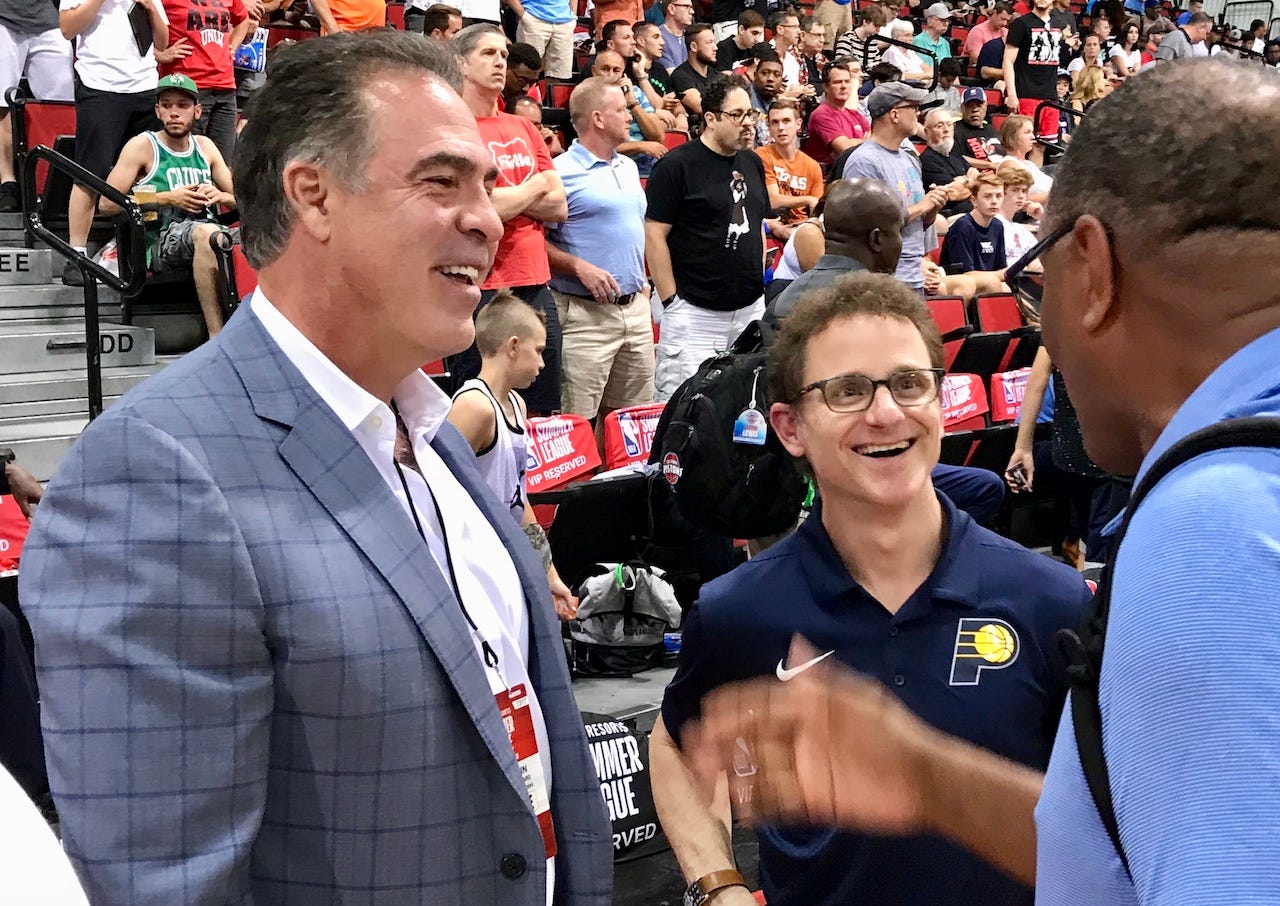 Kevin Pritchard and Steve Simon, son of Pacers owner Herb Simon, talking between games at NBA Summer League 2019 in Las Vegas.
---
Change is never easy, but the Pacers felt it was necessary. It's now been a dozen days since Kevin Pritchard, the president of basketball operations, informed Nate McMillan that he would not be back as head coach.
It was a harsh decision, backed by ownership, that in their eyes was required to move forward after four years of the same thing. Although they outperformed their unique circumstances each year, four trips to the playoffs and zero series wins during McMillan's tenure is what most will remember.
A bad roster, not enough horsepower to beat the LeBron James-led Cavs in a Game 7, a significant injury to Victor Oladipo and Domantas Sabonis not playing in the restart.
"If it was just about money, we probably wouldn't have done what we did (in firing Nate)," Pritchard said in response to my question about the team having continuity amidst a pandemic and with so many questions about next season. "And so I'm appreciative of that. But it's up to me to step up to the plate and find the right person to lead the locker room again and be creative as a new-age coach."
See Also: In his own words: McMillan on the Pacers going in a different direction
Houston's Mike D'Antoni is the coach connected to Indiana since the beginning of the season. He's in the final year of his contract, wants to run his offense and wants his contract to reflect his success. There's a chance he could re-sign with the Rockets, who advanced to the second-round and are playing the top-seeded Lakers. But that may be a broken marriage where it's best for both parties to go a different way.
As for D'Antoni, who turned 69 years old in May, his next stop may be his last so of course he's looked for a stable situation where he can win. What you're seeing with the Rockets isn't exactly how he wants to play, but rather he has adapted to her personnel. So they're launching 45 3s per game, running isolations for MVPs James Harden and having Russell Westbrook go full-steam ahead to the rack.
The Pacers' coaching search is only a week in and there doesn't appear to be any hurry — nor should there be. Just last week, the Nets shocked the NBA world by hiring Steve Nash, a former MVP who has yet to coach, as their next leader. It's that out-of-the-box thinking that should be applauded; he's a top 50 player, a brilliant basketball mind and the stars of the team cleared it so it was mostly about convincing him.
Meanwhile, this is Pritchard's first time running a coaching search since becoming team president in May, 2017. He says he wants a leader and someone who can connect with today's players.
"They're living a different life and it seems like it's based around the phone, but again, they're into fashion and they're changing and they're becoming more self-observant," he said. "And so, I want to tap into that and make sure we're communicating on that foundation.
"And then secondly, for coaches, we have to understand that we have some strengths and weaknesses and if you can accentuate those strengths and minimize those weaknesses out on the floor, I think you have a better chance at winning."
It was interesting how that criteria lined up with what Nets stars Kevin Durant and Kyrie Irving requested. According to ESPN's Adrian Wojnarowski, they asked for the next coach to be a "communicator."
The NBA is a players' league and head coaches must relate and have two-way communication with those in the locker room.
The front office did not hold traditional exit interviews with each player. After being isolated for seven weeks in the bubble, they were told to put the ball down for a few weeks and get away. So they are.
The Pacers front office will initially proceed with interviews over Zoom. It's not immediately clear whether any of the assistant coaches will remain on staff. That's to be determined.
Sabonis gets engaged
Sabonis' special year continues to be just that. He signed a rookie contract extension worth $74.9 million last fall before the season, was voted to the All-Star game and was the team's best player.
And now, at 24, he's added a lifetime partner. Sabonis proposed to his girlfriend, Shashana Rosen, last weekend.
I'm the luckiest man in the world ❤️
Rosen, along with Sabonis' entire family, were with him in Chicago to experience All-Star weekend and those two were together throughout quarantine in Los Angeles. Sabonis did not play in the restart due to plantar fasciitis in his left foot.
The couple was introduced about one year ago. And now they are celebrating with Sabonis' family in Lithuania.
Domukus is an All Star ladies and gents 🤩
Another birthday
T.J. Warren, the Pacers' standout inside the bubble, turned 27 on Saturday.
While he was a revelation to NBA observers, Pacers fans knew about his scoring ability. He led the Pacers in scoring (19.8ppg) during the regular season and was second (20ppg) during their first-round series against the Miami Heat.
Also celebrating a birthday on Saturday: fan favorite Lance Stephenson, who still lives in town. He's now 30 and eager for a return to the NBA after spending the last season in China.
Brogdon to host radiothon on Sept. 17.
Malcolm Brogdon is a co-captain and the team's leader, and he continues to invest in the Indy community. On Thursday, Sept. 17, the Pacers' point guard will host a radiothon from 7 a.m. to 6 p.m. ET on 93.5 WIBC and 107.5 The Fan in Indianapolis, the flagship station of the Pacers.
Brogdon, who launched his own Brogdon Family Foundation months ago before the NBA restart, wants to empower schools and help students excel in the classroom.
Therefore, money raised will benefit the JHA Education Project, which supports educational achievement by focusing on literacy, mentoring and providing high impact educational experiences to schools in Indiana.
"I come from a family that is predicated on education," Brogdon said in a statement. "I recognize its role in my successes, as well as the reality that not everyone is afforded the same opportunities."
Bankers Life Fieldhouse becomes a voting site
In less than two months, you will head to the polls to cast your vote on Election Day. One new option for residents is Marion County is placing your vote inside the Pacers' arena.
The Fieldhouse was recently approved by the Marion County Election Board to serve as an election site — despite the ongoing renovations. I'm told it will all go down in the entry pavilion. It will be open from 6 a.m. to 6 p.m. ET with free parking available at the Virginia Avenue Garage, which is connected.
The franchise is doing its part in trying to get citizens registered to vote, and provide them with a spacious option come Election Day on Nov. 3.
"At PS&E, we take our responsibility to help increase voter access and awareness seriously and we will continue to champion this critical cause well beyond November's elections," Pacers Sports & Entertainment President & COO Rick Fuson said.
The deadline to register to vote is Oct. 5.
---
In this unusual year, days continue to fly by. Like, how is it already September and nearly fall?
Someday — hopefully sooner than later — things will return to normalcy. Cities will be buzzing, bars will be enjoyed and stands will be filled with thousands of fans at games.
Until then, be safe, appreciate what you have and envision what you want to see once we get through this. Cheers to a long Holiday weekend!