Discover more from Fieldhouse Files with Scott Agness
Taking you behind the scenes and inside the locker room with the Indiana Pacers. The latest news, interviews, features, game reports and draft analysis.
Pacers lose Oladipo early, falter late in Game 1 loss to Heat
It was the first playoff game for several Pacers, including T.J. Warren and JaKarr Sampson.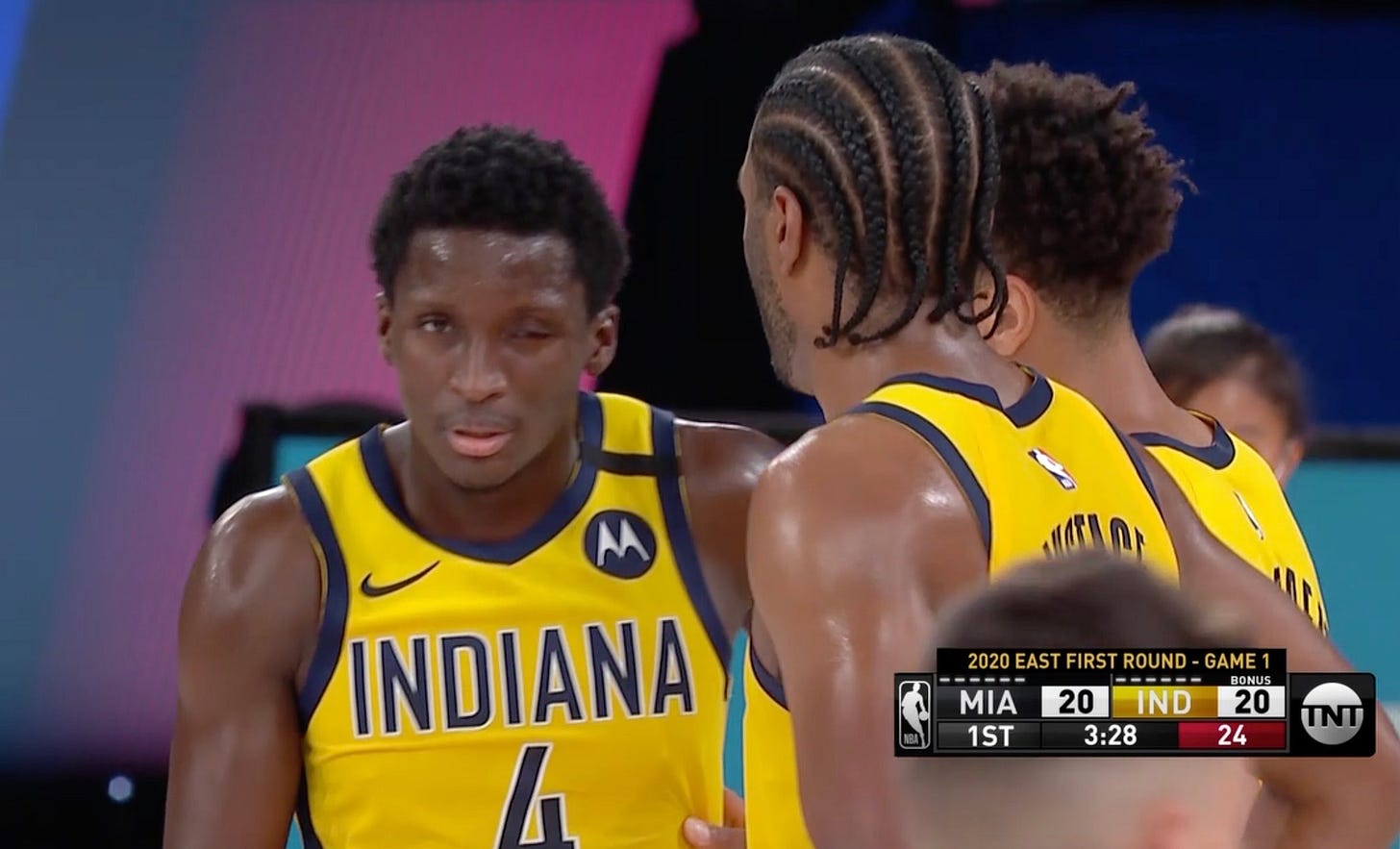 This time each year, about the only exciting thing going on in the NBA is the release of the schedule for the upcoming season. These days, the playoffs are just getting underway, Indy's All-Star game has been postponed and who knows what next season even looks like.
Noting has gone as usual for any of us, especially the Pacers.
Their run of bad luck continued just eight minutes into their first playoff game when Victor Oladipo was seated on the floor in pain after getting poked in his left eye by Miami's Jae Crowder.
By that time, with 3:28 left in the first quarter, Aaron Holiday was already on the bench with two fouls — and his foul trouble would continue.
"It definitely changed (the game)," Malcolm Brogdon said of being without two players in the rotation for much of the game. "Dynamics change, but that's been one of our strengths all season as we haven't had everybody, every guy down the stretch. Usually we've been able to overcome it, but that's a really good team on the other side."
If you're Pacers head coach Nate McMillan, you don't expect to go into the playoffs without one All-Star (Domantas Sabonis), a key rotation player (Jeremy Lamb) and then have another join the injury report. Oladipo went back to the locker room for a while, met with the team at halftime and then went to the on-campus clinic to be checked out.
There's no immediate concern, the team said. However, his vision was blurry and he told teammates that he couldn't see out of his left eye.
Such is life for the Pacers this season — a season that consisted of five phases, beginning in India and finishing in Florida. Jokes on them for earning home-court advantage for the first time in six seasons only for it to be rendered relatively meaningless inside the NBA's bubble.
Most on this Pacers roster has very little playoff experience. It was all new to bubble standout T.J. Warren, plus JaKarr Sampson and rookie Goga Bitadze, who didn't play. And it was the first meaningful action for Justin Holiday (11 minutes) and Edmond Sumner (two).
Justin scored 11 off the bench and Sumner was good in the moment, adding six points and six assists in more than 27 minutes.
The Pacers trailed the Heat by one entering the fourth quarter, then the Heat's vets took over. The Pacers were outscored by 11 points in the period and dropped Game 1 of their first round-series, 113-101.
"In the fourth quarter, we started to turn the ball over again," McMillan said. "It's a 48-minute game, you got to value every position on both ends of the floor."
Bam Adebayo was a problem all game long and will be the difference in this best-of-seven series. He's a matchup problem and the Pacers need for Myles Turner to play more physical, fire away confidently and compete. He's the longest-tenured Pacer and has the most playoff experience on the team, but he didn't show it.
"If Myles is in the post with a small, we have to drop the ball to him and we have to win that matchup," McMillan made clear.
Adebayo turned in 17 points, 10 rebounds and six assists — and was a game-high +23.
In the fourth quarter, Goran Dragic unloaded for the Heat. He played off the bench all season, but started and then delivered in place of rookie Kendrick Nunn.
"We just need length on him," Brogdon said of Dragic. "He's a seasoned vet, he plays at his pace, he only takes shots he's comfortable with and down the stretch, he knows how to win games."
Dragic scored 14 of his 24 points in the fourth, then All-Star Jimmy Butler, who was pleased to see contributions from all over, asserted himself.
If you haven't been watching closely, Butler lost his 3-point shot and isn't a threat from out there. He averages two attempts per game (at at 24.4-percent clip) and yet he made the only two he fired. He did it on back-to-back possessions, which put the Heat up 12 with less than three minutes to play and sealed the win.
That's what you want from your superstar. He rose to the moment and embraced it, even if it was out of his comfort zone.
Butler scored a game-high 28 points.
Offensively, the Pacers started slowly but managed to get to the free throw line. They tried to get the ball and run, attack the weakest defender and exploit switches. But later, they looked out of rhythm and hesitant as the Heat continued to switch everything.
Warren paced the Pacers with 22 points in his playoff debut. Because he's the Pacers' featured player after taking his game to another level over the last month, the Heat often sent help his way. He still managed to make half of his 18 shots, including four 3s, and agreed that the intensity level had ramped up.
"You got to value all our possessions more," he said afterward. "Definitely a different type of physical game. My first time in the playoffs so it was definitely a new experience for me and I can't even wait for Game 2."
This Heat team was second in 3-point field-goal percentage (37.9) during the regular season. They were held below that (37.1) and only made three more shots than the Pacers from beyond the arc. But their big-game experience far exceeds the Pacers and those players were the difference.
The Heat turned it once over the final two quarters. It didn't matter that they closed the game with a five-man lineup that hadn't played together this season, they adjusted.
And now the Pacers must adjust. That's one of the biggest differences in the playoffs. Instead of studying a team for one day and then moving on, they watch more game film and lock in on opponent tendencies.
At least there's a lack of distractions inside the bubble. But one area where being isolated isn't ideal is the lack of personnel. The Pacers' team ophthalmologist attends each home game and Oladipo has had problems with that eye before. It swelled up and got red in March, 2018.
"I just want him to be healthy, honestly," Brogdon said. "Forget about basketball, I want him to be able to have vision out of that eye and be OK."
It's been a trying last 19 months for Oladipo since he ruptured his right quad tendon. He's been encouraged about how he felt in the bubble even if he isn't 100 percent.
"It's been a rough road, but my better days are ahead. I truly believe that so I just have to keep pushing forward," Oladipo said on Monday before Game 1.
The Pacers weren't surprised by their regular-season success — they won 45 games and were on pace for more than 50 wins — even if others were. They knew what they were capable of for a while now even if pieces aren't in their designated place.
They need for Oladipo to be out there and contribute to win this series. The Heat are too fast, too deep and have many playmakers. The Pacers have two right now, Brogdon and Warren.
"We know what we're dealing with," Brogdon said. "With or without Vic, we got to be able to adjust and play basketball."
Take note: Game 2 is on Thursday at 1 p.m. ET.