Discover more from Fieldhouse Files with Scott Agness
Taking you behind the scenes and inside the locker room with the Indiana Pacers. The latest news, interviews, features, game reports and draft analysis.
Pacers make sharp turn, move on from Nate McMillan after second straight sweep
He was the 15th coach in franchise history and fourth in all-time wins.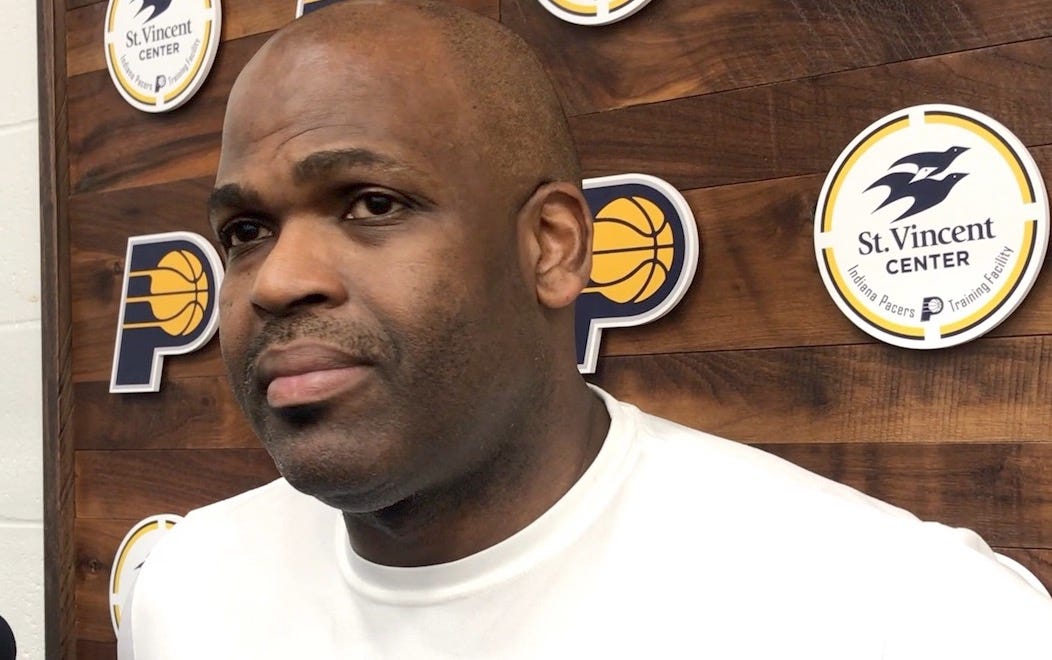 Less than 24 hours after landing in Indianapolis, returning from a seven-week stay in Orlando, Fla. for the NBA's restart, the Pacers moved on from head coach Nate McMillan after four seasons.
The decision was made two days after their season ended — and exactly two weeks after the franchise announced a one-year extension for McMillan, which guaranteed his contract through the 2020-21 season with a team option for the following season.
"What Nate has done in four seasons with our franchise merits this extension," Kevin Pritchard, the president of basketball operations, said then. "Between injuries and changes in personnel, he and his coaching staff have adapted and produced positive results. He also represents the franchise, the city and our state in a first-class manner."
If they were on the fence before the restart, an extension was unnecessary. They had a team option to decide on; now they must pay him through next season, along with his assistants. A league source said their contracts are in line with McMillan's.
After going 0-7 against the Heat this season in meaningful games, including a four-game sweep in the playoffs, Pritchard and the Pacers say something different. This sudden change indicates that the organization was embarrassed by another sweep, reversed course and didn't need to think it over anymore.
It's not immediately known if ownership stepped in, but Herb Simon did last July to acquire Malcolm Brogdon.
The team wasn't even able to hold their traditional exit interviews, where the players meet with the front office and coaches separately before heading to their offseason homes.
"On behalf of the Simon family and the Pacers organization, I'd like to thank Nate for his years with the team," Pritchard said in a statement Wednesday.
"This was a very hard decision for us to make; but we feel it's in the best interest of the organization to move in a different direction. Nate and I have been through the good times and the bad times; and it was an honor to work with him for those 11 years (in Indiana and Portland)."
Noted in the team release was McMillan's poor playoff record, which is very unlike this organization but indicates that it was a motivating factor.
It read, in part: "McMillan took over coaching duties of the Pacers prior to the 2016-17 season; and in his four years with the team he led them to a 183-136 record, including 3-16 in the playoffs."
McMillan, 56, was promoted to head coach in 2016 after former team president Larry Bird said the team needed a new voice, and elected not to extend Frank Vogel's contract. Although McMillan worked with Pritchard and GM Chad Buchanan previously in Portland, it was Bird who was in command when McMillan replaced Vogel.
Both Pritchard and Buchanan were among the 37 members of the team who spent the last seven weeks in Orlando, so they could see up close how this team operates under McMillan's leadership.
McMillan brought accountability to the franchise too. He was always on time, deliberate about what was accomplished and was receptive to ideas from his players.
"Nate gives you the confidence to play and that's the one thing you want from a players' perspective," Brogdon, a co-captain who just completed his first season with the team, said after news of McMillan's extension. "You want a coach that allows you to go out there and play. I've thoroughly enjoyed playing for him so I was extremely happy to see that he got a year extension."
Added guard T.J. McConnell: "Absolutely awesome. Deserving. We're all happy for him. What we've accomplished this year is pretty great and he is a really big reason why."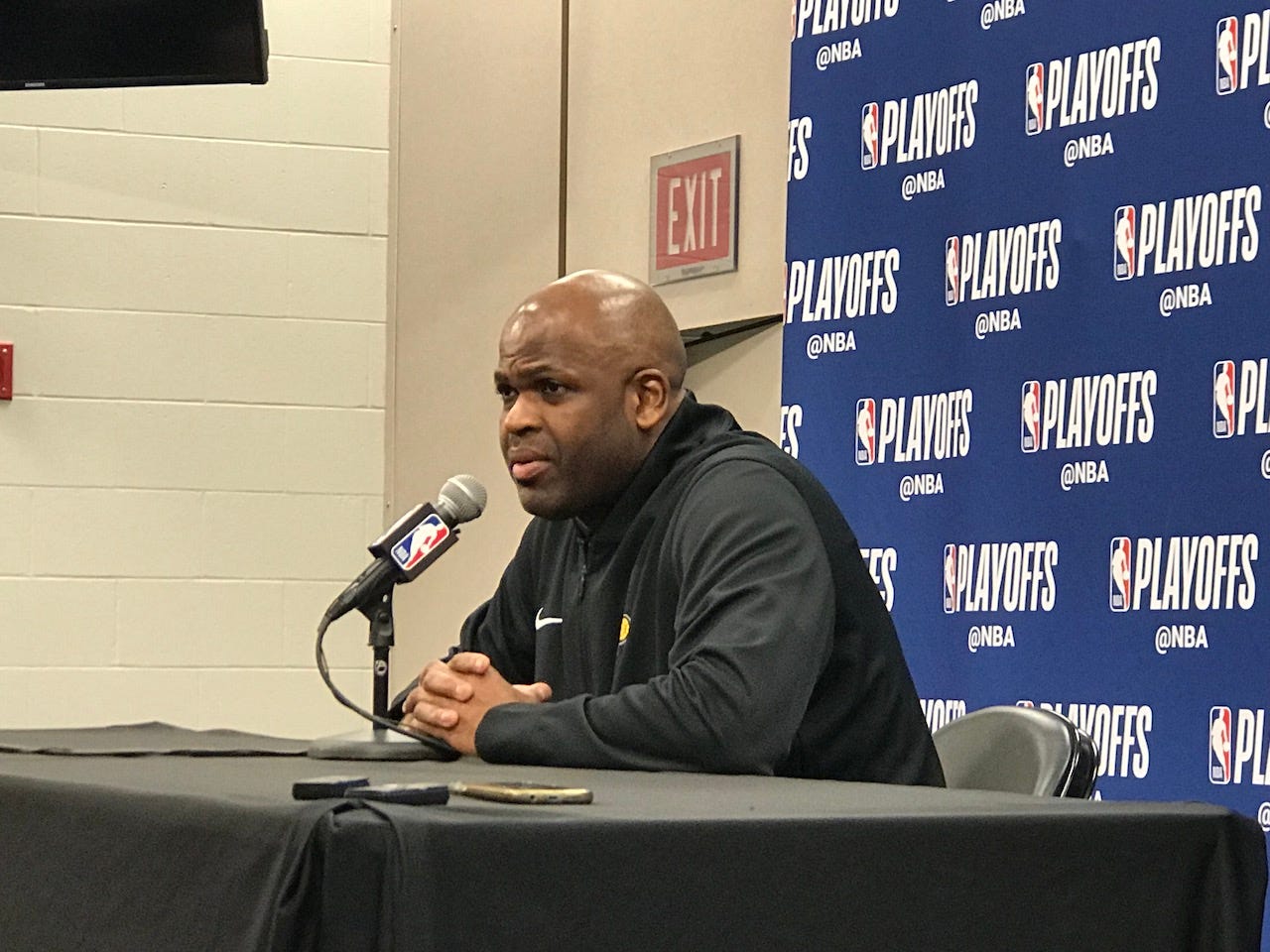 This wasn't the first time McMillan's been blindsided by news. Two-time All-Star Victor Oladipo announced when he would make his season debut (Jan. 29) and that he would not play in the restart (July 3) — then walked back the latter decision after practicing in Orlando.
"When we were coming down to this bubble and I know Victor said what he said, but I thought that he would play," McMillan said after Game 4. "He had told me that he was coming down, he was going to workout and I kind of felt that we would have everybody.
The Pacers' starting lineup — consisting of Brogdon, Oladipo, Warren, Domantas Sabonis and Myles Turner — played a combined 86 minutes together and none in the playoffs. So it's a terribly small sample size.
Sabonis, the best player on the roster this season who set a franchise record with 50 double-doubles, did not play in the restart and left the bubble to seek treatment.
"I felt that this team could win and could win a series," McMillan said. "We just didn't get a chance to see that because Domas is out of the lineup and all of a sudden we're playing with a rotation that we hadn't played with all season long."
Several other head coaches discussed the Pacers' change on Wednesday. Miami's Erik Spoelstra, who faced Indiana in six of its last seven games, was glad the topic was brought up during his videoconference.
"It seems totally ridiculous," he said. "It seems like you're talking out of both sides of your mouth. Just two weeks, at the beginning of our series, you're giving him an extension. But really it's just a media fake extension to appease whatever they felt like they needed to appease. And then after this series, to make that quick of an emotional decision is really disappointing. We have an incredible respect for Nate and his staff and what they've done this year.
"Whether people want to hear it or not, it does matter a lot of what this bubble has been is who's been available and who hasn't been available."
Mavs' Rick Carlisle on McMillan, who joins the "former Pacers head coach" fraternity.
"It's just shocking to me," Carlisle said. "It's very hard to comprehend. ... I don't know what the organization's philosophical reasons were, but I know Nate McMillan is one of the most respected coaches in the league."
When McMillan took over in 2016, they won 42 games and reached the playoffs after outperforming all expectations. Nobody thought they would win 40 games. They then won 48 games the next two years and were on pace for 50 victories before the NBA paused the season due to COVID-19.
He saw his roster significantly turn over several times during his tenure, Oladipo and Sabonis develop into All-Stars, Bojan Bogdanovic and Warren emerge as reliable defenders and held the locker room together during this season ravaged by injuries.
McMillan, the associate head coach from 2013-16 before taking over, coached the Pacers in 319 games, going 183-136 (.574). The number most detrimental to his job was zero, as in zero playoff series won.
"I don't know that anybody's gotten more out of his team in the last couple of years on a consistent basis than Nate McMillan," said Brad Stevens, whose Celtics team swept the Pacers last postseason. "He's probably in everybody's top three or four or five candidates for Coach of the Year each of the last two years."
McMillan finished seventh in voting this season and fourth in 2019.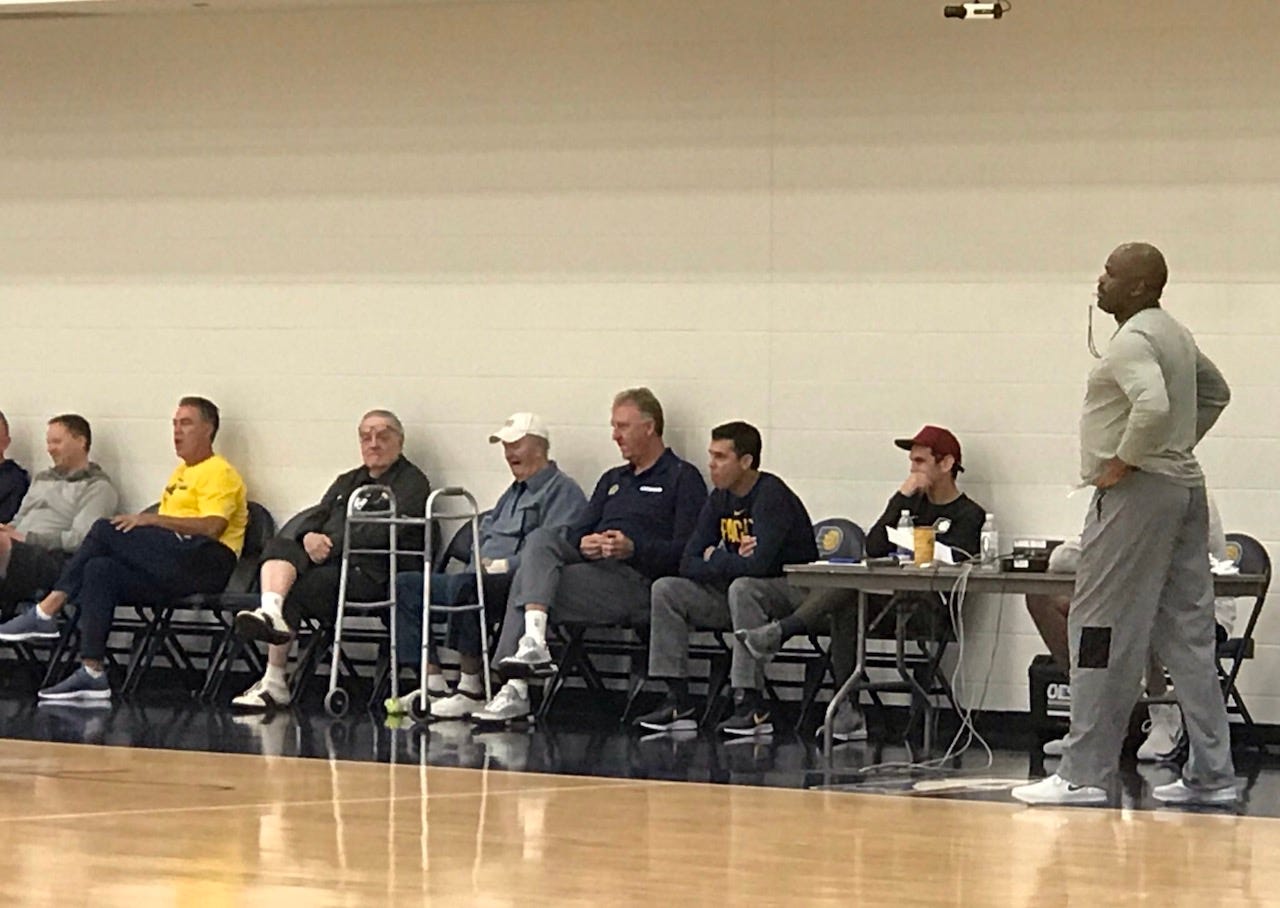 Team executives watch the team practice during training camp. Nate McMillan coached the Pacers for four seasons (2016-20).
---
When the Bulls fired Jim Boylen two weeks ago, executive vice president Arturas Karnisovas talked with reporters that day. When the Pelicans fired Alvin Gentry the following day, executive vice president David Griffin was made available 90 minutes later and spoke for about 20 minutes.
I'm told the Pacers will not be making anyone available to discuss this significant change.
McMillan's cell phone went straight to voicemail Wednesday morning and his inbox was full; Pritchard did not respond.
The Pacers said the search for a new head coach is immediately underway; of course it is. In Indiana, they cannot make this change without a possible coach or two in mind.
Rockets head coach Mike D'Antoni is in the final year of his deal and his name has been brought up in league circles since the beginning of the 2019-20 season.
An offensive-minded coach should be the priority. That would match the focus on offense that Pritchard shifted to last offseason when he brought in guys like Warren and Jeremy Lamb, who suffered a season-ending knee injury in February.
The Pacers ranked 22nd in pace, 23rd in points, and 30th in both 3-point and free throw attempts this season. They also must improve their rebounding, an ongoing issue this decade. They have consistently ranked among the bottom third in rebound percentage, 18th last season and 24th this season.
The most surprising thing isn't the decision to make a change, but how the franchise has handled its business over the last eight months.
How Oladipo — who remained in Orlando and did not join the team on their charter flight — controlled his messaging. How they announced an extension for McMillan in the middle of the restart. And the team sent out two press releases earlier this month, one quoting Larry Bird and the other quoting ESPN writer Jackie MacMullan, with whom he published a book. MacMullan said on a podcast that Bird's frustration with Indiana being unwilling to go out and spend money contributed to him stepping down as president on May 1, 2017.
Pritchard last spoke with reporters on June 30, just before players returned to the team facility for individual workouts.
"We made a lot of changes in the roster last year," he said. "I believe continuity is really important moving forward. I think this is a great measuring stick to see where we are at."
Now the team is forgoing stability, making a significant change — and doing so in the middle of a pandemic. This comes one month after Pacers Sports & Entertainment laid off about 16 percent of its workforce, mostly in sales and fan engagement.
Of the nine players in the rotation, Justin Holiday is the only one not under contract for next season. But team decision makers have seen enough and hiring a new head coach with a new system is a precursor of what's to come. Their first-round pick belongs to Milwaukee and they do not have much cap space, so trades will be required to tinker with the makeup of this team for the 2020-21 season.
Whenever that may be.
Rarely in Pacers' history have they had the same head coach for more than four seasons. Slick Leonard (12) and Vogel (6) are the two exceptions. Just this month, McMillan moved into fourth on the franchise's all-time wins list — behind only Leonard, Vogel and Larry Brown — and his extension suggested that he and his staff were safe for at least another year.
Now he's gone.