Discover more from Fieldhouse Files with Scott Agness
Taking you behind the scenes and inside the locker room with the Indiana Pacers. The latest news, interviews, features, game reports and draft analysis.
Pacers players embrace coaching change and want players' coach
Players liked McMillan and they know coaching didn't get them swept. But they look forward to a fresh perspective.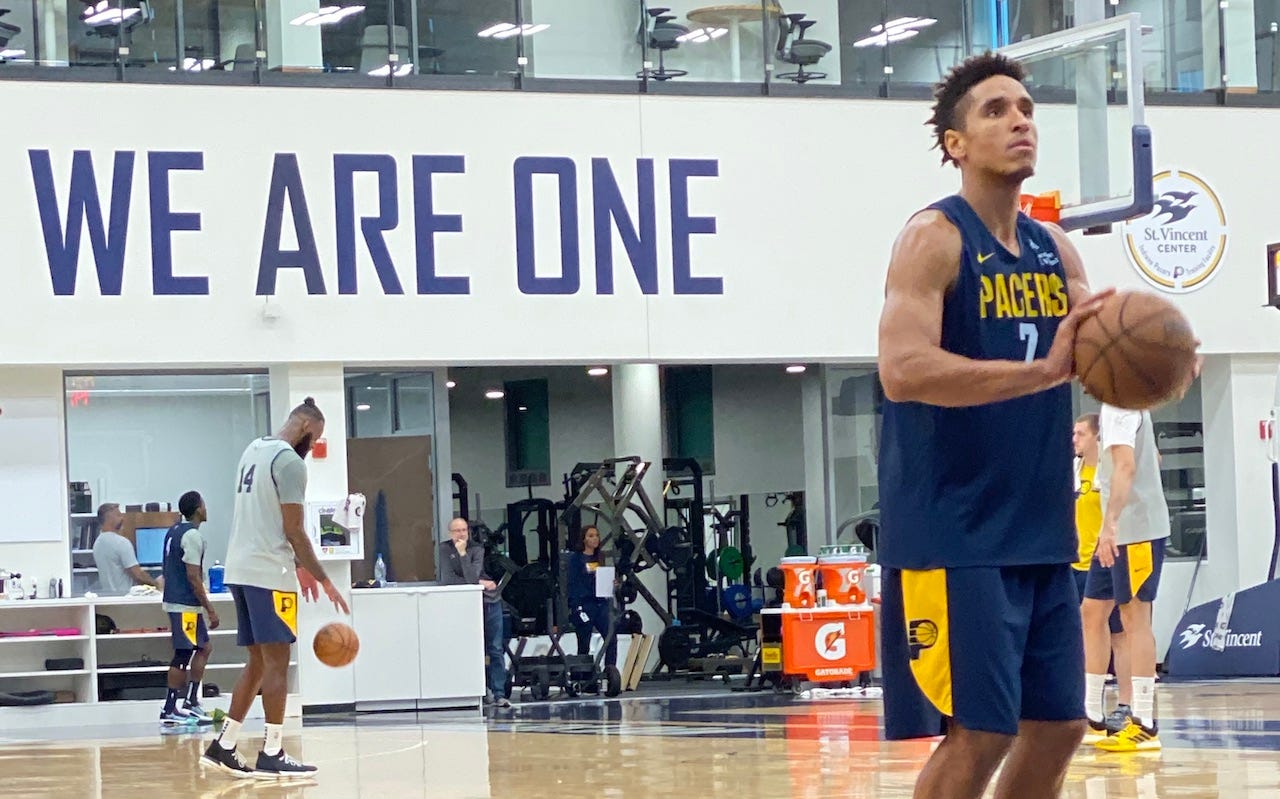 It's been three weeks since the Pacers dismissed Nate McMillan as head coach and the search for the next leader of the franchise is underway. They're conducting a wide-ranging search, which is wise. Much like during the pre-draft period, this is an opportunity to get to know those who will be instrumental to the league in several years.
Let's call it doing research and gathering intel, again, much like the draft. And there's no reason for the front office to rush this hire. It's important to get it right.
McMillan was liked by the players but it's clear, in time, that they wanted more and something different from their head coach.
Since it's the offseason for most NBA players, they typically only want to talk on the record if it's for a cause. Otherwise, they're just fine with being back home, minding their business and staying out of the news.
On Thursday, they had a cause — and more specifically, a teammate — they wanted to support. So from 7 a.m. to 6 p.m., a half-dozen players or so called into a radiothon that benefited the Brogdon Family Foundation.
Malcolm Brogdon, who just completed his first season with the Pacers, quickly became the leader of the team. Longtime assistant coach Dan Burke felt Brogdon was the Pacers' best leader since Reggie Miller. Brogdon was voted one of three captains by his teammates, led presentations and spoke up when needed as the point guard of the team.
On Wednesday morning, he got the radiothon started. It was hosted on 107.5 The Fan, the radio affiliate of the Pacers. Brogdon was candid in his responses about the season and where they want to go.
"We got exposed," he said, appearing on "The Fan Morning Show with Jeff & Big Joe."
"I think there's a big piece of us that needed to come more ready, more competitive, more ready to make adjustments. There were games where we just didn't make as many shots as we needed to. There were games where our defense failed us."
See Also: 1-on-1 with McMillan on his time with the Pacers
The Pacers went 45-28 in a shortened and very strange season. They went down to the bubble and had regular-season success without All-Star Domantas Sabonis and sixth man Jeremy Lamb. But then they swept by the Miami Heat, losing by at least nine points in all four games.
"It's a mix of emotions but regardless, you have to move on," Brogdon said when asked about McMillan being let go. "Your mindset has to shift to what's going to be the best thing for us going forward. And for me, I had a great relationship with coach McMillan. We really got along. I loved the way he thought about the game, I loved the way he coached us."
After Frank Vogel was let go in 2016, prompting the promotion of McMillan from associate head coach, several players pushed for a former player, someone who had been in their shoes, to take over. McMillan fit the bill.
"It's up to me to step up to the plate and find the right person to lead the locker room again and be creative as a new-age coach," Pacers president Kevin Pritchard said last month.
Doug McDermott is the son of a coach. In fact, he's one of several on the team — including T.J. McConnell and TJ Leaf. McDermott just completed his second season in Indy after playing on four other NBA teams, so other experiences have added to his perspective.
"Nate was great," Doug McDermott said on the radio show. "We loved Nate. We had a great run with Nate and he's a heck of a coach, but in the NBA, you need change every once in a while. I think (with) our roster, this is the time. We have a pretty new roster, a fresh roster (that includes nine newcomers).
"Nate did an unbelievable job with us, but I think we could get a younger coach to come in. I think we want to get up and down more, we want to shoot more 3s. I think we just have a bunch of guys who are capable of really taking off. We have a lot of great players on this team — young guys — and we're just excited for the future and we know KP and Chad will make the right call. We have all of our trust in them and we know they'll make the right hire."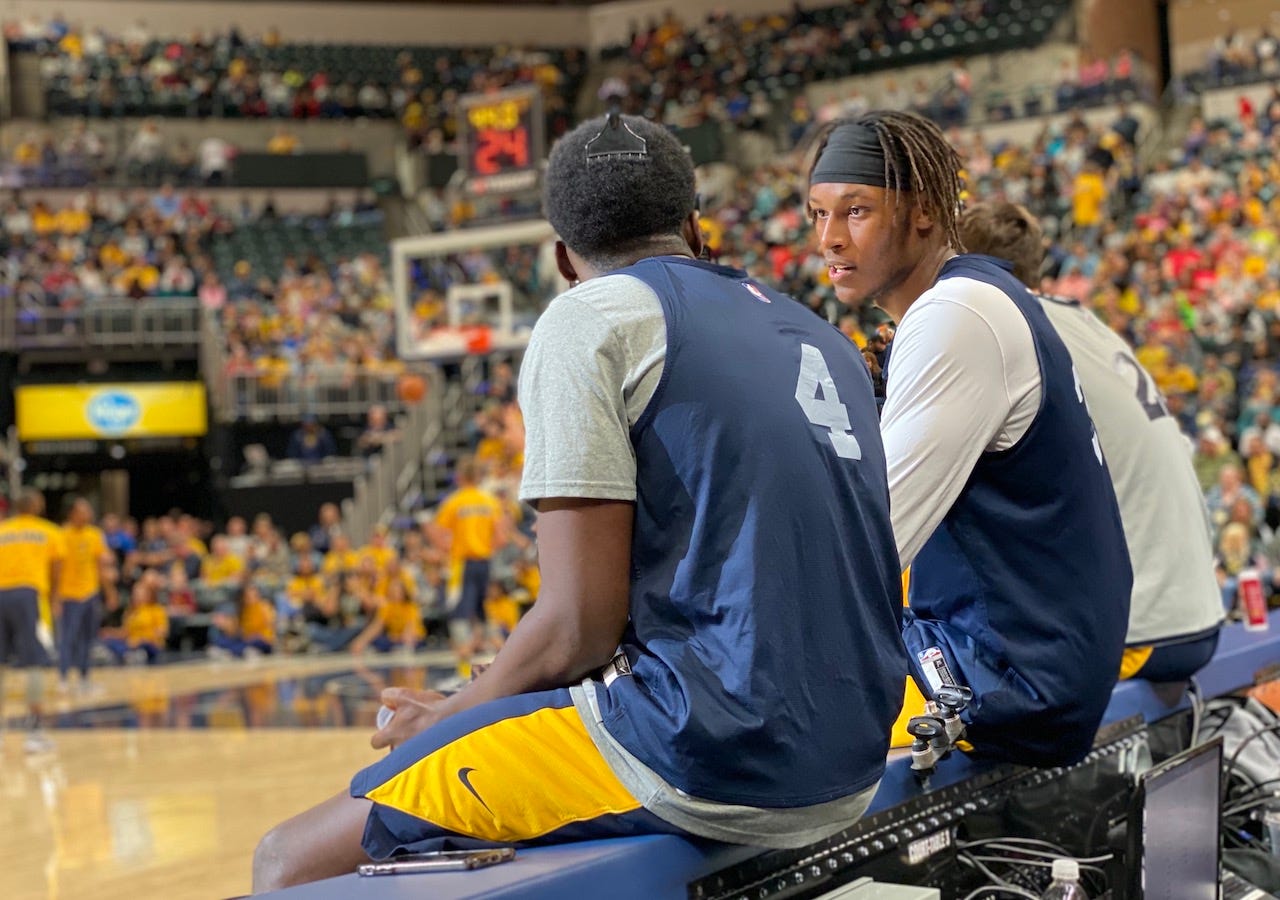 Let's make one thing abundantly clear: It's a players league. If a superstar player wants a new head coach, he's going to get a new head coach. Because otherwise, he's gone.
Moreover, players have more input than ever before. Pritchard consulted with Paul George in 2017, a month before George requested out. And now Pritchard is engaging some of the players in the process. Two players the front office must have ongoing dialogue with is All-Star guard Victor Oladipo, who is in Los Angeles, and All-Star center Domantas Sabonis, who returned home to Lithuania.
Pritchard also thinks highly of Brogdon, both as a leader in the community and as the leader of a locker room.
With that in mind, Pacers players, according to Brogdon, would like someone with a better feel. He'd like to see a players' coach — and he was asked what exactly that means to him.
"A coach that understands the rigors of being a player in the NBA," he replied. "There's some coaches that are old school, that are not sensitive to it. And there's some coaches … the epitome of a players' coach is a guy like Doc Rivers (of the LA Clippers). You always hear players talk about he's a players' coach, he understands, he gets it.
"That's understanding the wear and tear on your body; it's understanding when you needed an off day and when you should be pushing it; it's understanding what buttons to push and not just getting into your players verbally for no reason. Just knowing what days to push it and what days not to. But a players' coach has that feel. It's a feel you have, it's sort of an innate feel you have."
The characteristic not mentioned: coaching and strategy. Perhaps that is assumed at this level, but it also suggests what players want the most from their head coach.
McMillan takes an old-school approach, but he deserves credit for adapting over the years. Yes, he has non-negotiables like being on time and held accountable, but there were other things he allowed that he wouldn't have a decade ago.
Some of the coaches under consideration include Mike D'Antoni, Dave Joerger, Becky Hammon, Chauncey Billups, Mike Brown, Ime Udoka, Will Hardy, Dan Craig and Nate Tibbetts, per ESPN. The interview process is ongoing and it's even more challenging with health concerns do to COVID-19.
"I've been seeing some names out there — I don't really want to mention any names — but so far I like what I see when I see names mentioned," said forward T.J. Warren.
Just when Warren thought he found stability, now he's prepared to play for yet another head coach. The next coach will be Warren's sixth in seven seasons.
"I just want to get the best person for the job," Pritchard said. "We want to go through our process. I've told the management group that let's dig deep every day and let's keep an open mind. And so if there's someone that's unique and that may have been a coach or may not have been a coach — I don't want to tie myself down to that because someone may come in here, talk about how he wants to build the program and blow us away. And whether he's been a coach or hasn't been a coach, I want to keep an open mind."
The Pacers' roster could be mostly set up top. Justin Holiday — the oldest, most dependable and versatile player on the roster — is the only rotational player not under contract. They must decide whether to bring him back and at what cost.
They don't have a first-round pick. They're also over the salary cap and four players are due at least $18 million per year, so there's not a lot of wiggle room.
After hiring a coach, they'll need to get on the same page in discussing the personnel and adjust accordingly. There's also the big question regarding Oladipo's future with the franchise.
"Our expectations exceeded the level we got to and played at so that will need to be improved on next season," Brogdon said. "And then the front office may make changes. They may need to make changes, but I think the core will still be there."
While the coaching change was a surprise, considering the franchise had just given McMillan an extension, the players seem excited for what lies ahead and for good reason. But the coaching change is just the first domino to fall this offseason.
"I think the future is bright because we have a lot of motivated guys in that locker room that want to get out of the first round," McDermott said. "We want to actually have success in the playoffs and we got to look at ourselves in the mirror first. It's not just the coach, it's the guys out on the floor and we can all do better."