Discover more from Fieldhouse Files with Scott Agness
Taking you behind the scenes and inside the locker room with the Indiana Pacers. The latest news, interviews, features, game reports and draft analysis.
Playing for now or preparing for the playoffs? Weakened bench costs Pacers in loss to Suns
Two Suns players used a 21-0 run to surge past the Pacers, 114-99.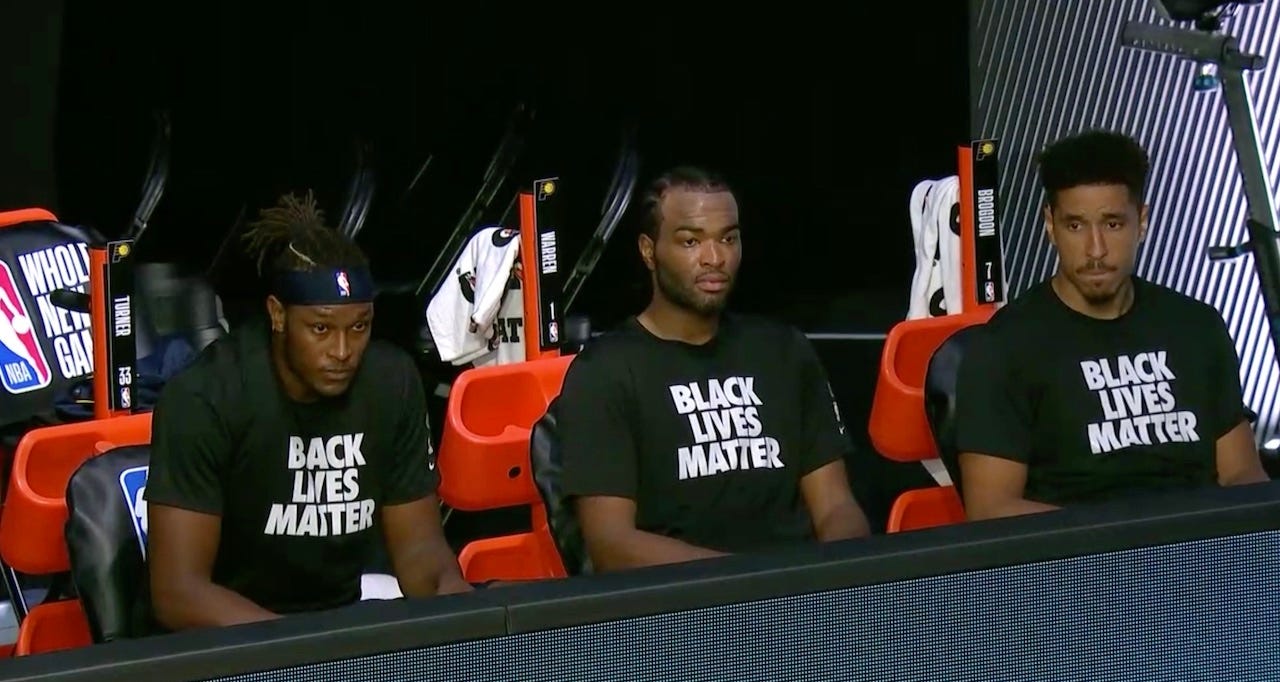 The Pacers' starters combined for 83 of their 99 points in a loss to the Phoenix Suns. (Photo: FSI)
---
When the Pacers arrived in Florida for the NBA's restart, they had already clinched a playoff spot. What they didn't know was who would be available and how they would mesh following a four-month hiatus.
It turned out that this team quickly rediscovered its chemistry and rattled off three wins, including one over the 76ers. But guys continue to be in and out of the lineup, and that doesn't include the daily question of whether Victor Oladipo would play.
Goga Bitadze has barely practiced, but has suited up for the last few games and finally, coach Nate McMillan was able to get him some minutes Thursday afternoon. Doug McDermott, however, was a late scratch right before the game due to right knee soreness. That was unexpected considering McDermott had played in 65 of 68 games this season.
Nonetheless, McMillan has grown to expect the unexpected and adapt.
Earlier in the day, he decided that he wanted to get a look at Oladipo playing with the second unit, a group that is severely impacted without Domantas Sabonis, who is getting treatment for his foot in Los Angeles and remains out indefinitely. Sabonis is reliable, he's tough and he's outstanding with the ball in his hands. He's the oil that keeps the unit clicking.
Without Sabonis, they've gone small with the starters and Aaron Holiday has joined that bunch. Jeremy Lamb is already out for the season and so McDermott joining him in street clothes only complicated the issue.
"I just found out that I was going to be part of that unit this morning," Oladipo said.
It's a fine balancing act when considering new lineups for the playoffs with doing what is necessary to win that game.
"You just have to do it," McMillan said afterward. "Simple as that. We only have a limited amount of games. It's no so much experimenting as opposed to looking at some combinations and trying to plan for the future."
The Pacers trailed for most of the game, and by four points at the break. With 2:20 left in the third quarter, they went ahead by three — their first lead outside of the game's first few minutes. JaKarr Sampson had just replaced T.J. Warren, who finished with 16 points and 11 rebounds against his former team, and Oladipo came in for Brogdon. (Bitadze had already replaced Turner.)
In a matter of four minutes, spanning the third and fourth quarter, the Pacers went from up three to down 18. They were on the wrong side of a 21-0 run. In a low-scoring game like this one — the Suns won 114-99 — the Pacers didn't have enough to overcome that rough patch.
The Pacers (42-27) turned it over 15 times, nearly twice as many as last game, were outrebounded by 15 and outscored in transition 18-5.
"I just didn't think we had a flow all night long — that was both units," McMillan said. "I didn't think that we established ourselves defensively. I thought more focus was on the offensive end of the floor tonight."
The Suns had seven players reach double figures, including all five starters led by center Deandre Ayton's 23 points and 10 rebounds.
Moving Oladipo allows him to be featured more and provides a jolt of scoring with the reserves. He played the guard spot instead of Edmond Sumner. Oladipo, who finished with 16 points on 4-of-11 shooting, missed a few shots during the Suns' decisive run, but later nailed two 3s and a pair of free throws that helped them get to within six.
"Yeah, it's different," he said of playing more with the second unit. "Adjusting on the fly isn't necessarily an easy thing. At the end of the day, it's about learning from it and just getting better. Unfortunately, we couldn't win today but we've been playing really well out here and we just got to continue building on that."
The Pacers and Suns were two of the three undefeated teams in Orlando, along with the Toronto Raptors. The Pacers had won three in a row and were feeling confident coming off a double-digit win over the Magic on the second-night of a back-to-back.
Maybe too confident, Turner said after the loss. "I think that we needed to be humbled a little bit coming into this and winning the games that we did. We took a lesson from this."
The lesson is that a depleted starting lineup has negatively affected what was a strong second group, one that pushed the pace and outplayed opponents' bench.
Against the Suns, the Pacers' bench managed 14 points, outscored collectively by both Dario Saric (16) and Cameron Payne (15). Those two accounted for all 21 points during their 21-0 surge.
They'll need more scoring from Justin Holiday, who's just 6 of 26 in the bubble and McDermott, who is 0 for 7 from range.
Playing in their third game in four nights, Brogdon led all scorers with 25 points, plus six rebounds and six assists.
"I think we're a little bit tired," he said. "We had a day off and I think guys were taking care of their bodies, but this is a tough run that we're on."
Team practices as you think of them are essentially over until the playoffs since they're playing at least every other day. That's a challenge when trying to reincorporate Bitadze into a game for the first time since March 8. It's challenging to establish a flow with the second unit and it complicates things when teams finally scheme against Warren, the most outstanding player thus far at Disney.
Up next, the Pacers will be showcased on national TV for the only time during the seeding round on Saturday when they face the Lakers. Those Lakers, however, have already clinched the top seed in the Western Conference and LeBron James sat out of their game Thursday night so the Pacers won't know exactly what to expect.
And that's OK because based on the decisions made today, they're focused on finding combinations that could help extend their stay.