Discover more from Fieldhouse Files with Scott Agness
Taking you behind the scenes and inside the locker room with the Indiana Pacers. The latest news, interviews, features, game reports and draft analysis.
Sources: Pacers senior VP Peter Dinwiddie joining 76ers' front office
The Indy native is moving on to Philadelphia after 14 years with the Pacers.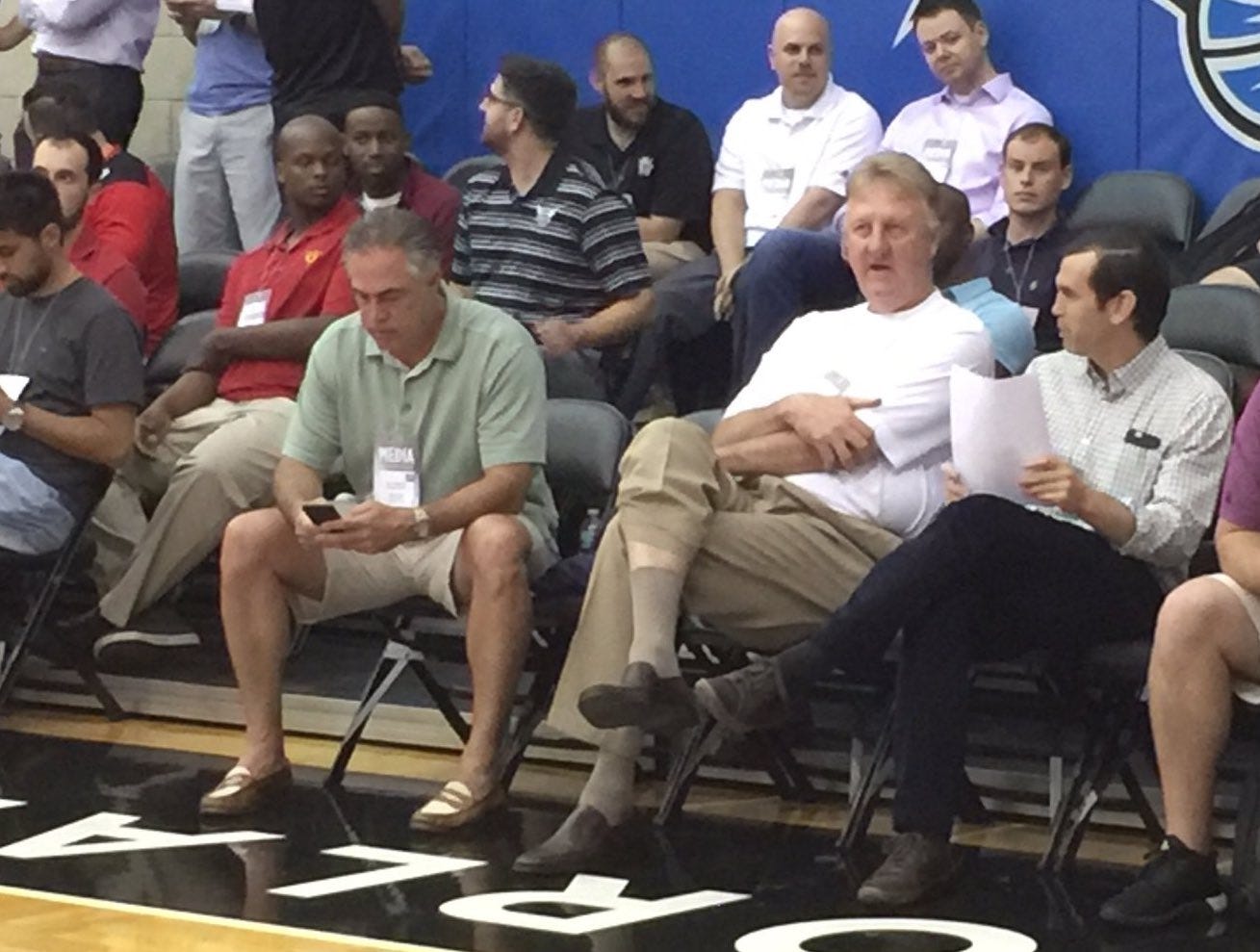 Peter Dinwiddie (right) with Larry Bird and Kevin Pritchard (left) at the Orlando Summer League.
---
Pacers front office executive Peter Dinwiddie has agreed to join the Philadelphia 76ers, per league sources.
General manager Elton Brand leads the 76ers. He hired Doc Rivers as head coach on Oct. 1, three days after Rivers parted ways with the Los Angeles Clippers.
The 76ers went 43-30 last season and four players will earn at least $27.5 million next season: Tobias Harris, Joel Embiid, Ben Simmons and Al Horford.
Dinwiddie's contract is up with the Pacers and this role with the 76ers is a fresh opportunity for him with greater stakes and added pressure that he's ready for.
Dinwiddie, who turned 43 two months ago, has received interest from other NBA franchises in recent years. In 2014, he was a finalist to run the Memphis Grizzlies. He elected to keep his growing family home in Indianapolis — where he was born and raised. He attended Cathedral High School and Indiana University.
And in 2017, Dinwiddie interviewed with the Milwaukee Bucks for their GM position.
Since joining the Pacers in 2006, he has been promoted many times. He's not about getting credit so he hasn't even bothered to update his LinkedIn page.
In June 2017, he was promoted to senior vice president of basketball operations when Pritchard, who took over for Larry Bird as president, hired Chad Buchanan as general manager.
"Peter's biggest strength: predict what you need and want," Pritchard told me last year. "He's an implementor. He makes sure that things get done the right way and that's critical for me."
I profiled Dinwiddie last year, detailing how he took an entry-level sales position with the Pacers because he so badly wanted to work for the team. He quickly rose from being one of the top sellers — all while having a law degree and working at several local pubs for extra cash. Team president Donnie Walsh found out and gave Dinwiddie his start in basketball operations.
"Peter is very bright, very intelligent, very thorough and extremely hard working," Walsh said in 2012. "… He has a tremendous future in the league."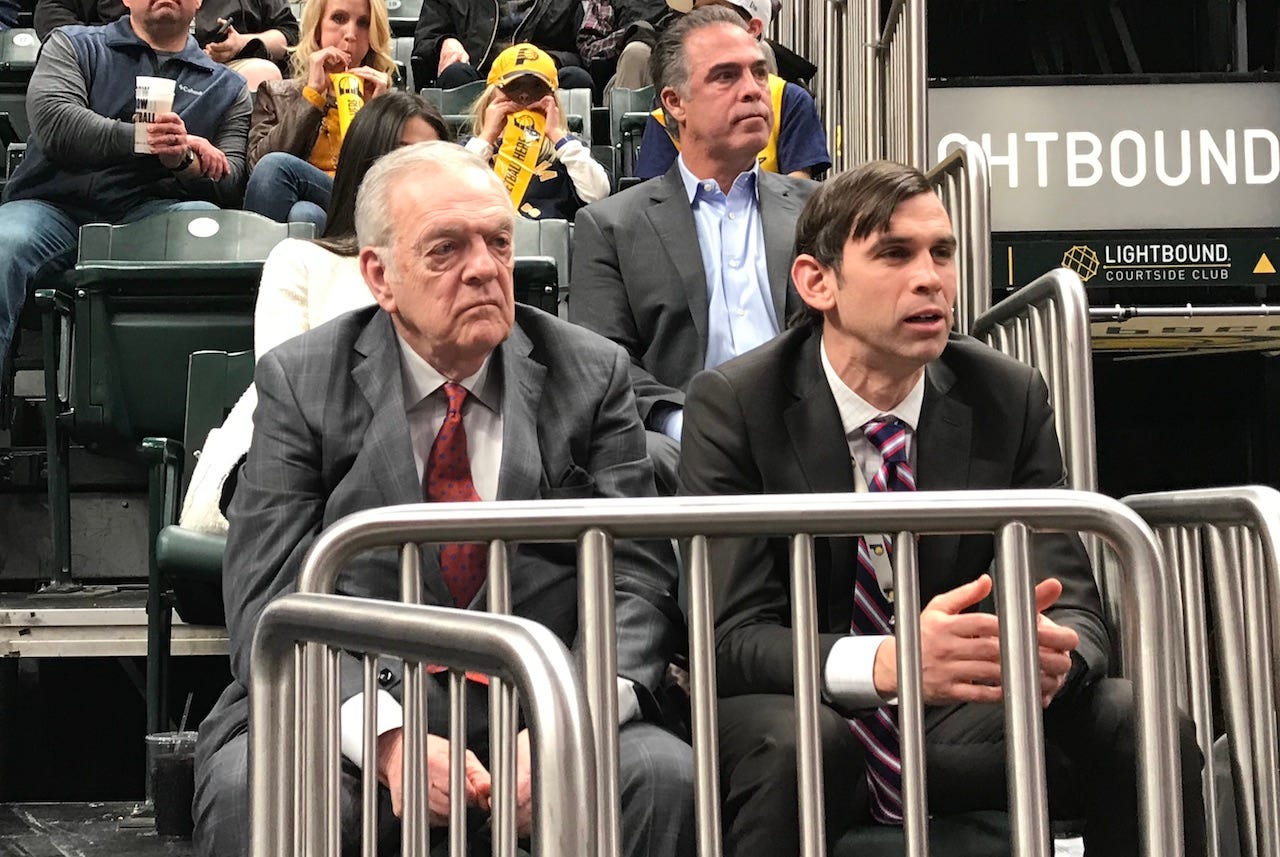 Peter Dinwiddie (right) sits with longtime Pacers executive Donnie Walsh and in front of team president Kevin Pritchard.
---
Dinwiddie is the cap guru for the team, but he's also much more than that. More than five years ago, he started to put together the vision for the team's $50 million practice facility that opened in 2017; he worked with the Mad Ants, their G League affiliate team, on a daily basis; he scouted and was active in player evaluation; he represented the team at league meetings.
"He's easy to get along with, he's a family man and he does things the right way," Bird told me last year. "He knows right from wrong; there will never be any questions about doing anything that you shouldn't be doing within the rules of the league. He's a straight shooter … and that's why he's been there for a number of years."
The Pacers front office consists of Pritchard, Buchanan, assistant GM Kelly Krauskopf, VP of player personnel Ryan Carr — plus Walsh and Bird as advisors.
With Dinwiddie moving on, the Pacers now have an obvious need for someone with a strong understanding of the complicated Collective Bargaining Agreement and cap management. That's a big hole to fill and one that the team is already considering, sources said.
But first, they are entering the final stretch of hiring a new head coach.