Discover more from Fieldhouse Files with Scott Agness
Taking you behind the scenes and inside the locker room with the Indiana Pacers. The latest news, interviews, features, game reports and draft analysis.
Two runs, a complete performance from T.J. Warren moves Pacers to 2-0 at Disney
Malcolm Brogdon returned, Victor Oladipo sat out.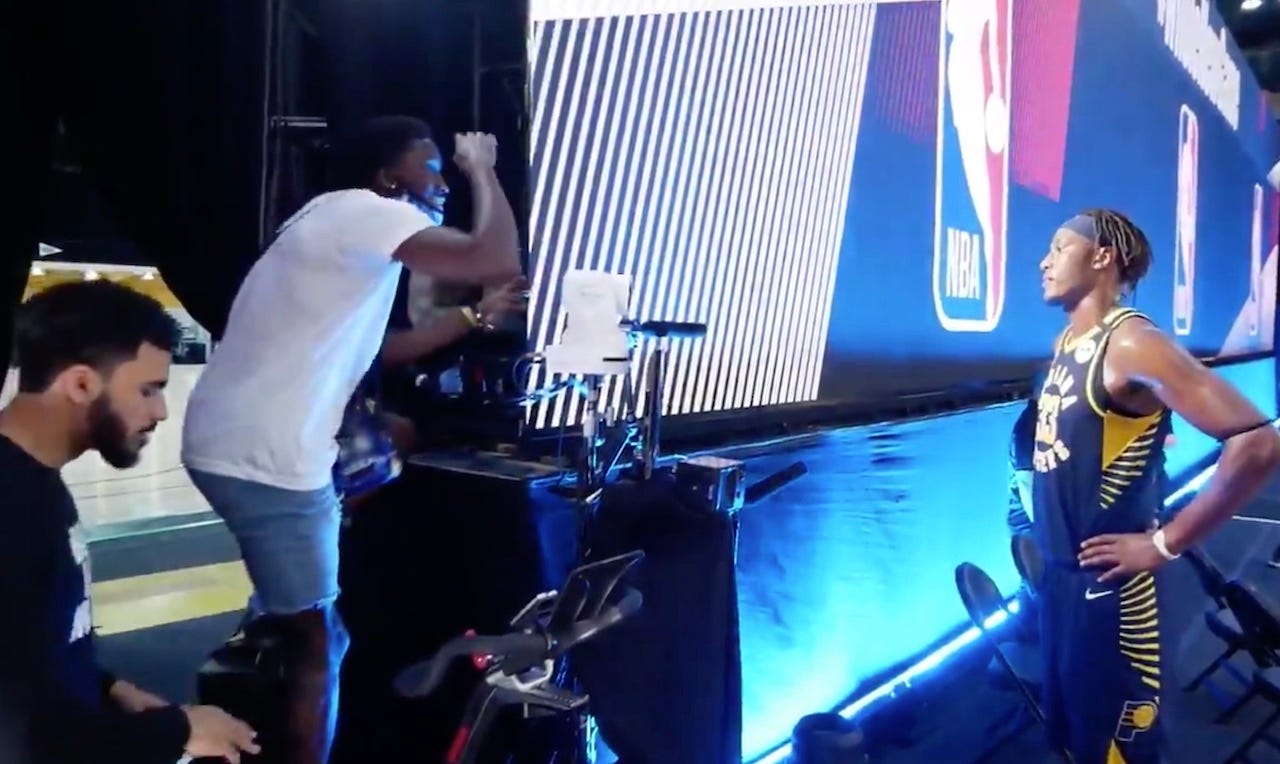 Teammates Victor Oladipo and Naz Mitrou-Long try to distract Myles Turner during his postgame TV interview. He had 17 points and 9 rebounds. (Photo: Pacers)
---
T.J. Warren's brilliant start to the restart continued Monday afternoon inside the NBA bubble. Missing his first three shots didn't faze him, he kept firing.
The Pacers needed it considering they were down two starters. Just as he did earlier this season, Victor Oladipo is not playing in back-to-backs so he was held out of this one with a meeting against the Orlando Magic on deck. And Domantas Sabonis remains away from the team to receive treatment for his foot injury.
So all eyes were on Warren and again he delivered. Before last game, when he torched the Philadelphia 76ers for a career-high 53 points, Warren's best game of the season was 36 points. That was on the road in Charlotte, back home in North Carolina.
On Monday, Warren had his most complete performance and recorded his first double-double as a Pacer. He piled up 34 points, 11 rebounds, a career-high four blocks, four assists and three steals in the Pacers' 111-100 win over the Washington Wizards.
And he did all of that without one turnover. That's remarkable.
"Coming here with the circumstances of everything going on, I took it upon myself to lock in and try to take it to another level with my game," Warren said afterward.
Starting point guard Malcolm Brogdon made his restart debut after getting in his neck early in the team's final scrimmage against the Spurs. He missed their opening game against the 76ers, but reassumed his place in the lineup and played 35 minutes. Brogdon finished with 20 points, seven rebounds and six assists.
"It felt really good to be back out there with my guys and to win a game," he said "I strained my neck a little bit so I was just trying to take my time," he said, noting that he knew he would play several days ago. "I wasn't trying to rush back."
The starters shouldered much of the load, more than they should early on in the bubble. But that's also the challenge when two starters are out and rotations change. They've only been practicing for three weeks and now that they're playing nearly every other day, real practices are over.
On this night, it meant both Holiday brothers remained in the starting lineup — which also takes away some of the magic of the second group. Sabonis usually serves as the central hub with them.
The second unit, which plays faster and with less structure, contributed just 21 points. But none in the fourth quarter. McMillan had to go back to his starters two minutes into the final frame after a 10-0 Wizards run.
"They had a little bit of a lapse," said Brogdon. "They usually rise to the occasion against the really good teams so they show up when we need them."
Warren didn't have the same shooting touch he possessed in Game 1 — he finished 14 for 26, including 1 for 6 from range — but this was a performance of a baller showing up when his team needed it. He was active around the basket and with his hands, even playing the top of a 3-2 zone in the third quarter.
Warren has played more than 40 minutes in both games and said they're all still working their way back into game shape.
"A little tired at the end," he admitted. "We knew coming down here that the games were going to come fast at us. Just trying to catch our second wind and get our legs under us."
For the second straight game, the Pacers limited their turnovers to 10. They forced some 3s, which the Wizards welcomed, and so ball movement suffered some. Brogdon, who had to shake some cobwebs, accounted for three turnovers.
Aaron Holiday continues to get more comfortable with starters. He has a combined 32 points, 12 assists and two turnovers in more than 80 minutes the last two games.
"He's the ultimate pro," said Warren. "He's been ready for any obstacle thrown his way and I'm very proud of him the way he's been handling everything this season. He's been playing very well."
The Pacers ultimately used two big runs to build separation, 20-2 in the first quarter and 22-2 over the final 5:09 of the third quarter. They made all 16 free throw attempts and recorded 11 blocks, one shy of their season high.
"That's a tough team to play against," Brogdon said of the 24-43 Wizards. "People will say they're not the best team, but they play hard."
Just as the Pacers (41-26) tipped off, the Heat lost to the Raptors. The Pacers are in fifth, one game behind the Heat with six games remaining, including two head-to-head meetings.
Now it's a quick turnaround facing the Magic, who are on the front end of their back-to-back, Tuesday night at 6:00 p.m. ET.
"I think that's the benefit of playing in this bubble, we're not having to travel," said Brogdon. "Flying in the air three or four hours to the next city takes a real toll on your body — the dehydration, the lack of sleep, all these things add up. So this back-to-back won't be as bad as the regular season.
Added T.J. McConnell: "I'm acting the same way I would as if we were … doing all the travel. Trying to stay off our feet as much as we can and getting ample amount of rest."
Sabonis Remains in LA, Watching
It's been more than a week now since Pacers center Domantas Sabonis left the bubble and returned to Los Angeles. He was diagnosed with plantar fasciitis in his left foot and is receiving treatment with a doctor out there.
He's not just taking it easy, however. He's working out and doing exercising for that left foot — and also wears a boot. He's out indefinitely.
"Everything is going as planned," McMillan said on Sunday, "but he's still a ways away."
Sabonis, who only missed three of their 65 games during the regular season this year, is about to miss his third game of the restart.