Discover more from Fieldhouse Files with Scott Agness
Taking you behind the scenes and inside the locker room with the Indiana Pacers. The latest news, interviews, features, game reports and draft analysis.
Upbeat after first practice since March, Pacers now asked to consider two key questions
The team cleared quarantined, then practiced Saturday at Disney.
Nate McMillan stepped in front of a temporary blue banner with the Pacers' logo in the middle. He pulled down his mask and was told to look ahead at the large monitor and up by the green dot. He listened to questions from local reporters without seeing us and answered what he could.
This is new to everyone — from packing up and moving to Disney's Wide World of Sports complex for the next few months to practicing in an unfamiliar setting and then completing media interviews via Zoom.
It's their new reality and they're just getting used to it.
Four months ago, the Pacers had the day off after narrowly losing at home to the Boston Celtics, a team they may match up against in the playoffs. That was the last time the Pacers had an organized team activity.
March 10.
So now four months later, it's about creating a new routine. Players, coaches, staff members and even reporters are creatures of habit, so this is all unusual. It's different and that's OK. Now we must all adapt.
"This is going to be a huge mental challenge for everybody, myself included," McMillan said after practice. "There's a lot of unknowns down here as far as what to expect."
---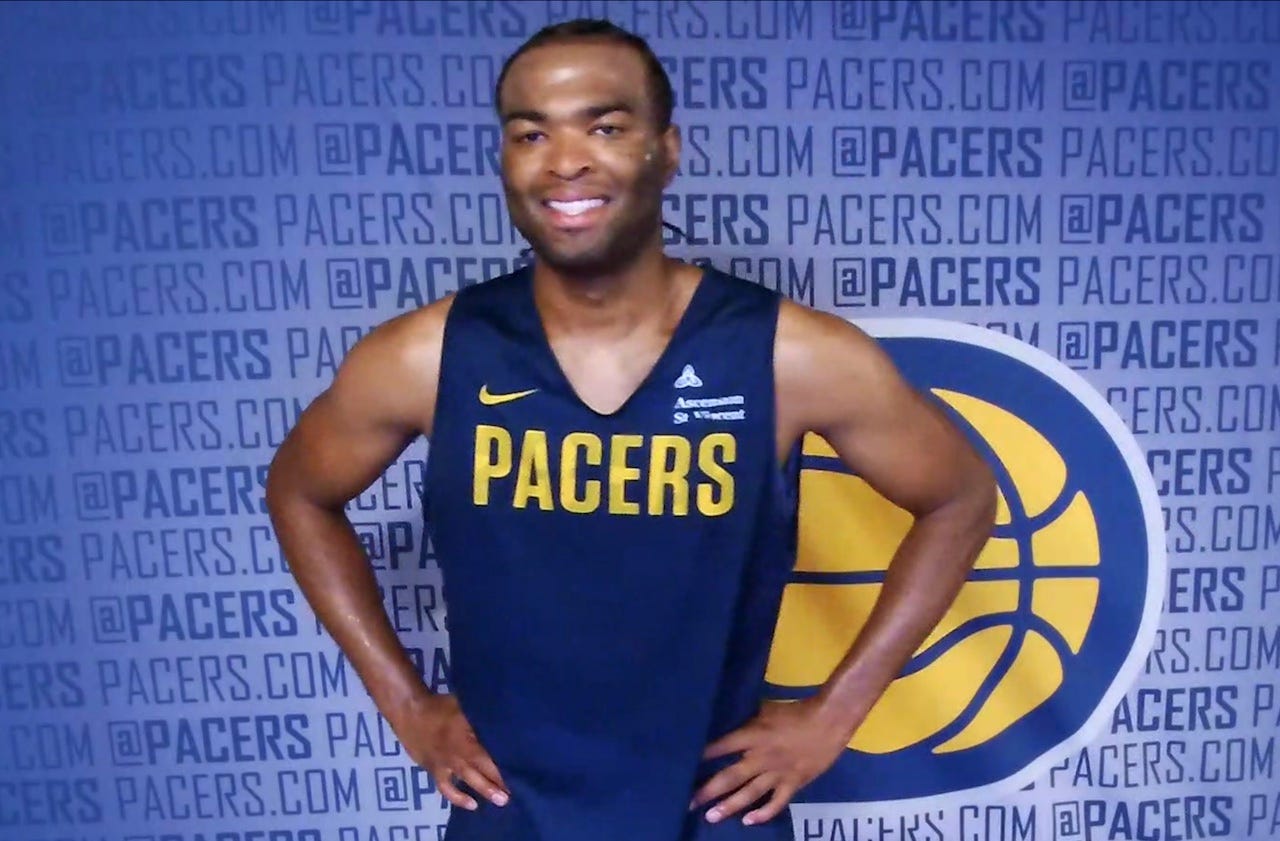 The Pacers arrived in Orlando around noon ET on Thursday, then checked into their assigned home: Disney's Grand Floridian Resort & Spa. Each team was allowed to have 37 individuals in their traveling party.
"We all had masks on on the plane so we didn't talk a whole lot to each other for precautionary purposes," said guard T.J. McConnell. "I feel like all of us are on the same page. Our one thing is we want to be safe and I think the NBA is doing a great job of trying to keep us safe down here and getting us back to play games in a safe environment."
Because the Grand Floridian is a family resort and many rooms have double beds, one bed was removed to create more space for each player.
They were all given a gray Magic Band to wear on their wrist whenever they're not playing. It serves as their room key, check-in device, etc.
After check in, they were then required to quarantine for 48 hours inside their rooms (with a nice balcony). That gave them time to settle in and make it their own, and explore the gifts left behind by the NBA — snacks, an Amazon Fire TV stick, a portable speaker, books, sanitizing products, instructions on how to use their newly-created app and much more.
Myles Turner and Edmond Sumner brought gaming systems, Malcolm Brogdon has plenty of reading material and Domantas Sabonis wisely carried with him an Nespresso machine. Being the basketball junkie that he is, T.J. Warren spent time watching basketball highlights online.
Finally, Saturday afternoon, they had a temporary green wristband cut and were free to leave the room. With a mask, of course. Soon after, though, it was time for practice.
"It felt good to get everybody back together, to get our first practice under us," said Warren, the team's leading scorer. "It's going to be a great two weeks of training camp and then get the ball rolling and get to doing what we love to do."
Warren hasn't done any interviews since the season was suspended, but he's become more active on social media since the game he loves was abruptly taken away from him. It's everything. So in the meantime, he worked on improving his body and finding other physical activities to stay in shape while back home in North Carolina.
The Pacers took all 17 players down to Orlando, including their two two-way guys. But Jeremy Lamb (rehab) is unavailable, Victor Oladipo (rehab) ruled himself out and Brogdon is overcoming the coronavirus.
One of the reasons covering and attending practice is important is to observe who practiced and how they looked. COVID-19 is another element altogether, different than an ankle sprain or bruised calf.
"I cannot really comment on who was absent today," McMillan said when asked whether Brogdon practiced. "Our guys were here, they were working and we had a good day."
Each day, the Pacers are allotted three hours of practice time. They used most of it on Saturday, first in the weight room and then on the basketball floor. Again, this was the first time they practiced as a team in four months.
"It was basically getting our feet wet and getting acclimated to each other again," McMillan added. "… A lot was accomplished because their energy was good."
"The pace was so good and guys were playing off each other," McConnell said. "So it was like we never left. Now we just need to build off it.
Those are all good signs. They have exactly three weeks before their first of eight "seeding round" games — Aug. 1 against the 76ers — which will impact postseason seeding. Before then, they'll practice daily and spend most of the time getting familiar with their surroundings and hanging out in their rooms. McConnell said some of them joked how this had an AAU feel to it.
"It was kind of weird," he added.
Coach McMillan runs practice in a orderly fashion. He's prepared, methodical in his approach and always on time. So before concluding team activities for the day, he issued a challenge in front of the group. (They didn't have a team meeting because they weren't sure where to find their meeting room. At least not yet.)
"A couple of the questions I want all of us to ask ourselves and answer over the next couple of days is where are we? Not just location, but where are we mentally.
"Why are we here? Ask the question why. Why did you make the decision to come down to Orlando? And then now that you're here, what; The question is what do you do now that you're here?"
Those are two important questions for players to ponder as they head back to their rooms and settle in for the night.