Discover more from Fieldhouse Files with Scott Agness
Taking you behind the scenes and inside the locker room with the Indiana Pacers. The latest news, interviews, features, game reports and draft analysis.
Victor Oladipo reassessed his situation and is now training to play in NBA's restart
"There's a strong possibility that I might play," he said on Wednesday.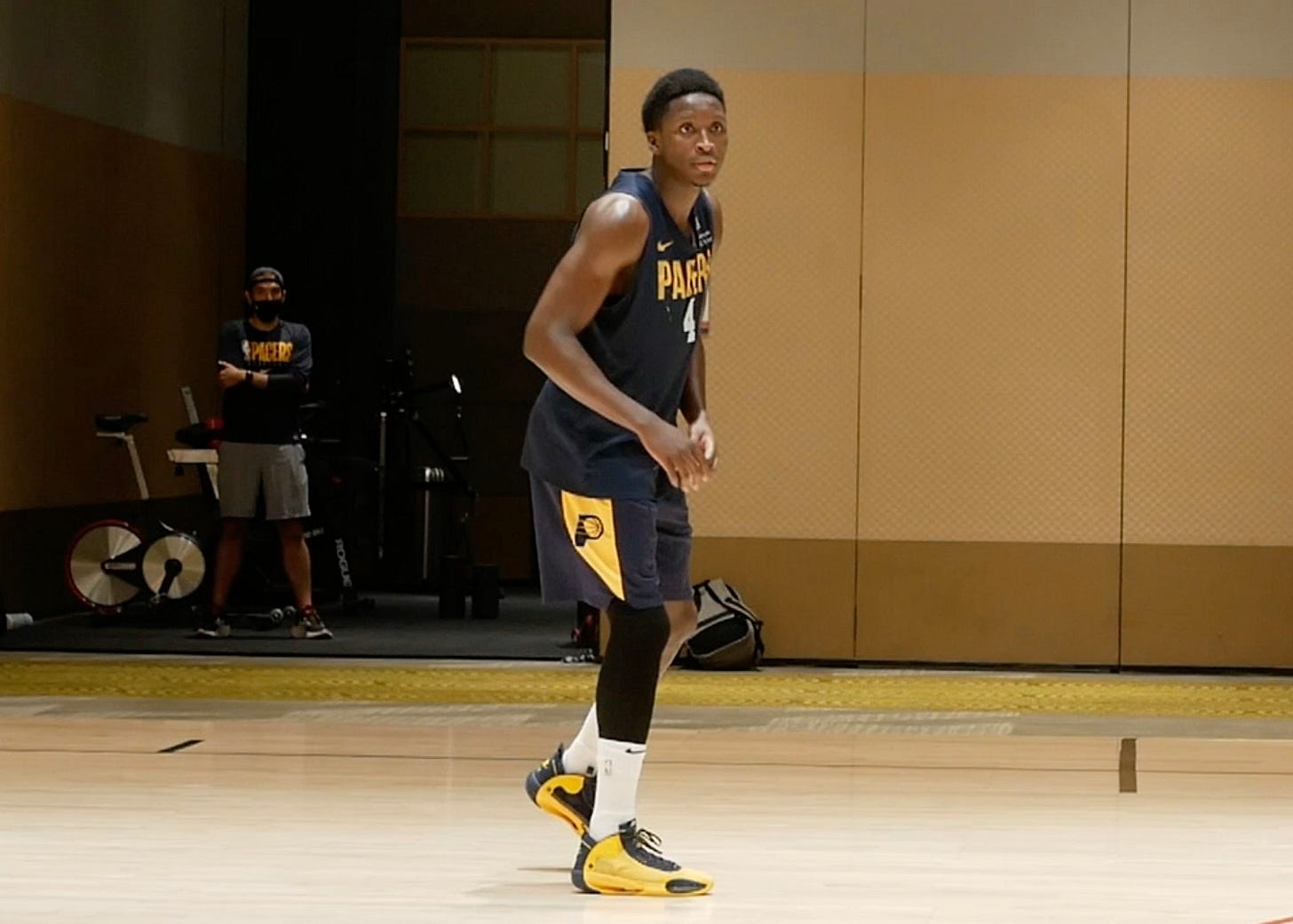 Victor Oladipo gets shots up at practice while his physical therapist, Luke Miller, looks on. (Pacers)
Less than two weeks after ruling himself out for the NBA's restart in Florida, Pacers guard Victor Oladipo has reversed course after re-evaluating how he's feeling. There had been four months between team-organized activities.
"I'm definitely here trying to play and training myself in order to play," he said during an 18-minute call with reporters on Wednesday. It was his first time talking with local reporters since July 1.
Oladipo's status teetered over the last two weeks. The plan was for him to always accompany the team to Orlando, whether he played or not. It was also to see how he felt on the court — after practicing, scrimmaging and making sharp, sudden cuts — before making a determination on his status. But then Oladipo went astray.
"That was the plan," coach Nate McMillan reiterated. "That's what we're doing now."
Nobody but the Pacers guard knows how his repaired quad tendon feels or how rehab, which includes playing in games, may impact his kinetic chain. There's obviously the concern that a new injury could pop up following the extended layoff. Since Saturday, though, he's gone through four practices at Disney and been a full participant. He's played with the starters and reserves and done well in 5-on-5 scrimmages, according to McMillan.
"He's been going through practice and he has been looking good," he said. "He's been working extremely hard and has been doing that really since we ended (on March 11)."
The mistake in The Return Part II was announcing on July 3rd that he wouldn't play before having enough information. It's like taking a test without going to class. You can read course material on your own, but the focus of the exam is going to be what was discussed in class.
See Also: Making sense of Oladipo's garbled messaging
While Oladipo's rehab was negatively impacted by the coronavirus, he had an advantage over many because he has a personal physical therapist — who was among the 35 individuals on the Pacers' traveling party to Disney, by the way — access to a gym and weights in his garage. If he needed something more, he could have elected to remain in Indianapolis during quarantine, with the practice facility at his disposal, rather than going to his home to Orlando.
Twice he mentioned not having the resources to truly test his knee, referring to playing against competition in a group setting. But neither have most players.
"A few weeks ago, I made a decision that I felt was best for my career," he said. "Is that wrong for me to do? I don't think so.
"Coming here and reassessing it, being able to have the resources and play against these guys at a high level, go out here and see where my knee is at, see how my knee is progressing with a heavy load and then making a decision, and saying there's a possibility that I might play. I'm gonna try it out. Is that wrong of me to do that, too? Just asking."
The other big question in all of this is how much is money a motivating factor? If he does not play, he likely forfeits nearly $3 million in salary. That's the NBA's stance because players who decided against entering the Disney campus for various reason would want to be paid as well.
"No, I haven't talked to (the NBA)," Oladipo affirmed. "I don't know. That's out of my control. I don't have any control of that. Honestly, to be real, I didn't even know the amount or what goes into it. Again, I'm just focused on my knee. I'm not really concerned with anything I can't control."
Meanwhile, Oladipo is proceeding with caution — and he should. This is his livelihood and he must make the most of it, both in terms of his production on the court and earnings that come as a result. Assuming he is healthy and confident enough to play, Oladipo then has to decide what is best for his career. He has said for more than a year that his focus is on the macro, on playing in the league for the next 10 years.
So, do the risks of a potential injury in this unusual circumstance outweigh the rewards? And can he be himself and be locked into winning, or will concerns for his future cloud his mind?
"I've been feeling good," he said after four days of practice. "I've been getting my feet under me just trying to feel out the game, get my knee immune to playing the game again. It just feels good to play basketball. I've been playing since I was four years old. Just to be out there making plays and running up and down is a blessing because I remember when I couldn't do it."
The Pacers fully support Oladipo and whatever he decides, although they haven't always been on the same page. There was a fracture in the relationship after his injury in Jan. 2019, per sources. It has improved over time. And it's good that the team has two executives down there, Kevin Pritchard and Chad Buchanan, to assist during this situation.
"It's no surprise that they backed me and they support me," Oladipo said of the organization. "I'm just thankful that they got my back."
That doesn't mean McMillan isn't tired of answering for him. His body language said it all during our videoconference with him.
McMillan has a militant mindset. If you are ready to play, you do. You show up on time, for your team and you give what you can. He asked for each of his players to consider why they made the trip and to commit to being all-in. It's clear that he doesn't want to lessen the contributions of the other 16 players and detract from the goals of the team.
"Vic will talk to you guys here in a second," McMillan said, several times deferring to his star. "The focus when we talked about him coming down was to come down and work. And that's what he's doing."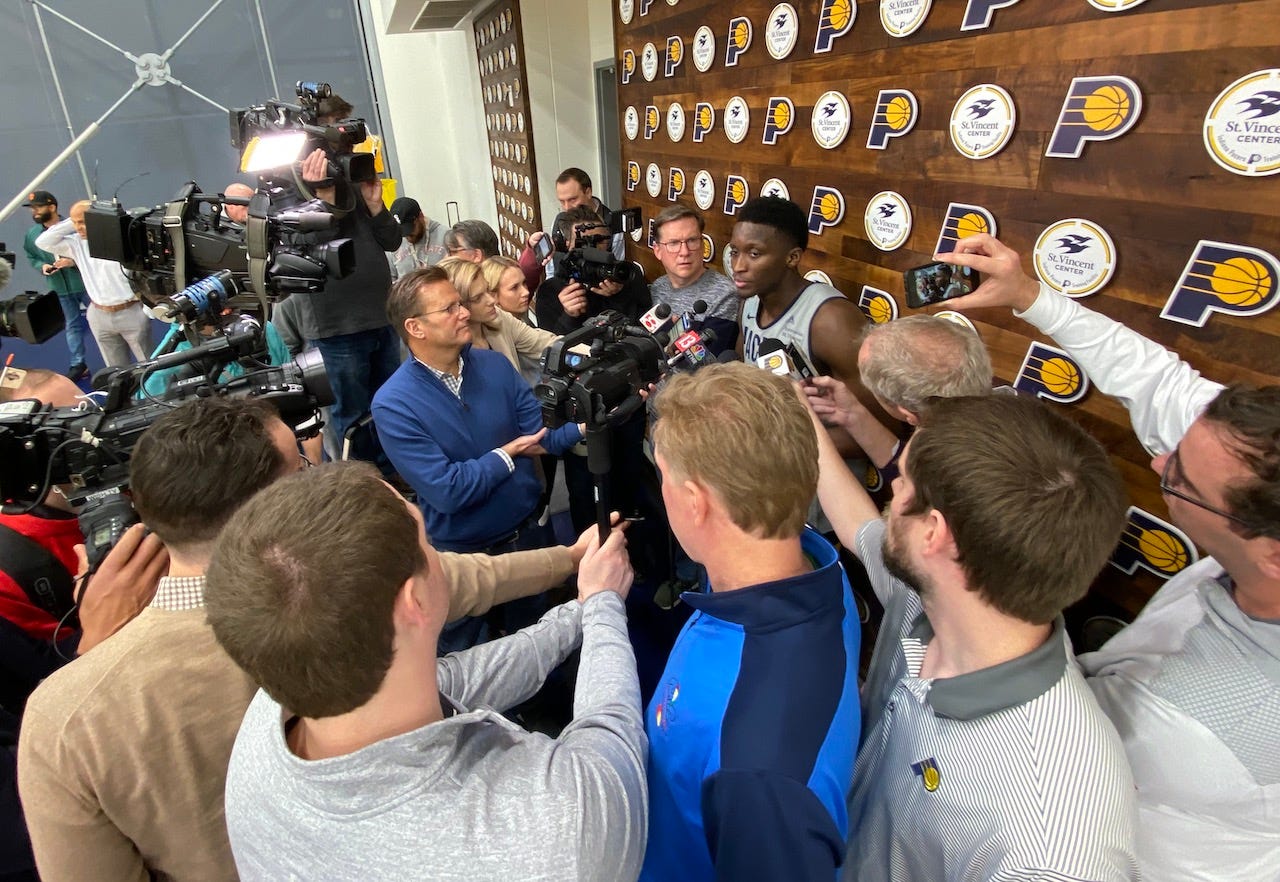 There were more than two dozens reporters at Pacers practice before Oladipo made his season debut this season. (Photo taken on Jan. 28.)
Oladipo potentially playing brings league-wide intrigue. There were five national reporters from three outlets on the videoconference. After the previous practice, there was one.
He's an All-Star and could help the Pacers advance past the first round for the first time since 2014. But it would be new to everyone. T.J. Warren is eager for his first postseason action and the starting five, which includes Oladipo, has never played in the playoffs together.
In fact, they've only played 86 minutes together spanning six games; that's it.
The Pacers will have three scrimmages that they plan to treat like the preseason. McMillan intends to give everyone some playing time and to experiment with lineups. Their first of eight seeding games is on Aug. 1 against the 76ers. The playoffs don't begin until mid-August, so Oladipo has more than a month until meaningful games.
Until then, he will continue to rehab and train with the mindset of finishing the season.
"I feel like if my body keeps trending and the situation keeps trending up, there's a strong possibility that I might play," he said. "So I'm definitely trying to."
---
The Facts
He appeared in 13 games this season, which served as the final step of his rehab.

He has not had any setbacks.

He had surgery almost 18 months ago.

He was limited to individual workouts and 1-on-1 during quarantine.

He is with the team at Disney's Grand Floridian Resort.

He has been a full participant in practice with no restrictions.

He would receive his salary if he finishes the season.

He is under contract with the Pacers through next season (2020-21) for $21 million.