Discover more from Fieldhouse Files with Scott Agness
Taking you behind the scenes and inside the locker room with the Indiana Pacers. The latest news, interviews, features, game reports and draft analysis.
'We fed the dragon': T.J. Warren answers Nate McMillan's request, carries Pacers to win
Warren tallied a career-high 53 points on the 76ers.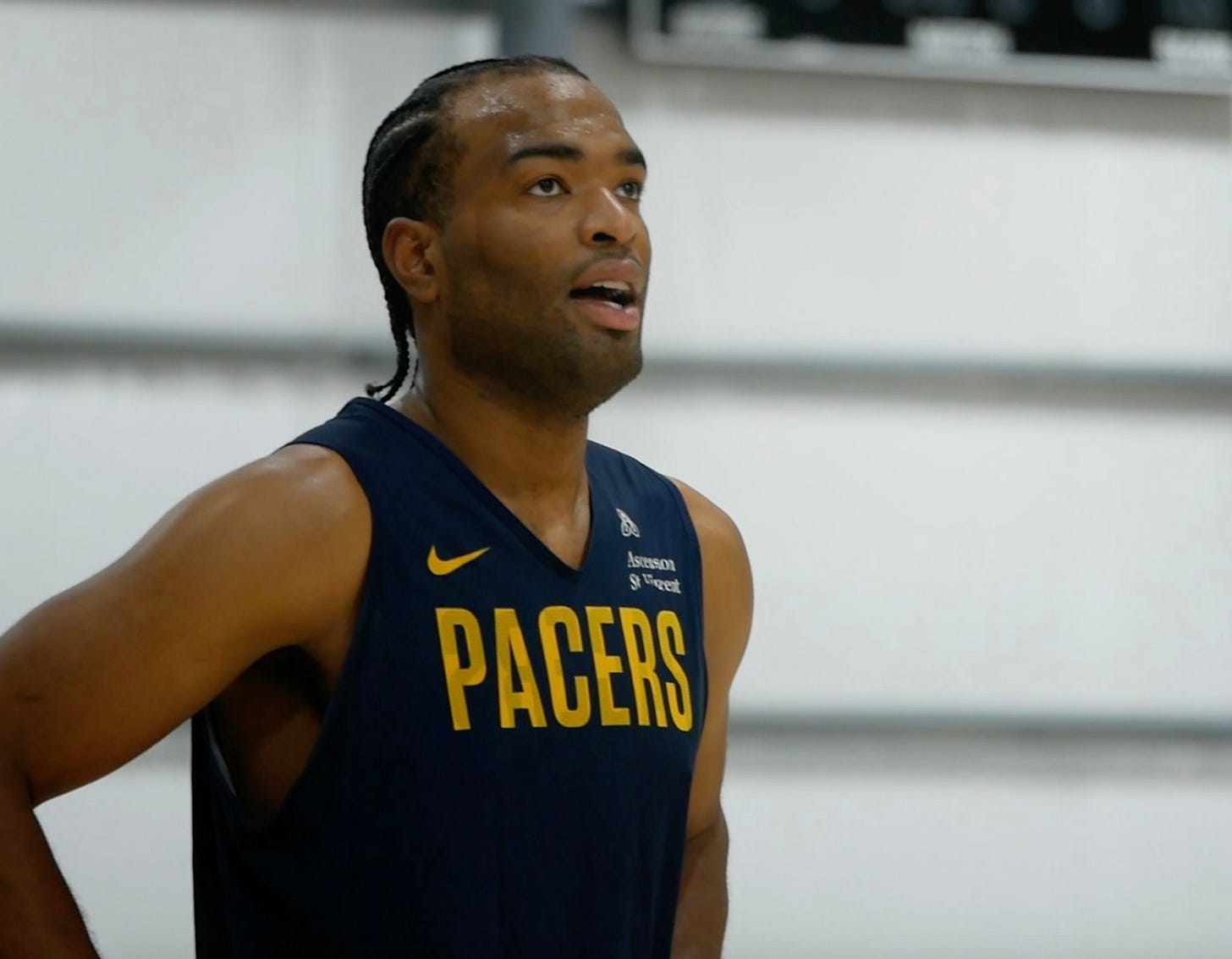 All of the talk last week centered around whether or not Pacers All-Star guard Victor Oladipo would play as the NBA rebooted the 2019-20 season following a four-month layoff. It had been 144 days since they last played.
As expected, Oladipo played — he had 15 points and 7 rebounds in 32 minutes — but his status wasn't made official until less than two hours before tip-off. Whether it's in his music, on TV or the basketball court, Oladipo thrives when the spotlight is on.
One of his favorite movies is The Greatest Showman. He's seen it many times. And like the rest of us on Saturday, Oladipo watched a different kind of showman show out inside the VISA Athletic Center.
Against the Philadelphia 76ers, forward T.J. Warren was in a zone that very few have experienced.
"T.J. was as hot as I've ever seen him," Pacers coach Nate McMillan said. "T.J. was just unbelievable tonight."
After a typical poor start by the Pacers (40-26), falling behind 10-2, Warren was the catalyst behind a 17-0 run. That gave them the lead in their first meaningful quarter since March 10. He scored 19 points in the first quarter and had 29 at the break.
"Cooking," tweeted former Pacer David West, Warren's close friend and mentor.
This 76ers team was a dominant 29-2 at home, the best mark in the league. But they were just 10-24 in road games. This meeting was on a neutral floor — games are held in one of three gyms inside the NBA bubble in Lake Buena Vista, Fla. — where fans and the atmosphere are not significant factors.
"Crowd or no crowd, it's just basketball at the end of the day," Warren after arriving last month. "It really doesn't affect me in any type of way. I was born to play basketball."
The final quarter was the Pacers' best of the season and tied the franchise record for most points in the fourth. But it didn't start that way. They trailed the 76ers 98-88 with 8:54 to play. Joel Embiid, who was dominant all night with 41 points and 21 rebounds, exited and went to the locker room.
Myles Turner hit a jumper, then Warren scored their next seven points.
Layup. 3-pointer. 13-footer. He did it from all over and was surprised they didn't send a double team.
"It was a special game," said Warren, who doesn't like to talk about himself. "Just locked in, just laser-focused throughout the whole game. My teammates did a great job of feeding me the ball."
Warren scored 19 of his career-high 53 points in the final period and the Pacers outscored the 76ers 39-23 the rest of the way for a six-point win.
"We fed the dragon," Oladipo said of Warren, who's previous career-high was 40. "T.J. was hot and we fed him."
Back home in North Carolina while the NBA season was suspended, Warren did not have frequent access to a gym. Sometimes he went to local parks where the basketball goals weren't even 10 feet, and he did it alone. When he did get shots up in a gym, he focused on 3-point shooting and building a rhythm.
That the request of McMillan, who returned home to Raleigh, N.C. so he and his wife could spread out and be more comfortable while isolating like everyone else. McMillan encouraged him to expand his range even more — because they were going to need it.
"I felt that Victor (Oladipo) and Malcolm (Brogdon) would be handling the ball a lot, and he would be the guy that would be spreading and that kick-out would come to him," he said.
"It was gonna be something that we needed from him if we were able to restart this season. … We need that 3-man to spread the floor and knock down 3s."
Last season in Phoenix, Warren's 3-point percentage jumped from 22.2 to 42.8 over the previous season. His attempts also increased. This season, he's shooting 37.5 from range but only averaging 1.1 makes per game. That needed to change.
The Pacers moved him to his more natural position at the 3 and have given him the green light to shoot mid-range jumpers even though it goes against the analytics.
"The Pacers welcomed me with open arms and let me be myself from Day 1," he said.
Warren scorched the nets Saturday evening, and his efficiency was even more impressive than his scoring. He made 20 of 29 shots, including 9 of 13 from distance. Nine made 3s was easily his high in a game — previously four, which he did five times — and it matched Paul George for the franchise record.
"He's been a scorer as long as I've known of him," Oladipo said. "He was born to get buckets. It's no surprise to any of us what he was able to do.
"It was amazing to watch and we're all happy for him. That was incredible, man. Things like that don't happen often."
If you don't know, now you know.
"He's for sure a classified hooper," Aaron Holiday said of the quietest player on the team. But few love basketball like Warren. In the land of NBA riches and fame, he's a man of simple pleasures. Family, the sound of rainfall and basketball.
The theme continued down in Florida where he's mostly spent his free time watching game film, highlights from old games on YouTube, playing some video games and reading a little bit.
This is the same guy who watched video of players returning to their original team for the first time — guys like Kawhi Leonard, Elfrid Payton and Brandon Ingram — before he torched his ex, the Suns, in January.
The Suns wanted to clear cap space so they sent Warren AND the 32nd overall pick in the 2019 draft to the Pacers a year ago for cash considerations.
"This was the thing that we knew he could do when we traded for him," McMillan said of Warren's scoring ability.
Here's what former Suns general manager Ryan McDonough, who drafted Warren in 2014, had to say at halftime.
Warren's performance ranks third all-time in NBA franchise history. Reggie Miller owns the franchise record with 57 points, scored in 1992 in Charlotte. Then, Jermaine O'Neal piled up 55 against Milwaukee in 2005.
"T.J. Warren is a walking bucket," said Naz Mitrou-Long. "Everybody knows that."
Well, maybe not everybody.
Warren's not an All-Star and rarely is talked about despite leading the Pacers in scoring this season. Unless it's about his back-and-forth trash talk with Miami's Jimmy Butler.
Oladipo is the face of the team, Sabonis is the All-Star and Brogdon is the leader.
That's perfectly fine with Warren, he'll just keep hooping.
"I've always been the underdog," he said. "I feel like that's my permanent position so I'm kind of comfortable with that."
Shortly after the win, Turner asked a thoughtful question on Twitter: "I wonder how cash considerations feels about this performance."
Brogdon Sits
The Pacers won without two starters. Sabonis left the team last week to seek treatment on his left foot injury and Brogdon added to new injury to his never-ending list. He took a hit to his neck on Tuesday in their final tune-up game. He was listed as questionable and tried to go through shootaround, but wasn't comfortable.
That required McMillan to turn to his 18th different starting lineup of the season. Both Holiday brothers started for the third time this season, but just the first game since November.
This is a season — his first with the Pacers — Brogdon won't forget. He was playing at an All-Star level before his unlucky run of injuries began. He's missed 17 games this season due to the following issues:
Sore lower back

Dislocated pinkie finger

Sore left hamstring

Strep throat

Concussion

Torn left rectus femoris

COVID-19

Cervical strain
Oladipo Remains Day-to-Day
Oladipo playing took a backseat to Warren's memorable showing. "I went out there and kept the game simple, didn't try to do too much just finding my flow," he said afterward. "I'm glad I could go out there and help the team a little bit today."
He knocked down a pair of 3s and positively impacted the game while letting the game come to him. He played the first 10 minutes and almost 32 minutes in all, then reiterated that he is truly taking it one day at a time.
"That might be the most minutes I've played in a game in like, what, 100 years?" he joked. "So we'll see how my body responds, we'll see how I feel."
"It's a day-to-day thing. I wish I could tell y'all I'm going to play all eight games, but again, I can't say that. I have to take it one day at a time. I'm sorry, but at the end of the day, I don't want to say one thing and do another thing because you know how you guys acted the first time I did that."
I know Oladipo didn't like it, but he heard plenty of criticism following his July 3rd announcement that he wouldn't play in the restart. That's because it was unnecessary, poorly timed and done without informing his team first.
The Pacers are thrilled he's playing and want the focus to be on the team. I think McMillan has answered enough questions about Oladipo's health in the last six months to last him a lifetime.
Home Game Feel
This was technically a Pacers home game, so many of the sights and sounds were surely familiar. There was the race car noise when the team was on offense and their standard defense chant. There were also Pacers fans sitting courtside (virtually, of course) thanks to 17-foot tall LED screens. Using the Microsoft Teams application, fans could watch and react in real time.
I'll give Pacers fans a pass because it was their first true run at this, but the 320 virtual seats were not even half full. So if you want to be part of it, click here to sign up.
Message Received
Before the game, the Pacers and 76ers teams locked arms and took a knee during the playing of the national anthem. Before doing so, Pacers players took off one shirt to reveal another that read "AM I NEXT?" with names listed.
This has been planned for a while now, but the players wanted to keep it under wraps. Justin Holiday owns a clothing company named in ferias, which he wears frequently. It's easily recognizable by its logo with three lines. Holiday had the t-shirts printed for this moment.
Up next…
The Pacers plan to watch film on Sunday and have a light practice ahead of their only back-to-back of the restart: Monday against the Wizards (4:00 p.m. ET) and Tuesday against the Magic (6:00 p.m. ET).