Discover more from Fieldhouse Files with Scott Agness
Taking you behind the scenes and inside the locker room with the Indiana Pacers. The latest news, interviews, features, game reports and draft analysis.
'We pretty much settled': Pacers fall into 3-point trap, drop behind 2-0 in the series
The Heat outscored them by 18 points behind the arc.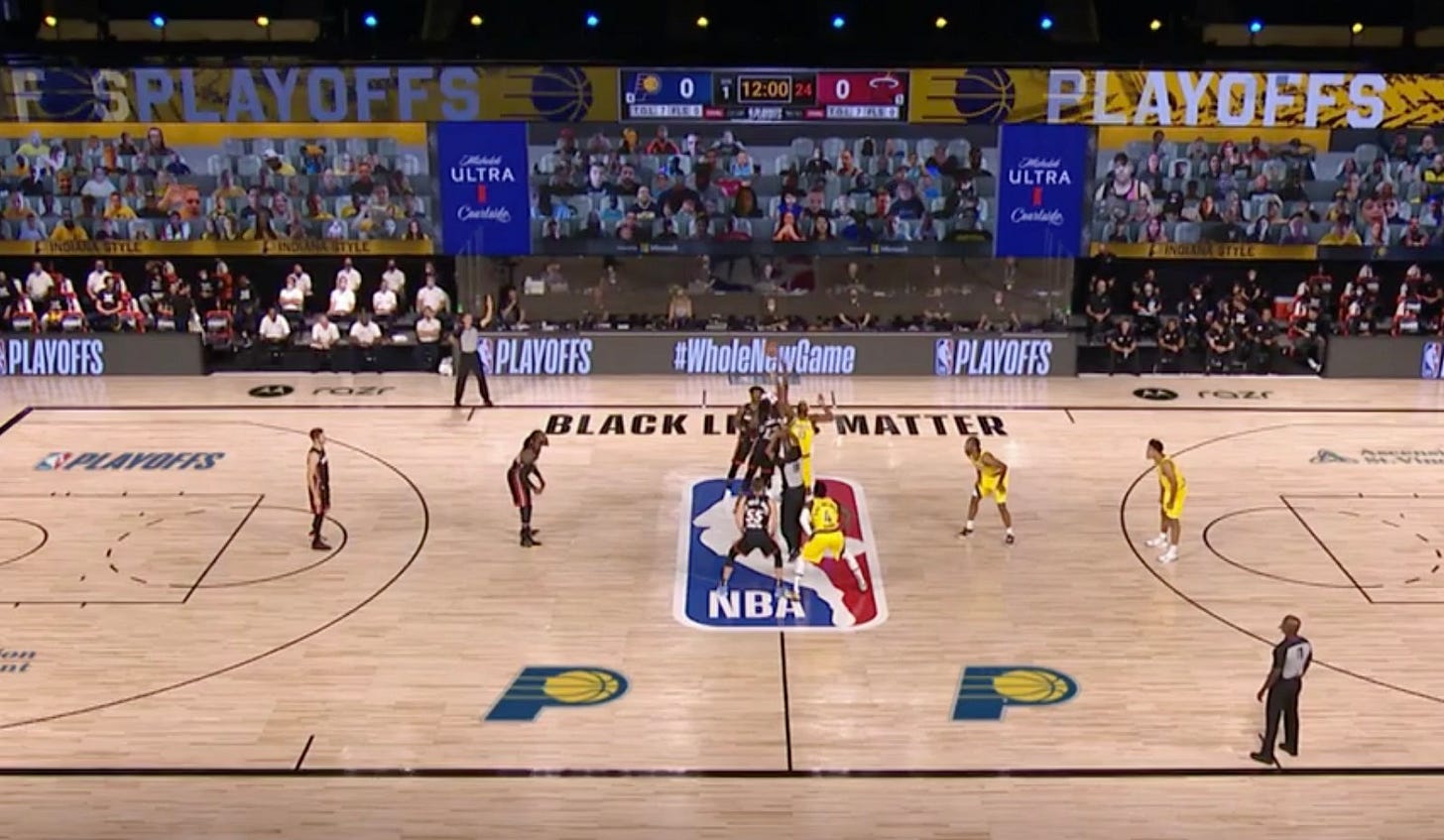 An early afternoon game is great until you realize it is meaningful and not a throwaway scrimmage. Players are creatures of habit and so to be at the gym going through pre-game warmups before 11 am ET is a shock to their system that is already having to adjust on the fly.
If you couldn't watch Game 2 on Thursday against the Heat, we all understand. It was in the middle of the afternoon … on a work day.
You missed a barrage of 3s by Duncan Robinson to start the game. With one of the purest strokes in the game, the University of Michigan product went back-to-back-to-back from distance in a span of 75 seconds, and then the Pacers got caught playing a game they won't win.
"We knew that they were going to try to get him involved," McMillan said of Robinson. "We really set and talked about the first play of the game, we knew it was going to him and sure enough it went to him."
You missed how the Pacers' first five attempts were from outside and neither team even tried a shot inside the arc for the first two-plus minutes.
Meanwhile, the Heat shot 51 percent from beyond the arc (to the Pacers' 35.3 percent), used a 37-point third quarter to grow their lead and again, guard Goran Dragic came up big and scored 16 of his 20 points in the second half.
"You can't beat a team that shoots 50 percent from 3," said Malcolm Brogdon, who finished with 17 points and nine assists.
The Heat won 109-100, snatched whatever home-court advantage actually existed and now own a 2-0 series lead.
Victor Oladipo was available and played for Game 2 inside HP Fieldhouse in Orlando, Fla. He was poked in his left eye early into Game 1 on Tuesday, exited the gym and had to be checked out at the clinic on campus.
"I just got to adjust to light," he said after the game. "Getting poked like that is going to take a couple days for it to be completely clear. But it's getting better."
Oladipo played nearly 37 minutes, Aaron Holiday started and then played 21 minutes after being on the sideline for most of the first game due to frequent foul trouble.
The most interesting change was that guard Edmond Sumner, the fastest player on the team and a playmaker, played less than four minutes after being productive in the 27 minutes needed from him in Game 1. This is a matchup where Sumner can be useful on both ends.
The Heat have the advantage when it comes to speed, length and versatility. And in the Pacers' four games against the Heat since the season resumed, they're turned the ball over at least 15 times in each game.
Oladipo nailed four 3s and led the Pacers with 22 points, but was too loose with his handle and committed a game-high six turnovers.
"They just do a great job of loading," Oladipo said of Miami's defense. "They do a great job of being at the four spots on the floor, the elbows and the blocks. They're in the gaps and they're long and athletic so we just got to do a great job of reading it, making the right play and trusting our judgement, not overthinking.
"We can't get discouraged. I think as the series goes on we'll figure it out."
A positive development came early in the game when Heat All-Star forward Bam Adebayo was whistled for his second foul. Jimmy Butler is the face of the team, but Adebayo — who had seven points, five rebounds, four assists, two steals and a block in 19 minutes — is the most important player in the series.
"If there's ever a game where a stat line doesn't indicate how much somebody impacted winning, that would be this stat line with Bam," said Heat coach Erik Spoelstra. "His minutes were so productive while he was out there, particularly on the defensive end. With what we're doing offensively, he's just allowing us to run offense where it's not necessarily leading to him scoring."
That's a key area where the Pacers sorely miss their All-Star, Domantas Sabonis. He continues to be away from the team, in Los Angeles for treatment on plantar fasciitis in his left foot. Not only is he an automatic double-double, but he's physical in the paint and would force Adebayo to be more honest.
During the regular season, the Heat were second in 3-point percentage (37.9) and sixth in 3-point field goals made (13.4). The Pacers were 29th in makes (10.2) and 30th in attempts (28).
So it was strange when the Pacers already launched their 28 3s by the end of the third quarter. Again, that's not a game they will win. They're not built for it. (They were 12 of 34 for the game.)
"I thought we settled for long, contested shots," McMillan said. "We didn't do enough drive and kick, attacking the paint forcing their defense to collapse. We pretty much settled on the perimeter with the 3-ball."
To make matters worse, that's exactly what the Heat were successful in doing. And Jimmy Butler, of all players, was hitting on the perimeter. He shot worse than 25 percent during the season and made just 5-of-29 attempts in 2020. But he made both 3s in Game 1 and his first two tries in Game 2.
Go figure.
What the Pacers are trying to do is keep the Heat in motion. Even with the Heat's speed, they don't mind turning it into a track meet because they want their defensive pressure to force steals, then capitalize in the open floor. They scored 22 points from Miami's 17 turnovers.
"I thought, at times, we were playing in traffic and not being patient and allowing the spacing to occur so we could attack this team," McMillan said. "If you're continuing to play with your head down, the defense is going to be zoned up. They're going to be tight in that paint and they're going to force turnovers.""
The Pacers' traditional second unit thrives on the run. By design, McMillan calls fewer plays and let's them create. But without Jeremy Lamb (rehab) and Sabonis, plus Aaron Holiday moving to the starting lineup, the chemistry and flow for that group is disrupted. Doug McDermott is being face guarded and hasn't gone off; he scored two points.
The bench was outscored 30-18 and you probably wouldn't guess who led the way. It was JaKarr Sampson, a bundle of enthusiastic energy, with eight points and six rebounds in 17 minutes.
With no travel required, no need for "the series to shift" to another city and games are played every other day. That's a quick turnaround time for the Pacers to try to figure it out and earn a win.
History isn't on their side as they seek to win their first playoff series since 2014 — when they last matched up against the Heat. They're 0-7 all-time when falling behind 0-2 in a best-of-seven series, but that didn't keep Brogdon or Oladipo from staying positive. Adjustments can be made, but improved results will come with better execution.
"We can't get discouraged," Oladipo said. "I think as the series goes on we'll figure it out."
Game 3 is Saturday at 3:30 p.m. ET (on TNT and FSI).