Discover more from Fieldhouse Files with Scott Agness
Taking you behind the scenes and inside the locker room with the Indiana Pacers. The latest news, interviews, features, game reports and draft analysis.
'We want to be better than getting swept': Pacers president Kevin Pritchard shares why a coaching change was made
Pritchard felt the team look defeated, then was swept for the second straight season.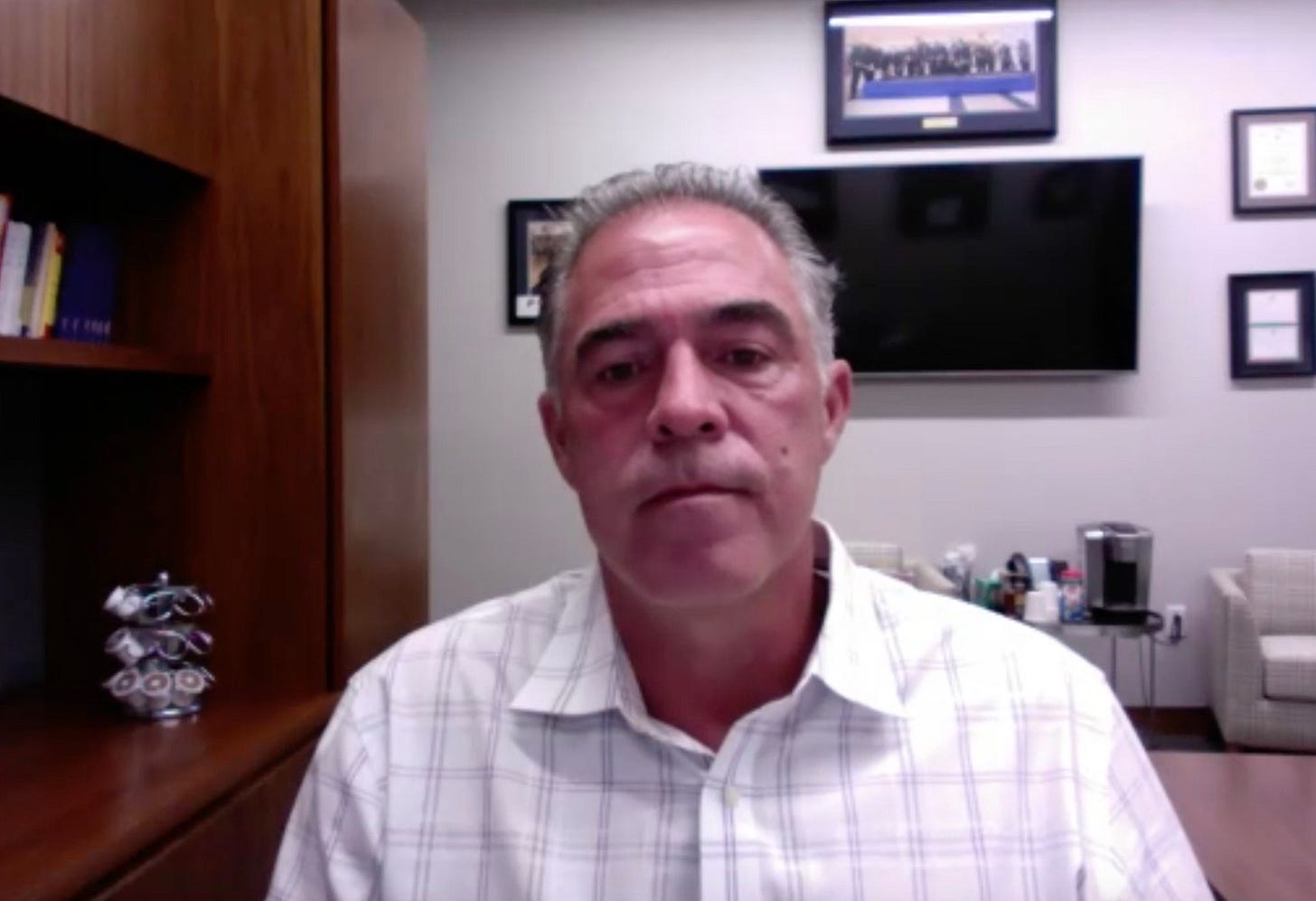 Kevin Pritchard began his end-of-season press conference thanking Nate McMillan for his contributions to the franchise. It was Monday, five days after the two sat down and McMillan learned that despite agreeing to a contract extension one month earlier, he was no longer Pacers head coach.
"Nate brought a lot of dignity," Pritchard said during his 13-minute opening statement. "No one could ever question his hard work. I feel like I'm a better person working with them."
McMillan first came on board as associate head coach in 2013 and then was promoted by Larry Bird to head coach in 2016. This past season, though, was unlike anything he (or anyone) had experienced before. It was taxing for everyone inside the organization and the stress arrived more than a year ago.
There was significant roster turnover with nine newcomers; there was first-round pick Goga Bitadze missing out on summer league because he had to receive his work visa first; there was their preseason trip to India; there were the almost daily questions about Victor Oladipo, when he would return and how he mixed with this new group; there were nearly 200 games lost due to injury; there was the restart and 37 members of the franchise entering the bubble, away from family and friends for seven weeks; and there was a sweep — their fate in three of the last four seasons.
"I've been in this business long enough that you always know that things can happen," McMillan told Fieldhouse Files last week. "Certainly losing four games and this is the second (straight) season that we got swept in the playoffs. Not that I thought that this was going to happen, but it didn't surprise me."
McMillan, who will still be paid for next season, plans to take the year off. He's just now able to meet his first grandchild and nobody is sure when next season will start and what it will look like.
Much like Frank Vogel, now the Lakers head coach, he can use this next year to rest, reset, study the game from afar and see what entices him next. McMillan hasn't spent more than a year away from basketball since he entered the league in 1986, a second-round pick by the Seattle Super Sonics.
"When I told him," Pritchard said, "I would tell you that I could see it in his eyes that there was some relief."
McMillan is fourth in the all-time wins with the franchise. He was without Oladipo for most of the last two seasons yet his teams outperformed expectations in the regular season in all four years. You always know McMillan-led teams will play hard and compete.
Constantly good, but never great, Pritchard moved on from McMillan before he unpacked all of his bags from Orlando.
"As we end the season, it feels like the last couple years, it's ended with a bad taste in our mouth," Pritchard said. "And for me, that is something that there had to be some changes. I take full responsibility."
Pritchard said the decision to make a change was his, but of course he talked it over Herb Simon first. Simon, 85, is the longest-tenured owner in the NBA. Since you must win in this market, they can never complete a full rebuild. But he's also not content with simply qualifying for postseason play in 25 of the last 31 years.
That's an accomplishment for some franchises — thinking about you, Knicks and Kings — but not for the Pacers.
The Pacers went 6-2 in the seeding round, then lost all four playoff games by an average of 10.25 points.
"Our best game against (Miami) was nine points and I remember that game — that  really didn't feel that close," Pritchard said. "So, I felt without a couple of our players that it was going to be tough, but I did feel like that there was a better chance to win one or two games in that series."
And so, the search for the 16th head coach in franchise history is underway. Officially.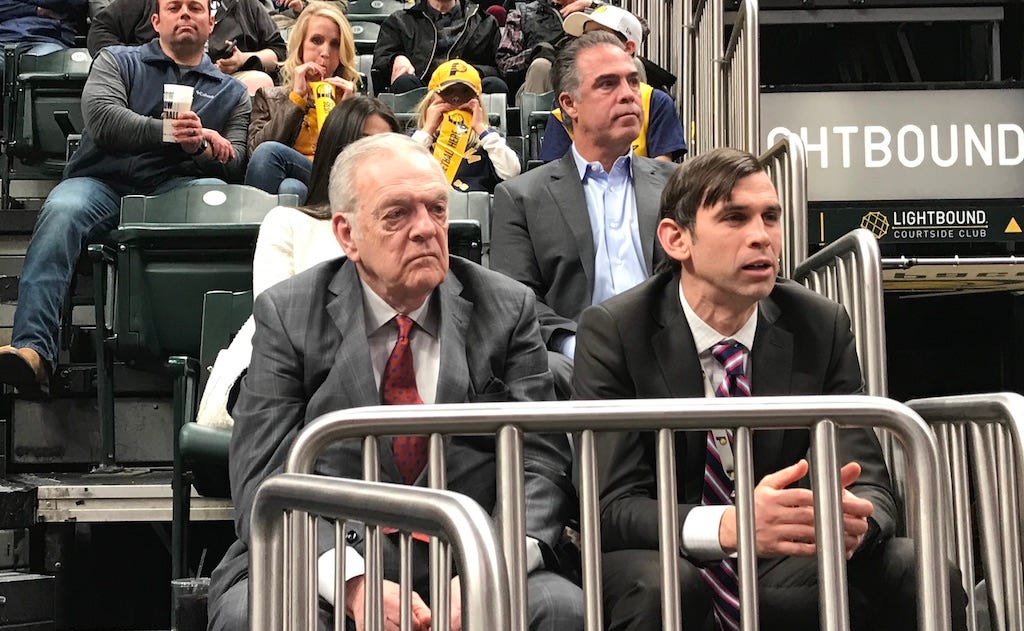 Pacers executives Donnie Walsh (left), Peter Dinwiddie (right) and Kevin Pritchard (back right) have a big offseason ahead.
So much for continuity…
Originally, the plan was to run it back for another year. Justin Holiday, the only Pacers to play in every game and an incredibly valuable free-agent signing, is the only player in the rotation not under contract for next season. They figure to be healthy next season (knock on wood!), which includes potentially Jeremy Lamb being ready in December, so they could have simply sat back and seen how this team finally meshed.
"We're as close to a full roster as we've had — and that was by design," said Pritchard, who took over for Bird after the 2016-17 season and dealt Paul George for Oladipo and Domantas Sabonis the following month. "We felt like this draft was OK. We felt like free agency was OK.
"I like this group coming back. I think we have a foundation of good players. Do there need to be some changes made? Maybe."
The starters shared the court for 86 minutes all season; that's less than two games. And Oladipo, who is entering the final year of his contract, is not yet 100 percent.
But the lack of postseason success ate at Pritchard. He had seen enough and was motivated to make change even if it was going to cost the organization, which laid off about 50 employees due to COVID-19 in July.
"If it was just about money, we probably wouldn't have done what we did (in firing Nate)," Pritchard said. "And so I'm appreciative of that. But it's up to me to step up to the plate and find the right person to lead the locker room again and be creative as a new-age coach."
If there was ever a season not to make too many changes, this is it. And it has less to do about team health as it does with the impact of coronavirus.
Initial interviews will be done over the interview and now they'll pay two coaching staffs for next season.
Most of the players don't spend the offseason in Indianapolis and they'll have to learn a whole new system whenever they do return. Will there be any familiarity with the staff or will the coach bring in all of his guys? Bill Bayno works out with Sabonis daily, even in the offseason. And don't count on summer league, where the young players stand to benefit.
Is it a shortened season, too? Because that's when those teams with continuity may thrive. The possibilities for next season are full of questions and the Pacers now have even more.
Wanted: An adaptable coach with up-to-date communication skills
Pritchard and GM Chad Buchanan were part of the Pacers' group inside the bubble. Typically, they're around the team quite a bit — but never this much. They usually have to balance being around the team and attending games with scouting (in this country and others) and talking to agents and other executives.
That valuable time gave them an up close, unfiltered view of the team, players' feelings about how the franchise is run and where it's going. There was also this.
"As we were going through the playoffs, it was more challenging to see our players and our staff have felt like, at times, we look defeated," Pritchard said. "That is something I don't ever want to see on our players' face.
"We want to be better than getting swept in the playoffs and when you look at the playoffs," Pritchard said, "I wanted to have some hope that we could win a game."
Two key attributes the Pacers are looking for in a head coach is an adaptable, creative leader who can better communicate with the players. He stopped short of saying the next coach should be on Instagram and Tik Tok, but he wants someone who will relate with the players and treat them individually.
"There's a new foundation that these players are communicating," he said. "A lot with their phone, there's different values and it doesn't mean it's good or bad. It just means it's a different value system.
"And then secondly, for coaches, we have to understand that we have some strengths and weaknesses and if you can accentuate those strengths and minimize those weaknesses out on the floor, I think you have a better chance at winning."
The next head coach must be more creative offensively, more productive after timeouts and less predictable. Other coaches have shared how the Pacers do vanilla better than anyone in the league; vanilla isn't winning anything. There needs to be flavors to it, a level of excitement and willingness to be bold if necessary.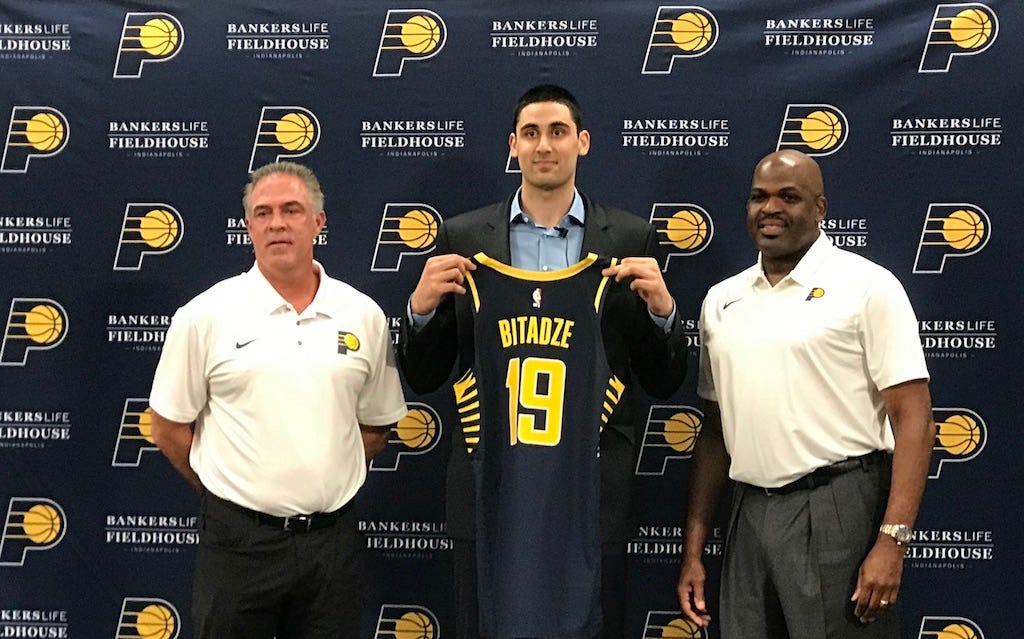 A coach isn't responsible for the ingredients, only for the result. But those two items go hand in hand with team success. Pritchard's drafts have thus far been underwhelming, and McMillan was hesitant to play those guys due to their lack of productivity.
Like T.J. Leaf, whose last season was wasteful. Like Edmond Sumner, the most athletic player on the team who battled injuries but was glued to the bench for games 2 and 3. Like Bitadze, their first-round pick who did not play in the playoffs whereas Miami's Tyler Herro, picked five spots ahead of Bitadze last June, averaged 16.5 points per game and finishes playoff games.
"Sometimes you have to make some sacrifices," Pritchard said. "You have to play some players in the regular season to develop, and then ultimately be prepared more for the playoffs than you were for the regular season. And so that's sort of out-of-the-box thinking is something that we we desperately need."
So much for a potentially quiet offseason. Their first-round pick belongs to Milwaukee. But now they must hire a new head coach, reassess the culture and departments within the team — all while assessing Oladipo's future with the franchise and whether both sides would be better off parting ways.