Discover more from Fieldhouse Files with Scott Agness
Taking you behind the scenes and inside the locker room with the Indiana Pacers. The latest news, interviews, features, game reports and draft analysis.
Where's the fight? Pacers left wondering about horrific start, failing to complete comeback
The Heat lead the series 3-0 with Game 4 on Monday.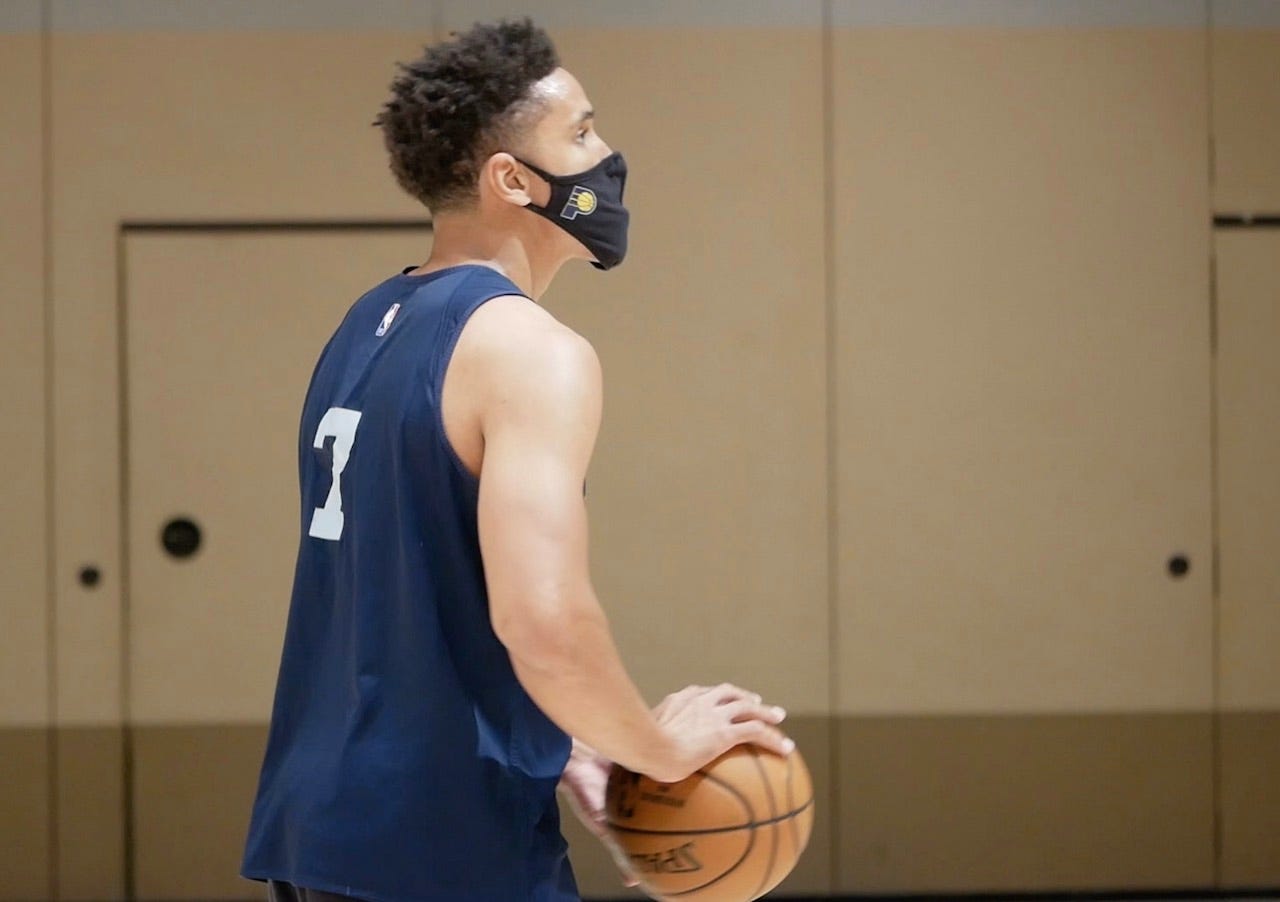 Pacers guard Malcolm Brogdon finished with 34 points and 14 assists, and gave them a chance to win after trailing by 20. (Photo: Pacers)
---
Pacers head coach Nate McMillan repeated it so often to reporters that you would have thought he was addressing the team.
Scrap. Intensity. Sense of urgency. Play a 48-minute game. Take away their airspace.
The Pacers did none of the above so maybe they didn't listen close enough? Despite nearly erasing a 20-point deficit and getting to within two points with two minutes to play, the Heat outplayed them and surged to the finish for a Game 3 win, 124-115.
When asked what the biggest change was between the first and second halves, Myles Turner said "Show up."
They didn't in the first 24 minutes and embarrassed themselves. The Heat shot almost 54 percent, made 11 3-pointers and scored a playoff franchise record 74 points in the half.
"You can't start the game off the way we did," said McMillan, who earned a technical foul in the second quarter. "Those guys pretty much got anything they wanted. Giving up 74 points in a half is ridiculous."
That required some soul-searching for the Pacers, who went into the locker room down by 18. McMillan could scream at them, assistant Dan Burke could have reviewed countless missteps until it was time to start the second half, but this was on the players.
"It was either make something happen or get embarrassed," said co-captain Victor Oladipo.
Added McMillan: "It was a lot of team discussion that they're better than that and we got to come with that intensity, that sense of urgency, scrap. We are in a fight and I didn't think we fought in that first half."
See, there are those words again. They're written on the dry erase board and reiterated by the coaches, but weren't enough to prevent a miserable half that set them back quite a bit. The Pacers aim to figuratively punch first, but they got in the ring and forgot their mouthguard and gloves.
After Game 2, Heat coach Erik Spoelstra said publicly that they gave the ball to sharpshooter Duncan Robinson (15 points), who has made a name for himself this series, on the first possession to get him going. He made three straight 3s.
In Game 3, they ran an action to get Robinson to brush off a screen and he did it again. Three-pointer. Sometimes the Pacers didn't get a hand in front of shooters and twice when they did, they fouled.
Where was the sense of urgency? That was the question nobody could answer. And now, trailing 0-3 in the best-of-seven series, the Pacers' season hangs in the balance.
"Just not playing hard enough and not executing and not being physical enough on the defensive end," said co-captain Malcolm Brogdon.
Game 3 isn't one where there needs to be any feeling out. This was their sixth time squaring off this season (in meaningful games) so they know the scouting report, they know the others' plays and the Pacers know they must keep the Heat off the foul line.
But they did not.
The Heat must be taking advantage of outstanding loan rates because they seemingly bought a block of homes at the foul line starting with a mansion for Jimmy Butler. He shot poorly from the field (5 for 16), but made 17 of 20 foul shots and finished with a team-high 27 points.
It didn't help that the Heat was in the penalty for the final eight minutes of the game.
The Heat more than doubled the Pacers, who were 21 for 28, and finished with a franchise record 43 free throws on 52 attempts. That's 34.7 percent of their points.
"Is that a record?" Oladipo wondered about Miami's shot count. Indeed it was — by double digits. Previous highs this season against the Pacers were 32 makes (Philadelphia) and 42 attempts (Charlotte).
"Fifty-two free throws is ridiculous," McMillan said. "They had 24 at the half and Butler shoots 20 of them. This is the playoffs and I thought some of those calls were — I can't explain it."
It wasn't exactly a surprise considering Miami was fourth in attempts this season with 25.2 per game. They doubled that, too.
The Pacers' turnaround started in the second half. They scored 34 points in the third quarter, including 10 in transition, and kept the Heat to 1 for 9 from range.
And then Brogdon gave them a chance to record a win in the series. He finished with playoff career highs 34 points and 14 rebounds, along with seven assists in 43 minutes. Thirteen of his points were scored in the final frame.
"We definitely figured something out today in that second half," he said. "That's what we've been trying to accomplish and execute for the past three games."
He hunted out the Heat's weakest link, got them in switches and then attacked. Oladipo, though, missed all three of his 3-point attempts late. Justin Holiday (nine points), who started in place of his brother, missed a couple, and T.J. Warren (23 points, six rebounds, five steals), had a layup blocked by Butler and turned the ball over on a play out of a timeout. (See below.)
"We did a great job of fighting and getting ourselves in the game but unfortunately, we came up short," said. "Unfortunately, a lot of things happened. You know what I'm saying?"
He then continued, reflecting on all he has unexpectedly gone through over the last 19 months.
"Unfortunately, I tore my quad; unfortunately none of this would've happened if, who knows — corona(virus). Unfortunately, a lot of things happened, but you could make excuses, you could blame everybody or you could just figure it out."
So that's where the Pacers stand. They're on the brink of elimination against a talented, versatile and developing power in the Eastern Conference. The Pacers want to be that, but have failed to make progress in the postseason.
They've failed to win a series in six years — when they last met the Heat in the playoffs — and they need a win to avoid a second consecutive sweep. Game 4 on Monday is win or go home after almost seven weeks away from loved ones.
And then they can figure it out.
Sabonis re-enters the bubble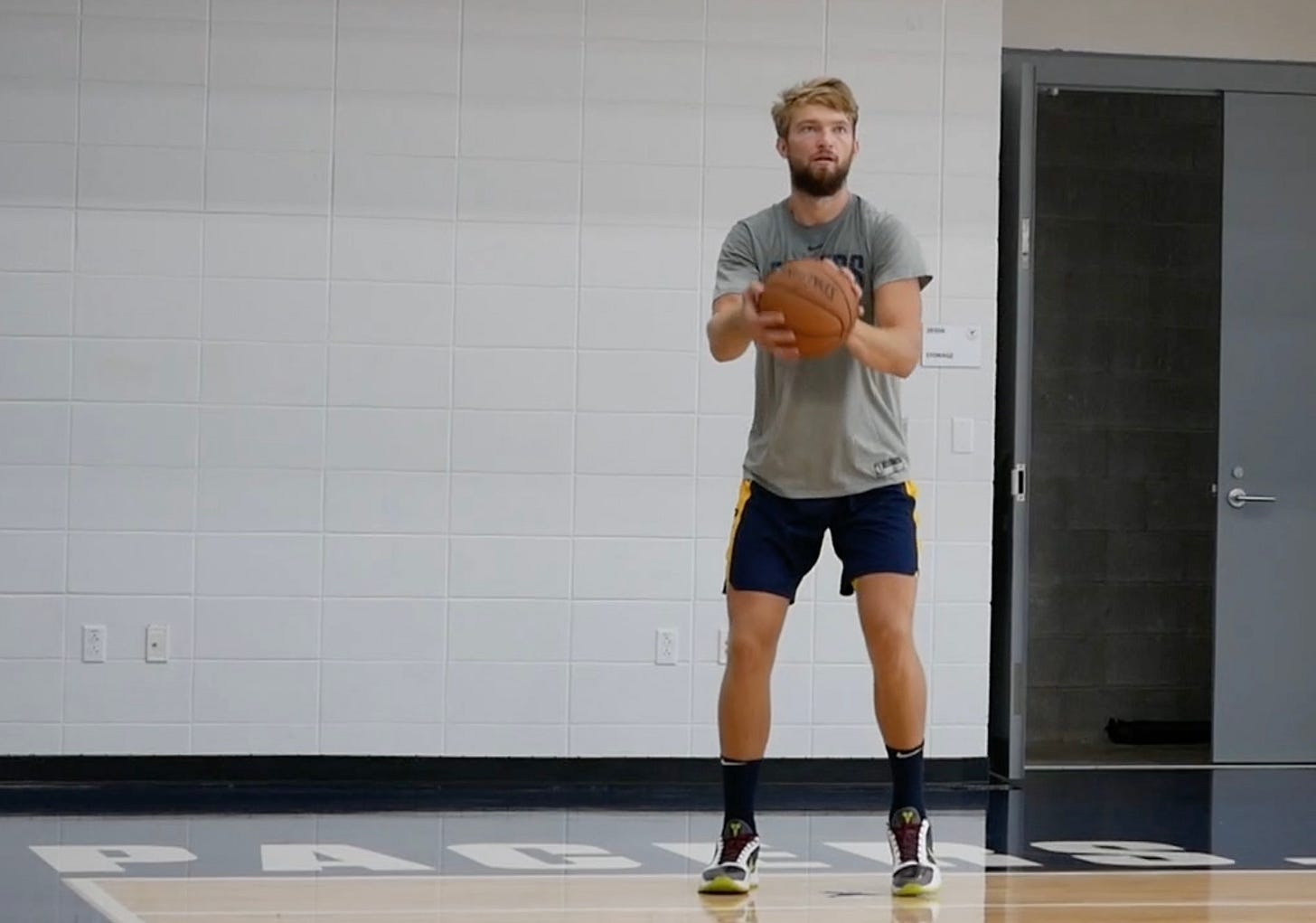 Domantas Sabonis was scheduled to return to the NBA campus Saturday after leaving four weeks ago to seek treatment for plantar fasciitis in his left foot.
While in Los Angeles — his offseason home — he's been working on his left foot and been in a boot. He hasn't practiced in almost six weeks.
Sabonis rejoining the Pacers doesn't mean he'll play in Game 4 — or again this season. For starters, NBA policy requires him to quarantine for at least four days.
"I haven't got a chance to talk to him just yet," Oladipo said after the game. "It'll be great to see him. He thinks it's important (to rejoin the team) because obviously he cares about the team and he wants to help us, even if he's not able to play."
It's a nagging injury, one that first bothered Sabonis in late June when he returned to Indianapolis for workouts and flared up when the team arrived in Florida a few weeks later. He sat out of practice and ultimately decided it would be best to seek another opinion and decide on the best course of treatment outside the bubble.
"We're trying new treatment every day," Sabonis said on July 22. "We're trying to get the pain down. The main goal is to get it away, but with an injury like this, you don't know how long it could take."
The Pacers have been able to add to their staff inside the bubble. In addition to Sabonis, the head equipment manager and another basketball staff member recently joined the team.
Oladipo explains his early exit
After the game, this tweet got attention on social media. It shows Oladipo slapping hands with Pacers GM Chad Buchanan and leaving the floor area with 22.8 seconds left after fouling out. What it didn't show was Oladipo returning to the bench area.
When I asked him where he went, he laughed and said, "I went to use the bathroom."