Discover more from Fieldhouse Files with Scott Agness
Taking you behind the scenes and inside the locker room with the Indiana Pacers. The latest news, interviews, features, game reports and draft analysis.
'You got to get over the hump': Pacers winless against Heat, swept again
The playoffs lasted just one week for the Pacers. They were outmatched all season by the Heat.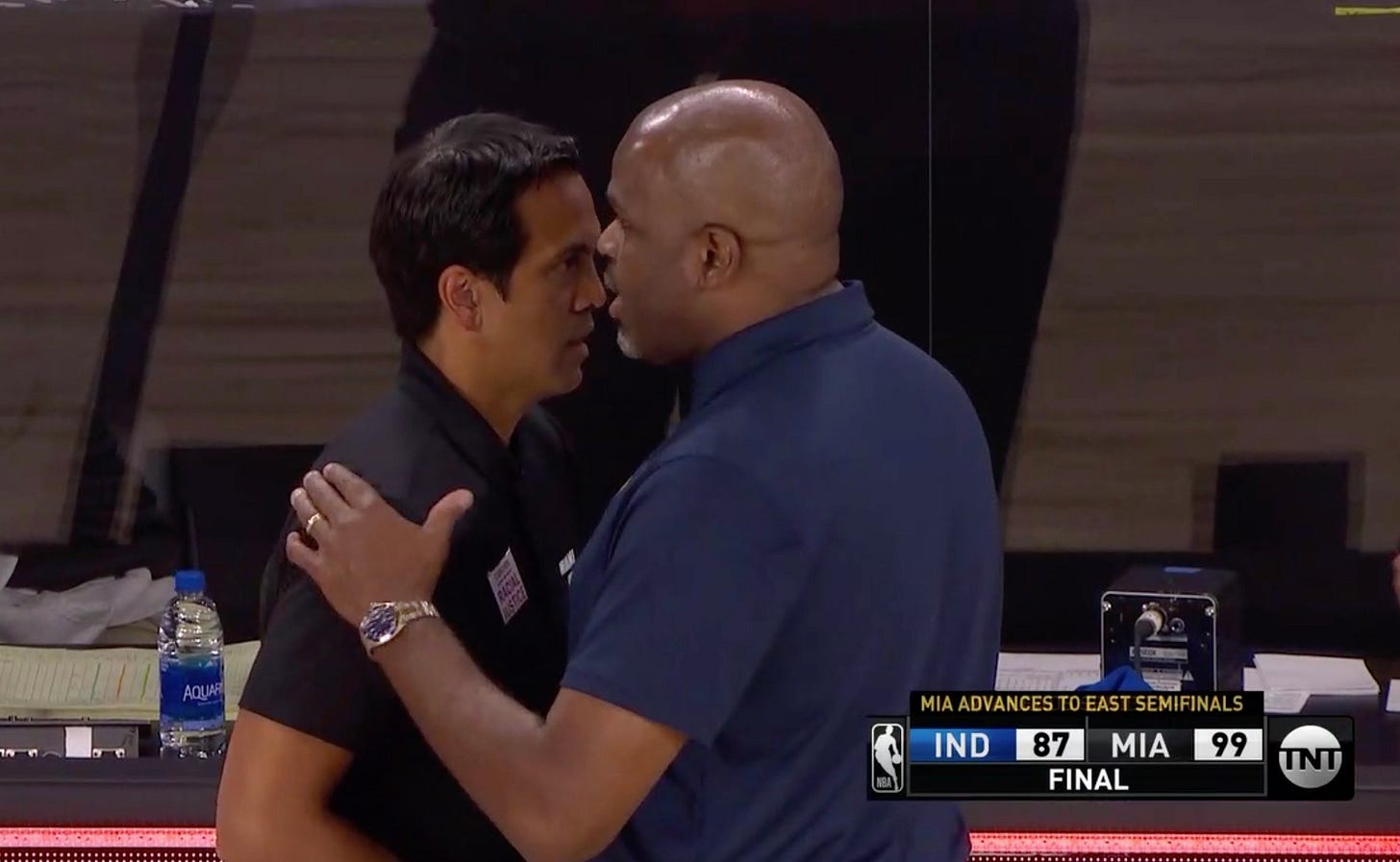 Victor Oladipo isn't ready to talk about his future, Myles Turner is fed up with being one-and-done and Nate McMillan, like the rest of us, is eager to see what this team can do with a healthy roster.
The Pacers' season came to a close Monday night 11 months after it officially started. It was a long one that featured nine new faces to the roster. It included a preseason trip to India, constant chatter about when Oladipo would return and then after becoming an All-Star, Domantas Sabonis never suited up during the NBA restart.
Game 4 felt like an old-school game as neither team broke 100. With the Miami Heat leading 48-42 at halftime, first to 80 wins.
The Pacers were within six points with two minutes left, but among the many challenges in recent seasons has been their late-game execution. They never scored again.
Oladipo missed a layup and Malcolm Brogdon missed from distance, then they both committed turnovers. Turner launched the final shot of the series and missed. The Pacers dropped Game 4, 99-87, and experienced a familiar feeling of being swept for the second consecutive postseason.
"I thought we came out and we showed some fight in that first quarter," McMillan said. '"Both teams just seemed to have heavy legs, breathing hard the entire game. They were stronger than us tonight."
Down 0-3 in the best-of-seven series, McMillan challenged his guys to believe and play their asses off, and informed his starters to be ready to go the distance. It was truly a must-win game.
All five starters played at least 39 minutes and the Pacers' bench contributed very little. In fact, that group was outscored 41-3. Just three points from their reserves — a 3-pointer from Doug McDermott.
"Once you get into the playoffs, you need everybody," McMillan said. "You're playing against the best and I really felt that coming down here to this bubble, I thought we had everybody. … It was just a tough adjustment for us."
The Heat has depth, they have shooters, length and versatility. They want to play small ball — and do it quite efficiently — whereas the Pacers were forced into doing it because Sabonis was out of the bubble and being treated for plantar fasciitis in his left foot.
The best way to sum up the series would be watch a late Heat possession in Game 4 that lasted 48 seconds. "This is a big possession coming up for the Heat," TNT analyst Stan Van Gundy said before the timeout.
Out of the timeout, Miami got the ball to Bam Adebayo (the most important player in the series) in the post and he missed, but they outworked the Pacers for three offensive rebounds before Tyler Herro scored the layup to make it an eight-point game with 2:44 to go.
"It's real deflating when you work that hard for a possession defensively and then they keep on getting more and more opportunities," said Turner, who finished with 22 points, 14 rebounds and five blocks. "I think they outworked us for the most part. Especially (in) playoff time, that can't happen."
Added Brogdon: "Miami executed coming out of timeouts, they got easy shots, they got layups, they got to the free throw line … so they executed in the moments they needed to."
By executing and getting big contributions from their bench — Herro, a rookie, scored at least 15 points in all four games — the Heat overcame the fact they were kept to just eight 3-pointers and 11 free throws, both far below their averages. Jimmy Butler was limited to 23 minutes because of a left shoulder strain. That didn't matter, either.
Remember the national media hyping up "the feud" between Butler and T.J. Warren? That was cute.
A rivalry renewed? Not at all…
The Pacers beat every team in the Eastern Conference this season except for the Heat. They went 0-7, including the playoffs. And no, we're not counting the final seeding game where both teams sat their starters.
"They played four great games," Oladipo said. "They won four different ways. We got to do a better job, use this as fuel for the offseason and come back better. I know I will.
"I learned a lot from this year and I learned a lot from this series. I just got to continue to keep working."
This Pacers team, meanwhile, was running on fumes. It had been a long, trying season. McMillan even tried a team session of mediation to get them in the right mindset. They were all away from their friends and family for almost seven weeks.
As I wrote in March, this season — regardless of the finish — would be defined by their injuries. Now five months later, the season over and that still holds true. That's a big reason why the Pacers offered McMillan a contract extension, to ultimately see what they have.
"We know that we've been swept the last two years, but we've been unlucky the last two years as well," McMillan said. "We haven't seen this particular team at full strength for more than five, six games."
Still, these numbers aren't pretty.
192 games lost due to injury.

23 different starting lineups.

Been swept in three of the last four years, including two straight.

Nine straight postseason losses.

Failed to win a playoff series since 2014, when they reached the conference finals and faced the LeBron-led Heat.
They went 6-2 in the seeding round, recording wins over the 76ers, Lakers and Rockets. But then they failed to win another game and now head home after just one week of playoff basketball.
"At some point you got to get over the hump, man," Turner said. "That's five years for me in the playoffs, five first-round exits. I take that shit personally. You got to find a way."
The Pacers are leaving the bubble Tuesday afternoon and are scheduled to return to Indianapolis around 3 p.m. ET. Then, it's offseason mode for the front office. Their first-round pick (No. 24) belongs to Milwaukee, part of the sign-and-trade deal for Brogdon and they will select 54th overall in October.
But who knows when next season might begin? The league is motivated to potentially push the start date back even more if it means playing more games in front of fans; that's a significant portion of their revenue.
To their credit, the bubble environment at Disney worked and allowed for them to finish the season. The league and its teams went to great lengths to make it happen and it's been successful, making the most out of the most unusual situation.
Now in a time of uncertainty, continuity is valued. It's something team president Kevin Pritchard didn't fully appreciate during his time running the Trail Blazers and it's something he now looks forward to having in Indy for the first time since he took over.
Or will he? Questions hang over Oladipo's future with the franchise like a swirling dark cloud and is it time for them to make a decision on Turner and Sabonis?
"I can't really control that right now," Oladipo said when asked about his long-term future in Indy. "I'm not really worried about that right now. Just focused on making sure I get my knee right, get fully strong, get my health fully where it needs to be and I'll worry about all that when the time comes."
They won 45 games, Sabonis became an All-Star and Brogdon played at an All-Star level before injuries caught up with him. Justin Holiday and T.J. McConnell outplayed their value from the bench and T.J. Warren was one of the most outstanding players in the bubble.
Yet this virus-shortened Pacers season will be remembered for falling short when it mattered most, once again a first-round exit in the playoffs.
**If you liked this, hit that heart below to let me know!