Discover more from Fieldhouse Files with Scott Agness
Taking you behind the scenes and inside the locker room with the Indiana Pacers. The latest news, interviews, features, game reports and draft analysis.
Victor Oladipo expresses desire to be amongst the greats, maximize earnings. But first he must find his joy for the game.
When asked about his future, he replied with the same words as Paul George.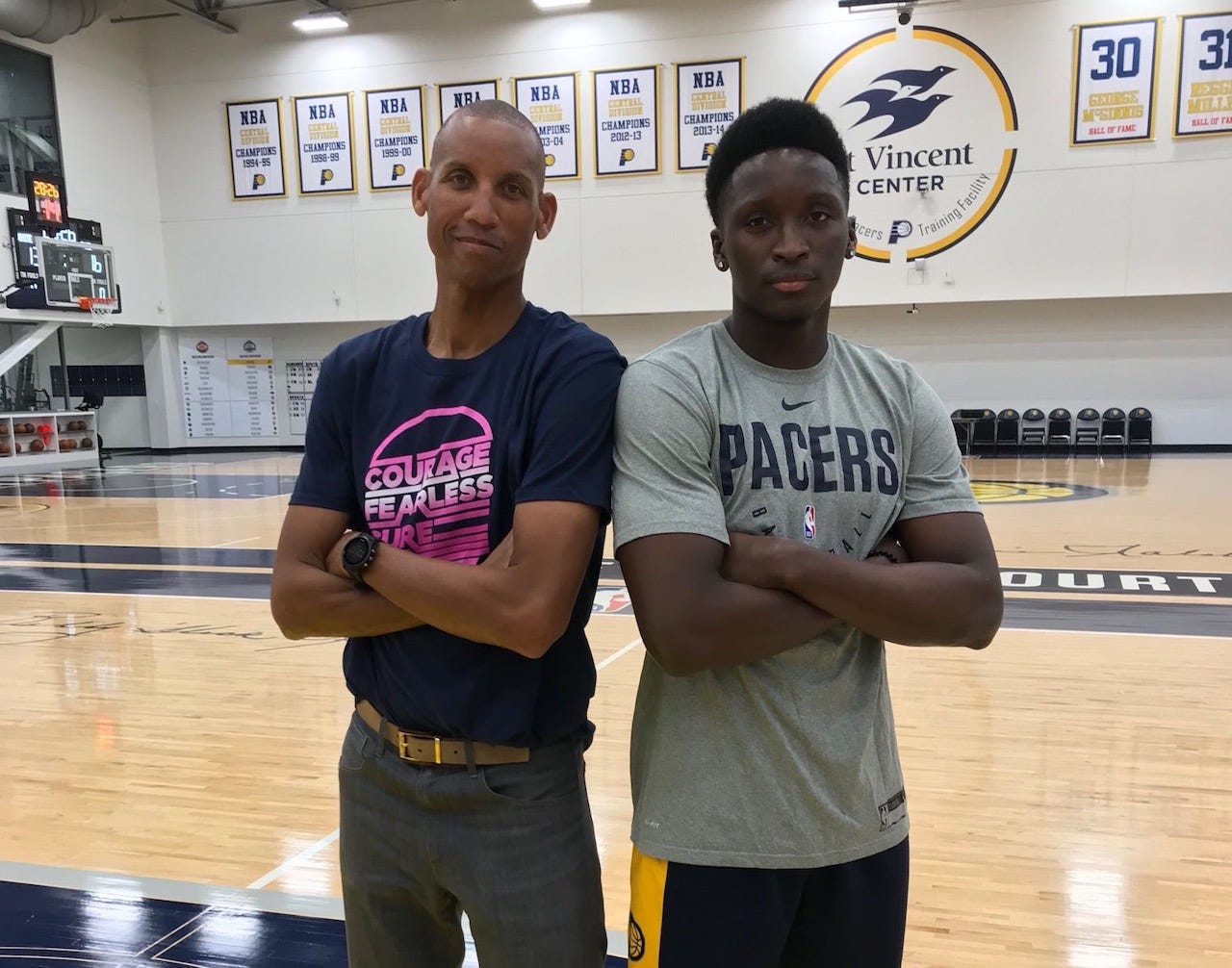 Victor Oladipo with Pacers great Reggie Miller. (Photo: David Benner/Pacers)
---
The Pacers are in the middle of a coaching search and the NBA Finals, four months delayed due to COVID-19, was about to begin inside the bubble when all of a sudden, Victor Oladipo went on Instagram Live.
Since the Pacers were swept in the first-round of the playoff by the Miami Heat, a team that has thrived in the bubble environment all the way to the finals, Oladipo has been relatively low-key. The Pacers do not have players do exit interviews with the media and he hasn't been nearly as active on social media as he usually is.
He even tried to disconnect entirely for a little bit.
Just before 9:00 p.m. ET Wednesday night, Oladipo joined rapper Fat Joe on Instagram. Joe is in the music industry and once lived in Miami, where Oladipo spends most of his offseason, for 15 years. They first met when Oladipo was a rookie in 2013, according to Joe.
Joe began with the introduction: "Ladies and gentleman, from the Indiana Pacers … hopefully the New York Knicks soon … the one and only."
They both laughed about it.
After touching on the Heat's surge to the Finals, Joe mentioned how he recently saw Shaq on TV with his four trophies as his backdrop. Charles Barkley had none.
"Everybody wants to do that," Joe said of Shaq's trophies.
"Everybody," Oladipo affirmed.
Here's where things got interesting. Joe asked Oladipo directly: "Would you make a choice to stay or go to a team where you're just a star, or do you want that hardware Victor?"
"I don't know, man," Oladipo responded. "That's where it gets tough. It's like picking your poison. Sometimes you can have the best of both worlds, but sometimes you can't. And anybody who knows me, I'm all about winning. I feel like that's what you're defined as in this game."
Oladipo is entering the final year of a four-year contract he signed just before his first and only season with the Oklahoma City Thunder in 2016. He'll earn $21 million this season and then intends to cash in.
Coming off a significant ruptured quad tendon injury in Jan. 2019, he could have negotiated a contract extension one year ago. And he still could before the 2020-21 season. From what I'm heard since reporting the NBA postponing Indy's All-Star game, it's becoming more likely to start in March than it is at the first of the year.
Oladipo wants to maximize his return. He turned 28 in May and this next contract figures to be the largest of his career, so he wants to make it count.
Right now, only the Pacers can offer Oladipo, a two-time All-Star in Indiana, an extension and they're limited to a 20-percent raise. That's about $25 million per year. By waiting until next offseason, he'll be an unrestricted free agent any team and any team can make an offer. He'll also have eight years of service.
"A lot of people say they don't play for the money, but that's what I live and breath by," he continued. "Like I just want to be the greatest, I want people to have my name amongst the greats and in order to do that, you got to get the rings, you got to have trophies.
"Not saying Charles Barkley ain't a great player, but at the end of the day, I want to be able to show my kids, when I have them, how great of a player I was. And in order to do that, you got to show em some hardware so that's what I'm locked in on doing. I want some hardware and I want a lot of hardware."
Oladipo is proud of his DMV (District of Columbia, Maryland, Virginia) roots where he was always the underdog. He was never the best player on his high school roster. Former Indiana University coach Tom Crean discovered Oladipo while scouting another player on DeMatha.
When he first reached the NBA, he wasn't utilized properly by the Magic — a franchise whose front office made countless poor decisions. After three years, he was traded to the Thunder and spent a season learning under Russell Westbrook during his MVP season. In 2017, he was acquired by the Pacers, along with Domantas Sabonis, and quickly became a fan favorite.
There were Purdue and Butler fans who adored this former IU player. He united all fan bases. The franchise and city hugged him, and he hugged them back. He declared "This is my city!" — mimicking Dwyane Wade, one of his mentors and a fellow Crean recruit.
That was then.
For more than a year now, though, it's been a challenging relationship for Oladipo and the Pacers. There's been disagreements and frequent frustration felt by the organization. Oladipo elected to have surgery in Miami and only came back for one of their playoff games in 2019 when they were swept by the Celtics. And instead of publicly pushing his team and thanking fans from afar, he awkwardly promoted how "Hulu has live sports."
Again, money talks.
You may have seen a report out this week, but it was nothing new. It's been understood for over a year now that he was likely on his way out. The door isn't closed, but his actions suggest he has one foot outside. He wants to bet on himself and maximize his earnings. Nobody should fault him for that. Get it while you can.
However, the way in which he has operated needs patched up. It needs to be team first, not player first. There are many individuals around the team who are concerned with the advice Oladipo is given and then acts on.
He has an image problem in Indy. Bring up his name and fans are frustrated and disgusted. When you turn against these diehard fans, it cuts deep.
Back to Joe, who's clearly a Knicks fan. He later playfully asked Oladipo if he's made his mind up on coming to New York City.
"I knew that question was coming," Oladipo responded with a big smile. He also chuckled. It was a protective laugh we've heard in recent months when asked a question he doesn't want to answer truthfully.
"I don't know what you're talking about, man. I'm a Pacer, man. I'm a Pacer, dawg. I'm a Pacer. All these other rumors — I can't control the rumors. I'm just focused on my knee."
He doesn't control them. But he could extinguish them if he wanted.
This was all too familiar. He literally uttered the same words as Paul George. Days later, in 2017, George's agent informed the Pacers that George would not re-sign.
"I'm under contract as a Pacer," George told us in the dugout of a charity softball game. He, too, was discussing rumors and uncertainty. "That's all that needs to be really be known. I'm here. I'm a Pacer. Everything else is, again, what I've been dealing with. Stories, guys talking, teams talking."
Up until his Jan. 29 return, missing 82 games, the team was flooded with questions about Oladipo, his rehab and when he might play again. He decided when he wanted to return and handled the announcement on the own. In July, he said he wouldn't play in the bubble, then backtracked that statement a week later.
Oladipo wasn't 100-percent healthy and he wasn't expected to be. We've seen with elite player like Paul George and Gordon Hayward that it takes two seasons to regain their form. Oladipo appeared in 19 games this season and all four playoffs games, where he averaged 14.5 points, 3.9 rebounds and 2.9 assists per game. They lost by at least nine points in all four games.
The NBA is missing out on millions due to the coronavirus and the inability to hold games with fans. Team budgets are tight and the salary cap may drop. The Pacers and other teams need to see Oladipo play at an All-Star level again and lead the team.
"I personally think that coming back from an injury is more so mental than physical," he said. "I believe you have to catch your body up to your mind. Your mind wants to do it, but sometimes your body withholds it. So in order to do that, I feel like you have to have an inner peace, be able to understand your body better than your mind does. You can help yourself and push through a little bit of pain in order for you to overcome some uncertainty.
"For me, I'm just trying to stay fresh — both internally and physically — to where I can perform at the highest level every day."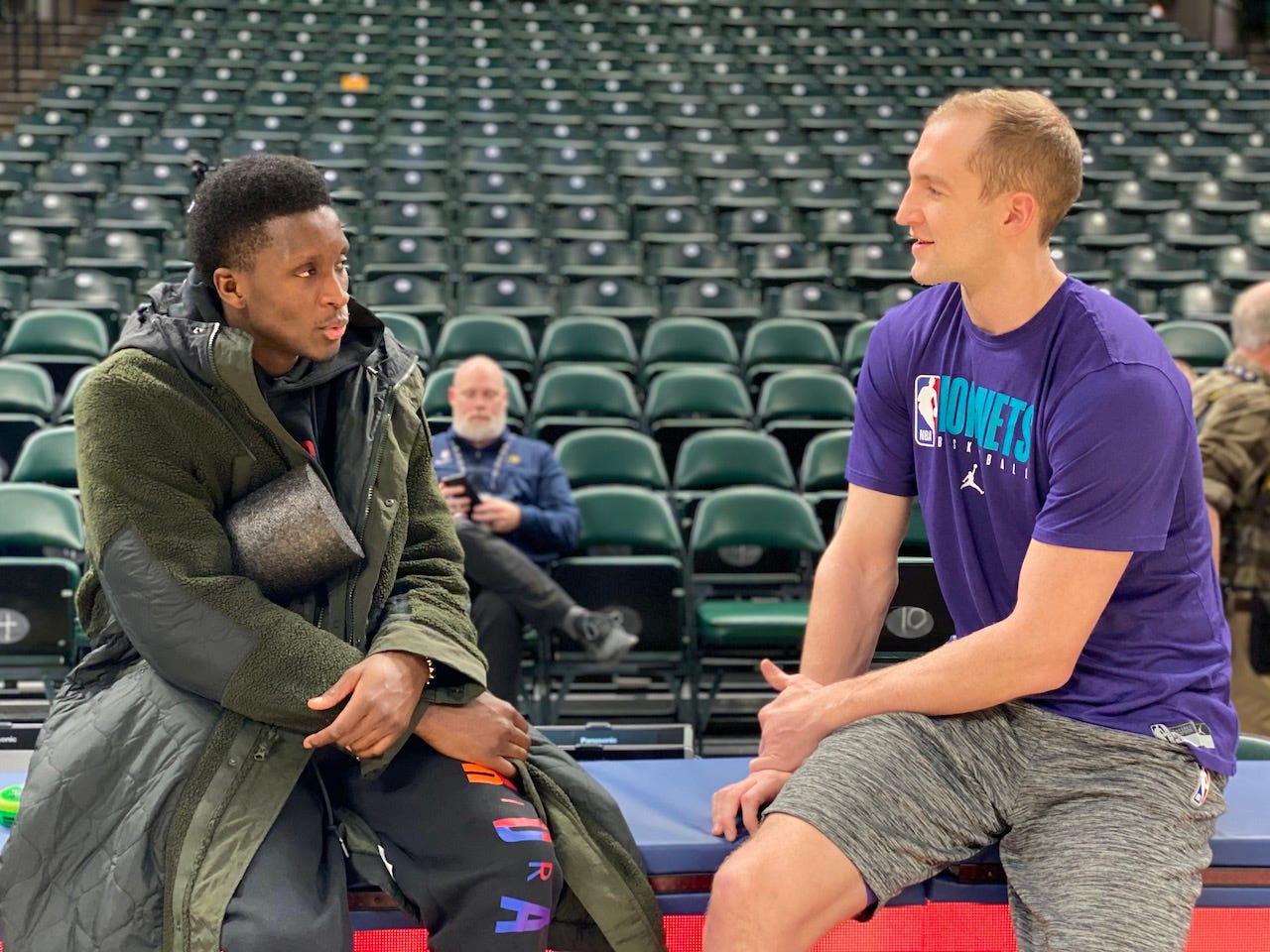 I covered Oladipo at IU and each time he came back to Bankers Life Fieldhouse as a member of the visiting team. Even in his first year with the Pacers, he was full of joy, whistling his way through the practice and singing in the shower after games. Win or loss.
But Oladipo wasn't himself this season. He never seemed comfortable, perhaps in part due to the unfamiliarity with nine newcomers on the roster.
Remember his Feathery identity? That's who fans fell in love with.
A significant injury inevitably will lead to changes and growth, but this is a critical offseason for him to seriously consider his place in the league, his priorities and recapture the joy that he carried into Cook Hall at midnight and walking around campus at IU. The drive and focus have never left, but he didn't seem to be having fun upon his return last January.
Nobody on the Pacers' roster is untouchable. If Oladipo is not bought in or does not want a contract extension in Indy, the front office must seriously consider trading him rather than losing him for nothing.
First things first, they have a head coach to hire.
(Watch Victor's full interview below. It starts at 52:37.)